Canucks' Gagner, Flyers' Weise on waivers
Veterans Sam Gagner and Dale Weise were among veterans waived by their respective clubs Monday as teams make final tweaks to their roster's ahead of Wednesday's opener.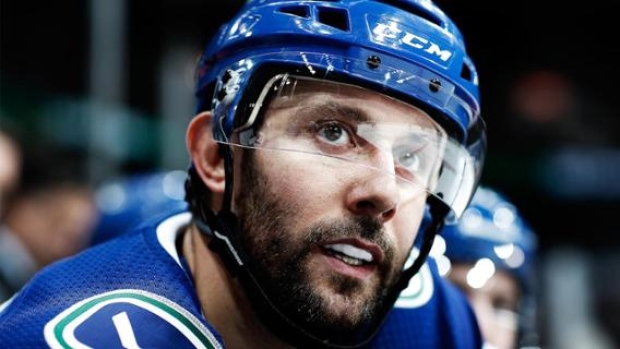 VANCOUVER — The Vancouver Canucks have placed veteran forward Sam Gagner on waivers, the club announced Monday.
Gagner, 29, signed with Vancouver as an unrestricted free agent on July 1, 2017, agreeing to a three-year, US$9.45-million contract. He carries a $3.15 million cap hit.through next season.
The native of London, Ont., was coming off a career-high 50-point season with Columbus Blue Jackets, but mustered just 10 goals and 21 assists in 2017-18 with the Canucks.
In 770 career games with the Canucks, Blue Jackets, Edmonton Oilers, Arizona Coyotes and Philadelphia Flyers, Gagner has 152 goals and 281 assists.
If he clears waivers, the sixth overall pick by Edmonton at 2007 NHL draft will be assigned to the Utica Comets of the American Hockey League.
The Canucks also announced Monday that forward Darren Archibald has be put on waivers.
Another veteran placed on waivers Monday was Philadelphia Flyers forward Dale Weise.
Weise had four goals and four assists in 46 games for the Flyers. He spent the last two seasons in Philadelphia. He carries a $2.35 million cap hit and is also signed throught next season.
Leafs goaltenders Curtis McElhinney and Calvin Pickard were also waived on Monday.
Below is the full list of players waived on Monday:
MURPHY, TREVOR ARI
BROADHURST, ALEXANDER CBJ
ALT, MARK COL
WARSOFSKY, DAVID COL
DOWLING, JUSTIN DAL
ELIE, REMI DAL
HANLEY, JOEL DAL
MURPHY, RYAN MIN
GRIMALDI, ROCCO NSH
KUHNHACKL, TOM NYI
LEIER, TAYLOR PHI
WEISE, DALE PHI
BIBEAU, ANTOINE S.J
JASKIN, DMITRIJ STL
THORBURN, CHRIS STL
MCELHINNEY, CURTIS TOR
PICKARD, CALVIN TOR
ARCHIBALD, DARREN VAN
GAGNER, SAM VAN
CARR, DANIEL VGK
MCKENZIE, CURTIS VGK
NESS, AARON WSH