Virtue, Moir first after short dance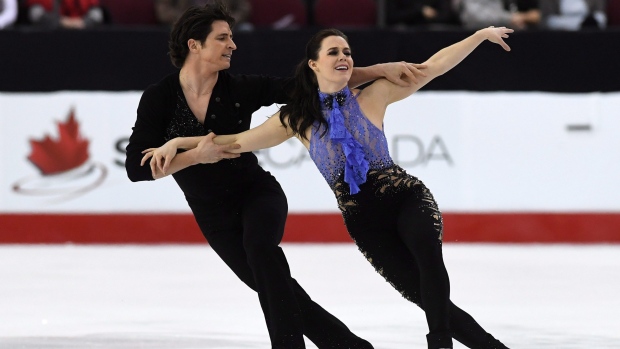 World champions Tessa Virtue and Scott Moir went with something new for their short dance and it paid off.
The Canadian skating veterans are in first place after Friday's short dance at the Autumn Classic International figure skating competition in Pierrefonds, Que., after scoring 79.96 points skating to tunes from the Rolling Stones, Eagles and Santana.
"It's always nerve wracking to debut a program," said Virtue, from London, Ont. "But we are well prepared for this event. It's also really exciting, we've trained all summer long and we love this program."
Moir says it's important to have a program they are comfortable with.
"For the Olympic season there's more pressure to finding the right pieces of music," said Moir, from Ilderton, Ont. "We want to do something we are passionate about and represents us."
Canadians grabbed the top-three positions. Kaitlyn Weaver and Andrew Poje of Waterloo, Ont., are second at 69.32 and Piper Gilles and Paul Poirier of Toronto third at 68.80.
In pairs, two-time world champions Meagan Duhamel of Lively, Ont., and Eric Radford of Balmertown, Ont., are the leaders after the short program with 77.14. Vanessa James and Morgan Cipres of France follow at 73.48 and Julianne Seguin of Longueuil, Que., and Charlie Bilodeau of Trois-Pistoles, Que., are third at 61.72.
After the men's short program, Olympic and world champion Yuzuru Hanyu of Japan is first at 112.72, Javier Fernandez of Spain second at 101.20 and Nam Nguyen of Toronto third at 88.40.
Kaetlyn Osmond of Marystown, N.L., has a solid lead after the women's short at 75.21, with Mai Mihara of Japan second at 66.18 and Courtney Hicks of the United States third at 59.77.
Competition continues on Saturday.