Viva Las Vegas! TSN Hockey's early expansion team lineup
On Monday, Craig Button, Frank Seravalli and Pierre LeBrun revealed their early protected/exposed player lists for expansion. On Tuesday, as the Vegas Golden Knights were introduced, Craig puts on the GM cap and selects the players for the NHL's 31st franchise.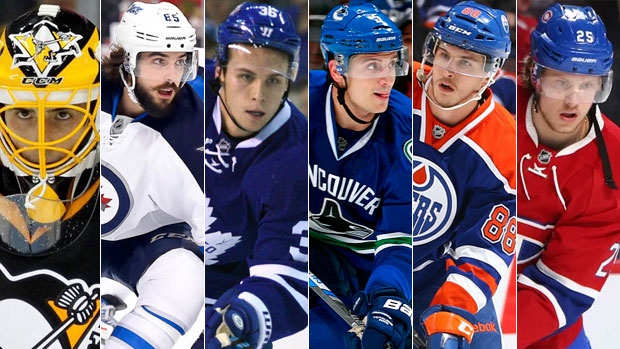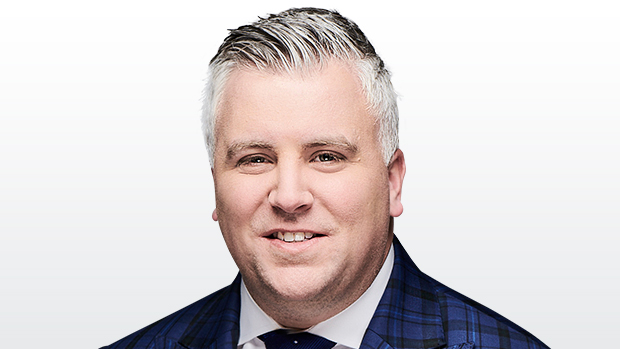 LAS VEGAS - TSN's first crack at a mock 2017 NHL expansion draft for Las Vegas started in net with Marc-Andre Fleury - a clear and obvious backbone - but then got significantly weaker and more complicated from there.
TSN Director of Scouting and resident GM Craig Button, who went through six expansion processes during his 19-year NHL career, realized almost no selection is independent of another.
One player must be selected from all 30 teams, but they are all intertwined.
"Who you decide to select from one team has serial impact on what you do with every other one," said Button, the former Calgary Flames GM. "There are lots of combinations and permutations."
Las Vegas GM George McPhee will be mandated to choose a minimum of 14 forwards, nine defencemen and three goalies when he submits his list of 30 names June. 21.
Seven months before the new Las Vegas roster will be released, TSN simulated what McPhee will experience by compiling projected protected and exposed lists from all 30 teams and then having Button pick a 30-man roster.
The end result was a roster Button graded as A-minus for goaltending, C-plus for defence and D-minus for forwards.
The results are revealing if not unexpected: McPhee will have a relative surplus of bottom-end blueliners and a shortfall of high end scoring power available to him.
Button's team features Fleury, a Stanley Cup-winning goalie, steady defencemen such as Jonas Brodin and Brandon Davidson, but just two 20-goal scoring forwards in Jacob Silfverberg and Matt Read.
The roster's weakness was demonstrated with Mathieu Perreault projected as the top line centre. He is a fine player and a consistent producer in the NHL, but Perreault has never been tasked with that heavy role in his eight-year NHL career. Young forwards such as Anthony Mantha, Jacob De la Rose, Ryan Dzingel and Kerby Rychel also dot the roster, but have not proven themselves as full-time NHL players yet.
June is still a long way off. But as Button also realized, the picture won't be getting any brighter for Las Vegas.
"Teams will ensure the player pool is even less enticing," Button said.
METHODOLOGY
- Stay as close as possible to the salary cap lower limit ($43.8 million) to be able to act as a life raft and take advantage of other team's cap issues. Keeping the payroll low also leaves space to sign unrestricted free agents.
- Maximize the number of defencemen taken - Button selected 13 - as they are the game's best currency in trades.
- Maximize the number of 2018 expiring contracts - including eight players who become unrestricted free agents after one season - to take advantage of a potentially strong unrestricted free agent class, which could include John Tavares, John Carlson, James van Riemsdyk, Kyle Turris, Cam Fowler, Martin Jones and James Neal.
Button's team ended up at $45.03 million, approximately $1.2 million above the minimum threshold. The average age of the 30 players selected is 25.5 years old. All salary, contractual and games played requirements – for instance, players who have played 70 games over the last two seasons - were met.
Of course, Button was unable to negotiate side deals with other GMs in this mock exercise, which will change Las Vegas' prospects and shake up the draft board.
"George will find a way to get two players for one," Button said. "Meaning, he will draft a player and trade him back for two more, or receive one in a trade if agreeing not to take a certain player. That will be a big key."
Here is GM Craig Button's November TSN Expansion Draft: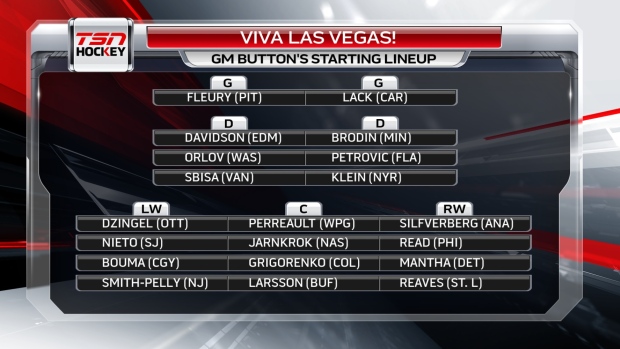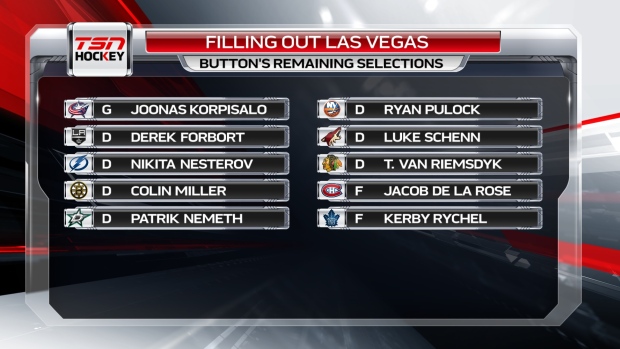 Contact Frank Seravalli on Twitter: @frank_seravalli