Voracek one of many high-priced forwards in the Zero Goal Club
Philadelphia Flyers winger Jakub Voracek hints that his contract has crept into his mind as the scoreless games pile up this season, writes TSN Senior Hockey Reporter Frank Seravalli.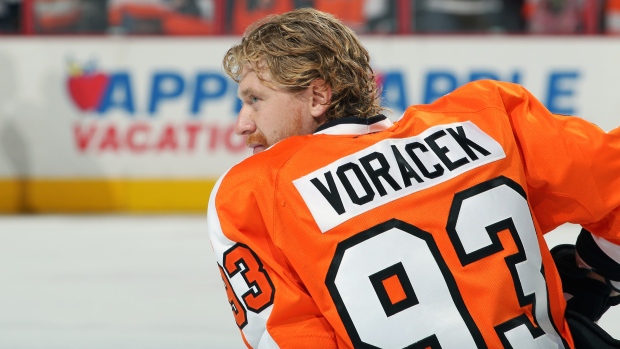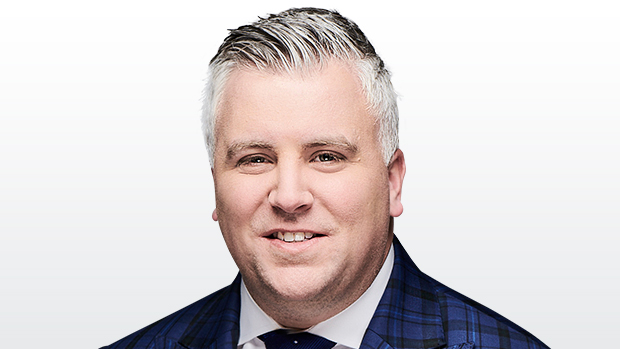 PHILADELPHIA - When Philadelphia Flyers forward Jakub Voracek caught up with countryman Ondrej Pavelec in Winnipeg last Friday night, Voracek joked he tried to bribe Pavelec into allowing him to score when they faced each other on Saturday.
"Even that didn't work," Voracek said.
Kidding aside, the frustration is real for Voracek.
Three months after signing the richest contract of the summer, Voracek is without a goal through 14 games this season. No player has taken more shots (54) than Voracek without finding the back of the net. Even Toronto's Nazem Kadri, who has six more shots, has scored once.
Voracek, 26, has just five assists after finishing fifth in the NHL scoring race last season with 81 points.
Voracek's $66-million contract extension kicks in next season, which will tentatively make him the 10th highest-paid player in the league.
Among high-priced forwards, Voracek is not alone this season in lack of production. Ryan Getzlaf, Dustin Brown, Jason Pominville, Brian Gionta, Jonathan Huberdeau and Martin Hanzal have all been blanked so far; all seven players have registered at least 25 shots on net and earn more than $3 million this season.
On the blueline, Erik Karlsson (33 shots), Tyler Myers (26) and Christian Ehrhoff (25) are still searching for their first goals.
Getzlaf, who missed four games after an appendectomy, has not looked like himself this season for the Ducks. He committed an egregious neutral-zone turnover against Arizona on Monday night, which sent which sent Mikkel Boedker in alone on a breakaway for the game-winner.
Like Getzlaf, Voracek looks different this year. His possession metrics are still elite and his individual high-danger scoring chances are actually on a better clip than last season, according to war-on-ice.com. But his skating, dominating the pace of play, doesn't seem to be quite as noticeable. He doesn't look as comfortable.
Voracek hinted Tuesday that his contract has crept into his mind as the scoreless games have piled up.
"To be honest, even on my current contract, I'm getting paid a lot of money to produce points," Voracek said. "It's frustrating. It wasn't so much in the beginning of the season, we were winning and we were playing well. I've felt it more as we've been losing games. We were 0-4-2 during part of the last road trip and I'm being paid to contribute and help the team win."
Voracek said he hasn't done anything differently, training or otherwise, in an effort to get back to last year's level. His off-season routine was the same. He has mostly played with the same linemates - Claude Giroux and Michael Raffl - this season. Coach Dave Hakstol briefly tried separating Giroux and Voracek to create a spark, but quickly put them back together.
In Anaheim, Bruce Boudreau started Getzlaf and Corey Perry on separate lines, but found a similar outcome.
A lot of Voracek's trouble can be contributed to the Flyers' sluggish power play: more than 40 per cent of his points last year came on the man advantage. This year, Voracek has just two points with the man advantage and Philadelphia's 26th-ranked unit has produced just six goals.
Voracek said he's been through a stretch worse than this before, which provides him hope to pull out of it. He went the final 16 games of the 2010-11 season in Columbus without a goal, ultimately leading to an off-season trade. The Flyers are banking this slump isn't as long, with a significant part of their playoff hopes resting on Voracek's shoulders.
"I think there have only been maybe a couple games through this stretch where Jake's had a bit of frustration to his game," Hakstol said. "I think he's handled it well. One's got to go in for him. I think you'll [then] see a drastic change in the outcome to a lot of these plays."
HERO TO ZERO?
| PLAYER | GP | G | A | PTS | SOG | AAV |
| --- | --- | --- | --- | --- | --- | --- |
| Ryan Getzlaf (ANA) | 11 | 0 | 5 | 5 | 25 | $8.25 M |
| Dustin Brown (LAK) | 14 | 0 | 5 | 5 | 49 | $5.875 M |
| Jason Pominville (MIN) | 13 | 0 | 6 | 6 | 32 | $5.6 M |
| Jakub Voracek (PHI) | 14 | 0 | 5 | 5 | 54 | $4.25 M |
| Brian Gionta (BUF) | 11 | 0 | 4 | 4 | 30 | $4.25 M |
| Jonathan Huberdeau (FLA) | 14 | 0 | 6 | 6 | 25 | $3.25 M |
| Martin Hanzal (ARZ) | 12 | 0 | 13 | 13 | 26 | $3.1 M |
Frank Seravalli can be reached at frank.seravalli@bellmedia.ca.