Voracek's bid to break precedent falls short
NHL commissioner Gary Bettman upheld Philadelphia Flyers forward Jakub Voracek's two-game suspension on Wednesday. Voracek appealed the suspension on Monday, the same day he served the first game of the ban as the Flyers defeated the Ottawa Senators.
Frank Seravalli, TSN Senior Hockey Reporter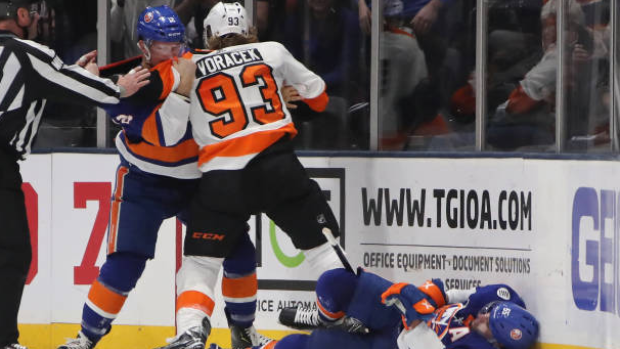 Jakub Voracek's bid to break precedent fell short.
The Philadelphia Flyers winger appealed his two-game suspension for interference, a rare occurrence in today's NHL, but commissioner Gary Bettman upheld the ban on Wednesday after an expedited hearing.
No shorter suspension has been appealed by the NHL Players' Association. Suspensions of that length are typically accepted without appeal because Bettman has final say; only suspensions longer than five games can be appealed beyond Bettman to a neutral discipline arbitrator.
Voracek hoped to halve his suspension and miss just one game in the Flyers' playoff chase. Philadelphia is six points back of the final wild-card spot and Voracek posted 11 points in his five games before being disciplined.
Instead, Voracek will be forced to sit out Thursday's game against Washington, before returning on Friday night against the Maple Leafs in Toronto.
Bettman ruled that Voracek "initiated contact" with New York Islanders defenceman Johnny Boychuk last Saturday night away from the puck and that the "onus was on Mr. Voracek to avoid causing a significant blow to Mr. Boychuk's head."
Boychuk left the game with an apparent left shoulder injury. He missed the Islanders' game on Tuesday night against Columbus.
Voracek conceded that the play warranted an interference call, even a one-game suspension, but explained that he was attempting to protect himself ahead of contact with Boychuk.
"There's no question about it, it was interference," Voracek told reporters Wednesday. "The explanation on the suspension was that I went out of my way to make head contact with Johnny Boychuk, which I don't think I did. I don't think I changed my weight drastically. My explanation was that I was bracing for the contact and I stand by it. I didn't mean anything by it to hurt him. Obviously, they felt differently."
Bettman wrote in his ruling that Voracek "moved into Mr. Boychuk's path by taking a step to the left and driving upwards into Mr. Boychuk."
Voracek said that he would have challenged the Department of Player Safety's ruling whether it was Game No. 30 or 40 in the season, or whether or not the Flyers were in the playoff hunt.
"I would still make the same [appeal] because I don't think it was that harsh to get two games," Voracek said. "That's what I told them [Tuesday] and I stand by it."
The Flyers declined to comment on Bettman's ruling.
Voracek joins a long list of star players to be suspended this season, including Connor McDavid, Evgeni Malkin, Jack Eichel and Mark Giordano. Those five players have forfeited a combined $454,308.08 in salary to the Players' Emergency Assistance Fund this season.
McDavid and Edmonton Oilers considered an appeal for McDavid's two-game suspension for an illegal check to the head of Islanders defenceman Nick Leddy, but ultimately decided against it.
Only two other two-game suspensions have been appealed in recent NHL history: Minnesota's Pierre-Marc Bouchard for high-sticking in Oct. 2011 and San Jose's Joe Thornton for a blindside hit to the head in Nov. 2010.
Like Voracek, both of those bans were upheld by Bettman, who wrote that the Department of Player Safety's decision to suspend this time was "supported by clear and convincing evidence and is affirmed."
Contact Frank Seravalli on Twitter: @frank_seravalli