Wade hints at retirement after the season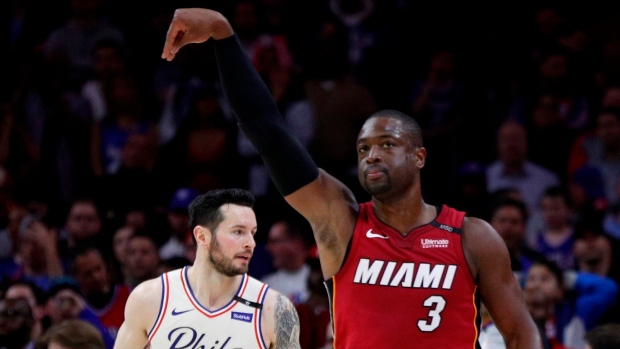 Dwyane Wade told ESPN's Ramona Shelburne Monday that he will take some time after the season ends to decide whether to retire or continue on with the Miami Heat for one more season.
"A lot of people think that if you do decide to go out it's because you weren't supposed to be able to play no more. It's not always supposed to be that," Wade said.
"Just taking the time to think, that's all I'm doing. Taking time to think and looking at every angle and what's the best situation for me to be in. That's all. It's a lot different, it's a lot of different things that come into play."
He added that if he were to come back for another season, it would only be as a member of the Heat.
"Someone like [Vince Carter] can go anywhere and play. Every year, he can go to a different location. I can't hop here and there. So it makes it a little tougher," Wade said.
In February, Wade made clear he didn't want to play anywhere else but South Beach.
"This is it for me guys. I'm [going to] stay here until I decide to hang it up. This is home. I'm so happy to be back."
Wade turned back the clock as the Heat beat the Philadelphia 76ers in Game 2 to even the series, scoring 28 points on 11 of 16 shooting and adding seven rebounds. But performances like that from Wade are becoming rarer and rarer.
Wade's scoring average has decreased in each of the last four seasons, including a sizable drop off from 18.3 points per game last season to 11.4 this year.
The 12-time All-Star is a free agent at the end of the season after signing a one-year deal for the veteran's minimum with the Cleveland Cavaliers last summer. On trade deadline day, he was shipped to Miami for a conditional second-round pick as the Cavaliers struggled.
Game 3 between the Heat and Sixers goes from Miami on Thursday.