Wark looks to keep B.C. train rolling in first Scotties appearance
B.C. skip Sarah Wark and her teammates take their 4-3 record into Thursday morning's tiebreaker against Manitoba's Tracy Fleury rink, a team they defeated earlier this week, TSN's Ryan Horne reports from Sydney.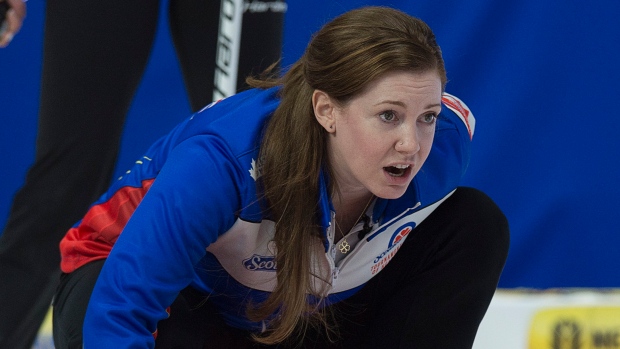 SYDNEY, N.S. – British Columbia skip Sarah Wark came into this week as a wide-eyed Scotties rookie.
You wouldn't have guessed it over the first weekend in Sydney though, as the insurance agent led her rink from the Abbotsford Curling Club to a 3-0 start, capping it off with a 10-1 rout of Nunavut on her 34th birthday Sunday night.
Team B.C. has since dropped three of their last four, including an 8-6 defeat at the hands of Ontario's Rachel Homan Wednesday afternoon, forcing them to play in a tiebreaker Thursday morning against Manitoba's Tracy Fleury.
Still, Wark said she would absolutely take their current situation if they were offered it at the start of the week.
"I didn't really know at the beginning of the weekend what it would be like and how I would feel coming in and how the team would do coming in," said Wark after her loss to Homan. "I think we've done a really good job. I think we've made a lot of really big shots. Of course, there are things we can work on and there's things we can improve on, but there's no better place to learn than this place against the best teams in Canada."
The Chilliwack native is making her first appearance at nationals while third Kristen Pilote, second Carley Sandwith and lead Jen Rusnell have all appeared in one Canadian women's curling championship.
Wark admitted they missed shots against Ontario on Wednesday, shooting a collective 70 per cent, something Homan's crew will make you pay for every time.
"Unfortunately, we missed a few. And if you miss a few against a big [curler] like that, they aren't super nice about it," she said.
"We said at the fifth-end break that we wanted to look at the last five ends as some good practice. If we get down at all tomorrow, or if we're in sort of a scrappy match, this is really good practice to put our rocks in good positions and sort of get a good idea of our game plans going into tomorrow's game."
B.C. topped Manitoba 7-5 earlier this week and Wark said having previous experience against the prairie province should be beneficial in Thursday's must-win game.
"This week we sort of went into every game not knowing what to expect and not knowing what they were going to come at us with," explained Wark. "Tomorrow we have little bit more knowledge about the team that we're playing so we can go into it a little better prepared."
On the other side of the sheet will be Team Fleury, who dropped their first two games before reeling off four in a row to get back into the hunt. They fell to Northern Ontario's Krista McCarville in an extra end on Wednesday and also sit at 4-3.
Fleury lost her two first games at the 2018 Scotties in Penticton, B.C., before going on a run and making the final four.
"At least we feel we've had our backs against the wall with these sudden-death games, so I don't think there will be extra pressure tomorrow," said Fleury.
Lead Kristin MacCuish, second Liz Fyfe and third Selena Njegovan made the Tournament of Hearts final last year with former skip Kerri Einarson. They recruited Sudbury, Ont., native Fleury to helm their rink for this season after Einarson departed for a different Manitoba-based team.
Fleury has represented Northern Ontario at two Canadian championships, but didn't find it too odd playing against her former colours.
"A little bit, more so at the start, but once you get into the grove of it, it was fine," said Fleury.
Wark knows how important Thursday's game will be for herself and her province.
B.C. hasn't made the playoffs at the Scotties since 2013. They haven't won since Kelly Scott captured back-to-back championships in 2006 and 2007.
"I would say my provincial win this year was the biggest win so far because that was a big one, but pressure-wise on this stage, I would say tomorrow is going to be a big one," said Wark.
The tiebreaker goes Thursday morning at 8:30am ET/5:30am PT.
Lucky Wark
Wark and her teammates have been sporting their own apparel all week long in Sydney, thanks to the help of some good friends from the Chilliwack Curling Club who put together a logo during the 10th end of their provincial final.
"I saw it and I was like, 'Yes, we have to use that.' So they did all the leg work. They made a website for us, they did the T-shirt design, they got a printing company to do it ASAP," explained Wark. "We used it as a fundraiser, and everybody bought. Everybody loves it."
The logo is inspired by Wark's favourite beer, Lucky Lager.
"Lucky Lager is my absolute favourite beer. I used to live on the Island for a little bit. I'm known to drink Lucky after a game," said Wark.
And the B.C. skip is hoping there's a few more Lucky Lagers for the rest of the week in Nova Scotia.