Watkins frustrated with role in Rams offence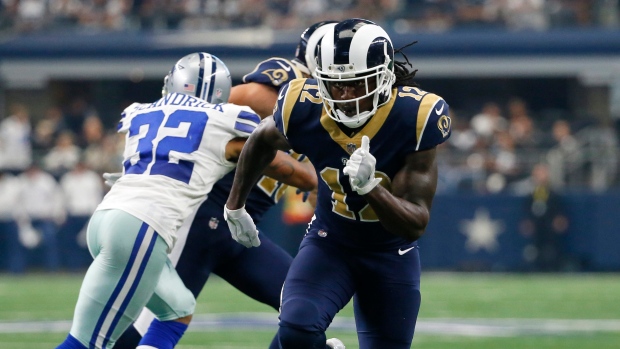 Sammy Watkins' production has cooled significantly since a six-catch, 106-yard performance against the San Francisco three weeks ago.
The Los Angeles Rams wide receiver owns just one catch for 17 yards over the past two weeks and now owns 14 catches for 211 yards on the season.
Watkins was held without a catch last week against the Seattle Seahawks and took to Twitter after the game replying to and retweeting fans who said he should get the ball more.
"As a player, of course you're going to be frustrated," Watkins told the L.A. Times on Wednesday. "I don't know a player, a wide receiver, that's not frustrated throughout the game if you're not getting the ball. Each week, it could change. They had certain coverage that kind of took me out of the game, and that's part of the game."
However, when asked if he saw a way to increase his role in the offence, Watkins replied, "I don't know."
Watkins was acquired from the Buffalo Bills in August for cornerback E.J. Gaines and a second-round pick. He sits fourth on the team through five weeks with in both receptions and receiving yards. He sits sixth in targets.
"Definitely want to try to get him more involved," quarterback Jared Goff said Wednesday. "But by no means are we, or am I, going to change the approach, play in and play out. I'll go through the reads and hopefully he gets more touches."
Watkins is set to become a free agent in March, but he denied playing in a contract year had anything to do with his desire for the ball.
"No, I think I've got enough money," Watkins said. "I just want to have fun and ball. I want to be a part of this team. It's a great team. I know where they're about to be at [in terms of success]. I just want to be a part of it and make plays and score touchdowns."
The Rams (3-2) visit the Jacksonville Jaguars on Sunday.