WCT Recap: Carey defeats red-hot Einarson in Canad Inns Classic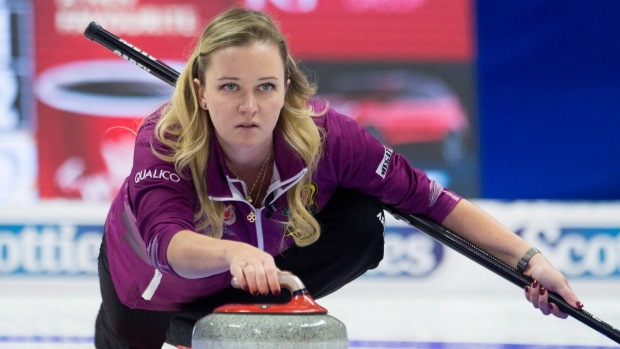 Team Chelsea Carey highlighted an action packed weekend on the World Curling Tour as big names competed both in Canada and across the pond in China. Catch up on all the curling action with TSN.ca's WCT recap.
---
Canad Inns Women's Classic (Portage La Prairie, Manitoba)
Women's Purse: $60,000
It appears the new-look Team Kerri Einarson can actually be beat.
The fresh Winnipeg foursome of skip Einarson, third Val Sweeting, second Shannon Birchard and lead Briane Meilleur had won four events and held a 29-6 record going into the Canad Inns Women's Classic this weekend in Portage La Prairie. They reeled off six straight victories to qualify for another final, but this time they would hit a road block.
Edmonton's Chelsea Carey, who is also playing with a new team this year after being a win away from capturing the Canadian Olympic trials last season, finally figured out Einarson's crew with a 7-5 victory in the championship tilt on Sunday.
Carey, third Sarah Wilkes, second Dana Ferguson and lead Rachel Brown went 8-2 over the four-day event with wins over Chrissy Cadorin in the quarter-final and Sijia Liu in the semi-final.
This was the first event victory for Carey's squad.
Other notable names included Japan's Team Satsuki Fujisawa, the 2018 Olympic bronze medalists, who fell to Einarson in the semis and Scotland's Team Eve Muirhead, who lost to Einarson in the quarters.
Allison Flaxey, Tracy Fleury, Nina Roth, Jamie Sinclair and Laura Walker all failed to make the playoff round.
---
China Open (Chongqing, China)
Men's Purse: $100,000 USD
Women's Purse: $100,000 USD
Russia's Team Dmitry Mironov scored a single point in the extra end to upset St. John's Team Brad Gushue, 9-8, in the China Open final
Gushue had a 4-2 lead after three ends, but gave up three in the fourth and a steal of one in the seventh as part of the somewhat surprising defeat.
Team Gushue, who was the lone Canadian rink, had lost only once in eight games during the China tournament prior to the final.
Norway's Thomas Ulsrud fell in the semis.
On the women's side, Winnipeg's Team Jennifer Jones lost in the semis to Team Ursi Hegner of Switzerland, 8-3, but turned things around quickly and defeated Team Jie Mei of China in the bronze medal game. Legendary curler Jill Officer, who is taking a break from the game this season, filled in for regular lead Dawn McEwen.
Team Jones was also the only Canadian team in the field.
Team Alina Kovaleva of Russia topped Team Hegner in the women's final.
---
Paf Masters (Aland, Finland)
Women's Purse: $18,000 EURO
Sweden's Team Isabella Wrana has one of the brightest futures in women's curling and they proved that further this weekend by capturing their second win of the season.
Skip Wrana, 21, third Jennie Wahlin, 20, second Almida de Val, 21, and lead Fanny Sjoberg, 20, went 6-0 in Finland to win the Paf Masters Tour. The Stockholm foursome beat Team Aline Fellmann in the semis, 6-4, and Sayaka Yoshimura in the final, 5-3.
Team Wrana won the Shorty Jenkins Classic in Cornwall last month. Team Wrana is 23-6 on the 2018-19 season.
Wrana had great success in the junior ranks by winning the world junior championship in 2017. This crew should be a force on the international curling landscape in the not too distant future.
---
Curling Masters Champery (Champery, Switzerland)
Men's Purse: $50,000 CHF
The 2018 Olympic bronze medalists picked up their first victory of the season by claiming the Curling Masters Champery in their native country.
Team Peter De Cruz of Switzerland won all seven of their games over the four-day tournament, capping it off with a 6-5 win over Team Glen Muirhead of Scotland in the final.
Fourth Benoit Schwarz won the game for Team Cruz with an incredible raise to score two on the final shot of the game.
De Cruz, who calls the game but throws second stones, added countryman Sven Michel to the fold this season.
Sweden's Niklas Edin lost a semi-final clash to Muirhead while Norway's Steffen Walstad fell to the same Scottish rink in the quarters.
The lone Canadian rink was led by James Grattan of New Brunswick. Team Grattan posted a 2-2 preliminary record that wasn't good enough for the playoffs.
---
Challenge De Curling De Gatineau (Buckingham, Québec)
Men's Purse: $37,000
Charley Thomas and Adam Casey, who has already appeared in six Briers over his young career, teamed up this off-season with the hopes of getting to Canadian championships out of Ontario,
They put together their best event as a foursome this weekend, but came up just a bit short by falling to the Team Scott McDonald of Kingston, 7-3, in the final of the Challenge De Curling De Gatineau.
Team Thomas had an overall record of 5-2, most notably beating world championship bronze medalists Team Bruce Mouat in the quarters, 4-2.
The new-look Team John Epping had a tough weekend, going 3-3 in the preliminary round with no appearance in the playoffs.
---
Medicine Hat Charity Classic (Medicine Hat, Alberta)
Men's Purse: $35,000
Women's Purse: $11,600
Kourtney Fesser outlasted the field to win the Medicine Hat Charity Classic.
Edmonton's Kelsey Rocque was eliminated in the semis.
On the men's side of the draw, Ted Appelman of Edmonton bounced back after a shaky 1-2 start to win five straight, capping it off with a win over Saskatoon's Kirk Muyres in the final, 7-2.
2018 Brier finalist Team Brendan Bottcher fell to Muyres in the quarters.
---