WCT Recap: Epping's new squad downs Jacobs in final of Shorty Jenkins
John Epping's new squad won their first event as a foursome while Kerri Einarson and her Winnipeg crew won their second straight event this weekend on the World Curling Tour.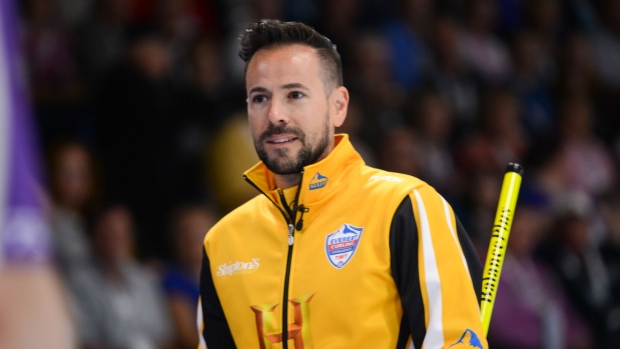 John Epping's new squad won their first event as a foursome while Kerri Einarson and her Winnipeg crew won their second straight event this weekend on the World Curling Tour.
Shorty Jenkins Classic (Cornwall, Ontario)
Men's Purse: $59,000
Women's Purse: $34, 500
It didn't take too long for John Epping and his new Ontario rink to find their chemistry.
Epping's squad picked up their first victory as a foursome this weekend in Cornwall by topping Sault Ste. Marie's Team Brad Jacobs in the final of the Shorty Jenkins Classic.
Epping and third Mathew Camm were one half of the Ontario champions last year, finishing a solid third in their first Brier appearance.
This summer Epping added the famous front-end duo of lead Craig Savill and second Brent Laing who won two Canadian and world titles playing for curling legend Glenn Howard from 2004 to 2014.
After a tough semi-final loss in their season opener at the Stu Sells Oakville Tankard last week, Toronto's Team Epping went a perfect 8-0 in Cornwall. They got to that mark by beating the past two Olympic champs. In the quarters, Epping downed USA's Team John Shuster, the surprise winners of the most recent Olympics, 4-3, and the 2014 gold medalists Team Jacobs in the final, 5-2.
Team Epping look to be the early favourites in Ontario with this victory.
Other notable names were competing in the Shorty Jenkins as well.
Former Manitoba rivals Reid Carruthers and Mike McEwen teamed up this off-season and went 3-2 in their first event together at the Shorty Jenkins but lost a tiebreaker and missed the playoff round.
Winnipeg's Jason Gunnlaugson has former Team McEwen lead Denni Neufeld playing second this season. They went 4-1 in the round robin before falling to Team Howard in the semis, 9-0. Team Howard lost to Team Jacobs in the semis, 5-3, but posted a solid overall record of 5-2.
Scotland's Ross Paterson had a solid round robin record of 4-1 and then lost Epping in the semis.
On the women's side, 2017 world junior champ Isabella Wrana impressed all weekend, capping it off with a 5-4 extra end victory over Ontario's Hollie Duncan in the final.
The 21-year-old native of Sweden went 7-1 with her only loss coming to Jacqueline Harrison, who is taking over Allison Flaxey's former rink this season.
Switzerland's Silvana Tirinzoni, who lost in the final last week in Oakville, had another solid early season performance, going 5-1 before losing to Duncan in the semi-final.
Nova Scotia's Mary-Anne Arsenault and Jamie Sinclair of the United States both lost in the quarter-final.
Morris Sunspiel (Morris, Manitoba)
Women's Purse: $4,800
Team Kerri Einarson has gone back-to-back.
The new-look foursome, consisting of players who have all skipped their own rinks, won in Oakville last weekend and continue to roll by capturing the Morris Sunspiel in their home province.
Einarson, Val Sweeting, Shannon Birchard and Briane Meilleur went 5-1 overall and beat Kristy Watling in the final.
This field will be one of the easiest they'll see in 2018-19, but nevertheless, two wins so early in a team's existence is an impressive feat.
King Cash Spiel (Maple Ridge, British Columbia)
Men's Purse: $9,600
Women's Purse: $8,000
Tyler Tardi has won the past two Canadian world juniors and the most recent world junior championship.
And the 20-year-old from Cloverdale, British Columbia is kicking his pro curling career off on the right foot by winning the King Cash Spiel this weekend.
His foursome lost their first contest of the week but then reeled off seven straight, ending it with a 6-2 win over Josh Berry in the title game.
Corryn Brown defeated Diane Gushulak in the final on the women's side.
Kesa Van Osch, last year's BC representative at the Scotties Tournament of Hearts, lost to Gushulak in the semis.
Colonial Square Ladies Classic (Saskatoon, Saskatchewan)
Women's Purse: $27,000
Winnipeg's Darcy Robertson outlasted a tough field in Saskatoon to capture the Colonial Square Ladies Classic on Monday.
The foursome of skip Robertson, third Karen Klein, second Vanessa Foster and lead Theresa Cannon went 8-0 over the four-day event, including impressive wins over Allison Flaxey in the round robin, Ashley Howard in the semis and a 5-2 victory over Japan's Sayaka Yoshimura in the championship tilt.
There were plenty of big names at this early season event, most notably 2018 world champion Jennifer Jones who went 4-1 in the round robin before falling to Team Howard in the quarters. Team Jones added Jocelyn Peterman to play second this season after veteran curler Jill Officer announced she was taking a break from the sport.
Regina's Kristen Streifel is also playing with a new rink in 2018-19 and the foursome made it all the way to the semis where they lost to Team Yoshimura.
Flaxey lost in the quarters to Streifel.