Wednesday's Ice Chips: Boyle set to return for Rangers
Check in throughout the day for the very latest from around the NHL, including injury updates, roster moves, and other breaking news. Rangers head coach Alain Vigneault said that he thinks defenceman Dan Boyle (broken hand) is going to play on Thursday. Blue Jackets defenceman Ryan Murray (knee) is week-to-week after an MRI showed no structural damage.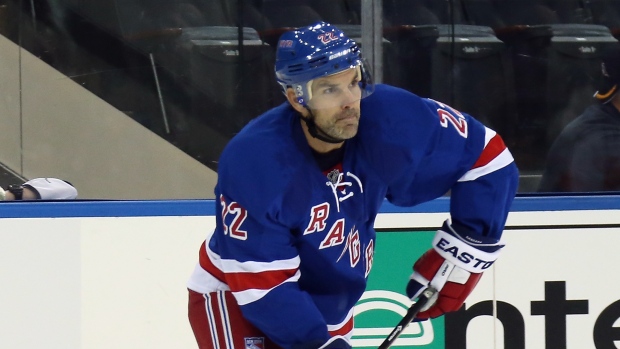 New York Rangers
- Referring to Dan Boyle, who suffered a broken hand in the first game of the season, head coach Alain Vigneault said "I think he's going to play tomorrow". Boyle said doctors told him the bone in his hand is healing well. - Team Twitter
Anaheim Ducks
- Corey Perry and Francois Beauchemin (viral infection) remain banned from the Honda Center and have been told to avoid all player contact. The Kings are taking precautionary measures going into tonight's game in Anaheim. - TSN
- Head coach Bruce Boudreau confirmed that defenceman Cam Fowler will return to the line-up tonight against the Kings. He missed a game on Saturday with a lower-body injury. - Team Twitter
Calgary Flames
- Injured forwards Mason Raymond and Joe Colborne both skated this morning before the Flames' main practice. Head coach Bob Hartley also said that the plan is for Brian McGrattan and Sven Baertschi to play on Thursday while Brandon Bollig and Devin Setoguchi will sit out. - Calgary Sun
- The team said that Jonas Hiller will get the start in goal on Thursday against the Coyotes. - Team Twitter
Colorado Avalanche
- John Mitchell will replace Nathan MacKinnon on a line with Gabriel Landeskog and Jarome Iginla. - Denver Post
Columbus Blue Jackets
- Forward Artem Anisimov (concussion) is skating with the team today but is wearing a red "no contact" jersey. He has missed six games since being hurt on Oct. 28. - Columbus Dispatch
- Defenceman Ryan Murray (knee) is week-to-week after an MRI showed no structural damage. No further surgery is required. - Columbus Dispatch
Florida Panthers
- Forward Brandon Pirri (concussion) skated today but won't be back until next week at the earliest. He has missed five games since being hurt on Oct. 30. - Miami Herald
Minnesota Wild
- The team sent F Stephane Veilleux and D Jonathon Blum to Iowa (AHL) on Wednesday. According to Michael Russo of the Minneapolis Star Tribune, the moves could be setting up the returns of F Zach Parise (upper body) and D Jared Spurgeon (shoulder) - Team Release/Minneapolis Star Tribune
Buffalo Sabres
Head coach Ted Nolan says Patrick Kaleta will play on Thursday. Wednesday was a maintenance day for Tyler Ennis and Cody McCormick but they'll play as well. Josh Gorges is out and Andre Benoit in while Jhonas Enroth gets the start. - Buffalo Sabres
Montreal Canadiens
- The team assigned defenceman Jarred Tinordi to Hamilton (AHL) on Wednesday. Head coach Michel Therrien said that the team doesn't plan on calling up anyone to replace him at this time. - Team Twitter
San Jose Sharks
- The team placed G Alex Stalock on injured reserve and recalled G Troy Grosenick from Worcester (AHL). - Team Twitter
St. Louis Blues
- T.J. Oshie spoke to the media today, and said his concussion symptoms are slowly disappearing but are not gone yet.
- Jake Allen will start in goal for the Blues on Thursday against the Predators, while Brian Elliott will play on Saturday against the Capitals. - St. Louis Post-Dispatch
Tampa Bay Lightning
- The Lightning say that scoring leader Tyler Johnson is day-to-day (upper body) after being hurt during Tuesday's loss in Chicago. - Team Release
Toronto Maple Leafs
- Brandon Kozun (ankle) joined David Booth and Joffrey Lupul on the ice prior to the Leafs' regular practice on Wednesday. It's the first time Kozun has skated since his Oct. 17 injury. - TSN
- Jonathan Bernier will get the start in goal tonight against the Boston Bruins. - TSN
Vancouver Canucks
- The team sent forward Brandon DeFazio to Utica (AHL) on Wednesday. - Team Release