Wednesday's Ice Chips: Smith returns to Leafs' practice
Check in throughout the day for the very latest from around the NHL, including injury updates, roster moves, and other breaking news. Trevor Smith has returned to Leafs' practice following an 11-day absence.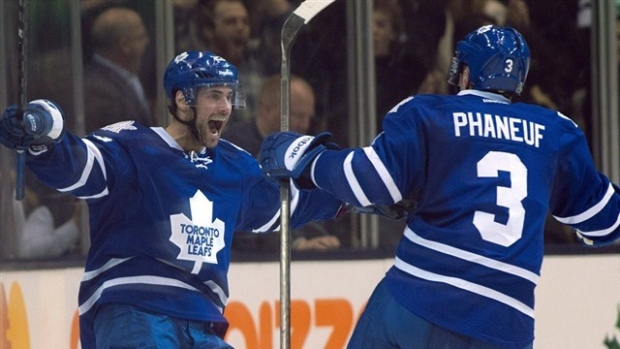 Chicago Blackhawks:
- F Teuvo Teravainen was recalled and D Trevor van Riemsdyk was sent down to AHL Rockford. The team officially placed F Patrick Kane on long-term injured reserve. - Team Twitter
Columbus Blue Jackets:
- Goaltender Oscar Dansk has been recalled from Springfield of the AHL. He will back-up Curtis McElhinney on Thursday night against the Montreal Canadiens - Team Twitter
Montreal Canadiens:
- Line combinations at Wednesday's practice:
Pacioretty - Desharnais - Gallagher
Eller - Plekanec - Galchenyuk
Prust - de la Rose - Weise
Bournival - Malhotra - Thomas/Parenteau
Defence:
Subban - Weaver
Beaulieu - Gilbert
Tinordi/Gonchar - Pateryn
Goaltenders:
Price
Tokarski
- Defenceman Andrei Markov had a maintenance day.
- Newly acquired winger Devante Smith-Pelly will join the team in Columbus on Wednesday night. He will not practice with the team on Wednesday. - John Lu
New York Rangers:
- Rick Nash is day-to-day with a neck injury after missing Tuesday night's 1-0 win over the Calgaryt Flames. "Just a bad sleep, he got a crick," said Rangers coach, Alain Vigneault, of the injury. The team will practice again on Thursday morning when Nash's status will be updated. - Bergen Record
Ottawa Senators:
- Back with the team from Binghamton of the American Hockey League, forward Colin Greening is not expected to play on Wednesday night against the Anaheim Ducks. Andrew Hammond is expected to start in goal. - Ottawa Citizen
Pittsburgh Penguins:
- D Christian Ehrhoff (concussion) is ready to return to the line-up, but will be a coach's decision. He has been out of action since January 28. - Team Twitter
Tampa Bay Lightning:
- The team has reassigned goalie Andrei Vasilevsky to Syracuse of the American Hockey League. - Team release
Toronto Maple Leafs:
- Line combinations at Wednesday's practice:
Winnik-Kadri-Lupul
JVR-Bozak-Kessel
Komarov-Jokinen-Clarkson
Booth-Holland-Kozun-Smith.
- Forward Trevor Smith returned to full practice on Wednesday. Smith had been out since February 14 with an undisclosed ailment. - David Alter
Winnipeg Jets:
- Forward Blake Wheeler will not dress in Thursday night's game against the St. Louis Blues. Coach Paul Maurice is hopeful to have him back in the line-up to face the Los Angeles Kings on Sunday. Captain Andrew Ladd will play Thursday night after missing Wednesday's practice. - Sara Orlesky