Weicker wins Canada's 4th medal at a world wrestling championships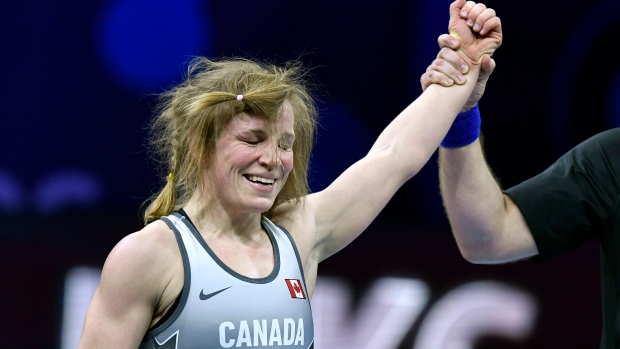 BUDAPEST, Hungary — Canada's Diana Weicker earned a bronze medal in the women's the 53-kg event Wednesday at the world wrestling championships.
Weicker, a native of Kentville, N.S., who wrestles out of St. Catharines, Ont., defeated Zhuldyz Eshimova of Kazakhstan 3-2 in the bout for bronze. The medal was the fourth for Canada, the most the team has ever captured at a world championship.
"I can't describe it," Weicker said. "It just all finally pays off, for everything you do. I put the work in over years and years and just didn't know that there is an outcome."
The medal capped off the most successful world championships for a Canadian women's team. On Wednesday, Justina Di Stasio (Burnaby, B.C., 72 kilograms) won gold, Danielle Lappage (Olds, Alta., 65 kg) captured silver, and Erica Wiebe (Stittsville, Ont., 76 kg) took home bronze.
"It's so inspiring," Weicker said of her teammates. "There are so many girls who are so good and we are all like a unit together and its fun. It makes it so much more of a family and we are all there for each other no matter what. Its just so inspiring to have so many good girls in one sport."
Earlier, Toronto's Alexandria Town wrestled in the 57 kg repechage in an attempt to qualify for the bronze medal match. She led 9-4 before Kateryna Zhydachevska of Russia caught Town in a head and arm lock, and pinned Town to the mat.
"I feel so privileged to be here," said Town, who is competing at her first world championships. "I feel like I deserved everything single bit of it and I'm so excited to continue from here."