Well-rested Fabbro cleared for more minutes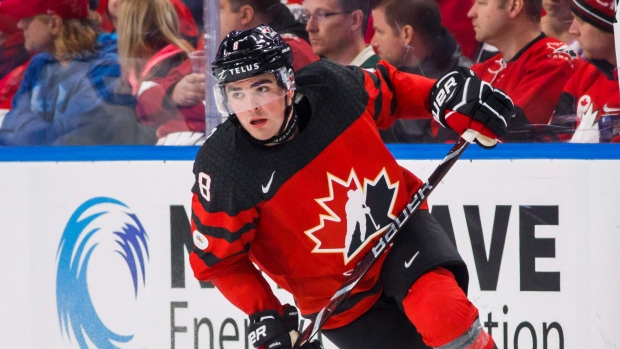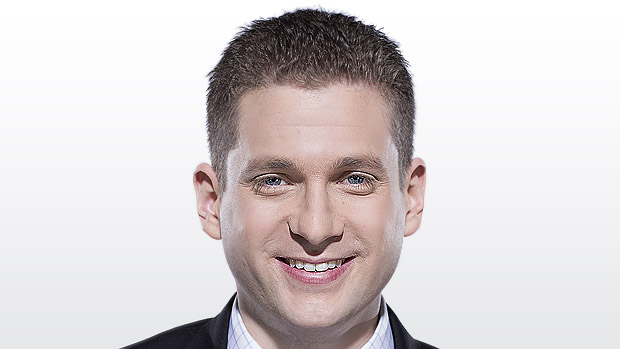 Just getting over a ​foot injury, Dante Fabbro has seen his minutes limited so far at the World Juniors. He didn't play in the second or third periods in Saturday's preliminary round finale and is only averaging 10:33 per game, which is last among Canadian defencemen.
"Talking to the training staff and coaches, they thought when we had firm control over some games it would be in my best interest to cut my minutes back and I have complete trust in them," the Boston University product said. "All I can do is have fun and cheer my teammates on when that happens. And when I get the opportunity to get out there and play I'll definitely prove myself."
Fabbro made it clear he's feeling perfectly fine these days. The Nashville Predators prospect blocked a shot in NCAA play and was unable to suit up for Canada in any pre-tournament games.
"They've done an outstanding job of getting me to where I am now and it's been a positive hill climb here, but I'm definitely feeling really good right now," Fabbro said.
Head coach Dominique Ducharme said he will no longer be managing Fabbro's minutes.
"He's clear," the coach noted with a smile. "He's 100% now."
---
Victor Mete didn't take a shift in the third period on Saturday and did not take part in Monday's practice.
​"He's good," said Ducharme. "It's just we want him 100% and we felt he needed another day, that's it."
The coach confirmed that Mete will play in Tuesday's quarterfinal against Switzerland.
The Montreal Canadiens defenceman sustained an undisclosed injury during Friday's outdoor game and was spotted limping out of the rink on Saturday night.
---
Dillon Dube wasn't sure what to make of Sunday's blunt analysis by Swiss coach Christian Wohlwend.
"I watched it a couple times and was laughing a little bit," Team Canada's captain said. "To be honest, I think everybody did that. I think it might've been reverse psychology or something."
Wohlwend said he expected Canada to dominate the Swiss much like they did in an 8-1 pre-tournament shellacking on Dec. 22. The Canadian players insist they won't lose focus despite their status as heavy, heavy favourites.
"I think we are confident now, but I wouldn't say we're overconfident," said centre Sam Steel, who's tied for the team lead with five points. "We know we haven't played a perfect game yet and that's what we're striving to do."
Canada's consistency has been a key part of its strong run. In the pre-tournament games, Ducharme challenged the group not to let up despite jumping out to big leads against the Czechs and Swiss. That continued into the preliminary round as Canada throttled Slovakia (6-0) and Denmark (8-0) pushing hard all the way to the buzzer.
"Even against the teams we had bigger leads against we continued to do what we're good at," Steel noted.
"We've been relentless," added Dube, who scored twice against the Swiss in the exhibition game. "We have four lines and every single line is contributing and it's not just goals, it's hard hockey. We're really playing the way we want to. We're finishing guys every single time. That's what we wanted. We've really built our game heading into the next three."
Ducharme refused to bite when asked about his counterpart's comments.
"We want to be as good as we can be tomorrow," he said. "We don't care who we play. We want to be as good as we can."
The 8-1 win against the Swiss is now a distant memory, the coach insisted.
"We don't care about what happened before," Ducharme said. "We're going to be playing our best game tomorrow."
---
Team Canada spent a considerable part of what was likely their final full practice at the World Juniors working on the shootout. As TSN's Frank Seravalli notes, Tyler Steenbergen was the stand-out star of the session.
Who else impressed?
"I think (Brett) Howden," said Fabbro. "He was 3/3. (Jake) Bean was doing pretty well and Kale (Clague) did pretty well with some nifty moves. Those are a couple guys."
"There were a lot of guys," said Steel. "Boris (Katchouk) had a couple nice moves, Dube had some nice ones. We took so many that everyone shone once or twice. It looks like we're getting better."
Steel was one of the few Canadian players who scored during the selection camp shootouts and almost converted that same backhand move against Jake Oettinger in Friday's loss only to see the puck strike the crossbar.
"A quarter inch lower and it's probably in the net," he said ruefully.
---
During Monday's practice, Michael McLeod and Conor Timmins got tangled up and collided with Carter Hart and, for a moment, everyone stopped and held their breath. But slowly all the players got up and appeared to be OK.
"He's 100%, it was nothing," said Ducharme. "He would've been off the ice if there was anything wrong or if we wondered about something."
Hart was requested for post-practice interviews, but was not made available. Per Hockey Canada media relations, that had nothing to do with an injury concern, but rather the team is simply giving Hart a break from media sessions now that the knockout stage is about to start.
Among goalies who have played three or more games, only Slovakia's Roman Durny (.930) has a better save percentage than Hart (.929).
---
Lines in Monday's practice:
Forwards
Dube-Steel-Kyrou
Katchouk-Thomas-Raddysh
Gadjovich-McLeod-Batherson
Comtois-Howden-Formenton
Steenbergen
Defence
Clague-Fabbro
Timmins
Bean-Foote
Makar
Goaltenders
Hart
Point