Werenski has facial fracture, done for season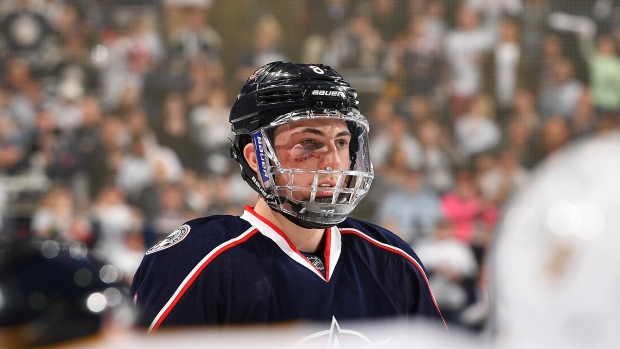 Columbus Blue Jackets defenceman Zach Werenski is out for the remainder of the season, head coach John Tortorella announced Monday.
Werenski has been diagnosed with a facial fracture after a taking a puck under his right eye in Sunday's overtime loss. The Blue Jackets are down 3-0 in their series against the Pittsburgh Penguins.
The star rookie attempted to use his stick to block a shot by Phil Kessel in the second period of Game 3 and had the puck fly up off his stick and hit him under his right eye. Werenski immediately fell to the ground, but play continued as the Penguins retained possession and eventually scored.
Werenski returned for the third period wearing a full-face shield after receiving stitches. However, he was unable to play in overtime because his vision was impacted by the swelling of his eye.
""It got to the point where he couldn't see," head coach John Tortorella said after the 4-3 overtime loss. "That's why he didn't play in OT."
He finished the game with 19:08 of ice time after logging over 25 minutes in both Games 1 and 2.
Werenski tweeted a photo of the damage post-game with the caption "Playoff hockey..."
After the game, Blue Jackets forward Brandon Dubinsky questioned the decision of the referees not to blow the whistle when Werenski went down.
"I don't know what the call is there," Dubinsky told the Columbus Dispatch. "It's dangerous. You don't know what happened to the guy. There's blood everywhere. It's in his face. I think the whistle (should blow), but it didn't."
He then praised Werenski's toughness for returning after the incident.
"I'm just proud of the leadership he showed to come back and play and make a difference, Dubinsky added. "It speaks to the maturity of the kid and he's a warrior and I'm proud of him."
Werenski scored 11 goals and added 36 assists in 78 regular-season games. He owns one goal in three postseason contests.
The Blue Jackets, down 3-0 in the best-of-seven series, will host the Penguins in Game 4 on Tuesday.