What happened to Bobby Ryan last season?
TSN's Travis Yost examines the Ottawa winger's 18-goal season by diving into shot totals and shooting percentages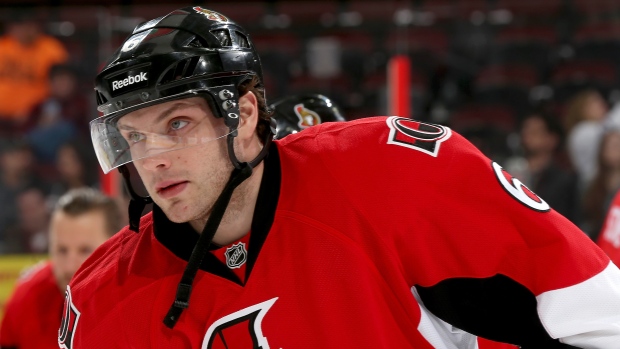 Ottawa Senators general manager Bryan Murray and head coach Dave Cameron haven't been guarded with their comments about winger Bobby Ryan heading into this season. They need him to be one of their best players – and they expect him to be one of their best players.
Despite what Ryan self-admittedly calls a 'miserable end' to his 2014-15 campaign, Ottawa executives are optimistic he's due for a bounce-back season. This, after all, is a player who has posted four 30-goal seasons in his career. Combine his historicals with his age (28), and you start to understand why Ottawa thinks he'll be a productive scorer this season.
Still, I think there's value in trying to figure out where it went wrong for Ryan. Particularly if you're the Ottawa Senators and you're on the hook for another $50 million. Was last year just a truly unlucky run of events for the star winger, or did his individual performance (or the performance of his linemates) slip to the point where a middling 18 goals feels right?
When it comes to forwards and analyzing a big change in production, one of the first things I like to do is look at shot totals and shooting percentages. Shot totals are important because they can act as a real red flag of sorts – if a shooter (in this case Ryan) becomes unable to individually create opportunities for himself, there becomes a worrying possibility that his goal-scoring will continue to slide.
Shooting percentage is important for a different reason. If a very efficient shooter like Ryan suddenly sees his conversion rate slip, we should probably get suspicious about a player being victimized by poor luck. The opposite is true too: if a poor shooter suddenly starts sniping like Kovalchuk or Stamkos, then we should probably make bets on the player going through a lucky stretch.
So, what was it for Ryan last year? Did he stop generating shots, or did his shooting percentage randomly crater?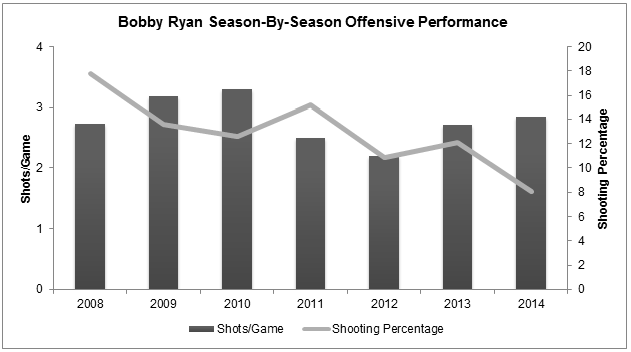 Ryan's shot generation last year was extremely consistent (to a scary degree, really) with his historical averages. However, his shooting percentage fell off of a cliff. He's a career 14 per cent shooter, yet he converted on just 8 per cent of his shots last year.
Even if you suspected Ryan was starting to hit a period of decline, you probably wouldn't have bet on him scoring just 18 goals. What I find interesting is if you simply take Ryan's shots per game from last year and apply his historical shooting percentage of 14 per cent, you end up with a season where he scores 30 goals. It's far from an exact science, but I think it speaks to the possibility that the guy was just somewhat unlucky last year.
Still, I'm drawn back to his shots per game numbers. Eyes lie all of the time, but it certainly didn't feel – qualitatively speaking, anyway – like Ryan was the same offensive zone threat that he's been in years past. It's hard to dispute the fact that he was as frequent a shooter last year as he has been in many years prior, but perhaps Ryan's shots weren't coming from the same areas on the ice.
Thankfully, this second-level analysis is very easy to do. We can simply take all of Ryan's shots from dangerous scoring areas and divide them over the total shots he took for every season. The question I'm trying to answer is simple: Were Ryan's shots less threatening last year compared to prior years? Were more of them taken from outside of the scoring-chance areas?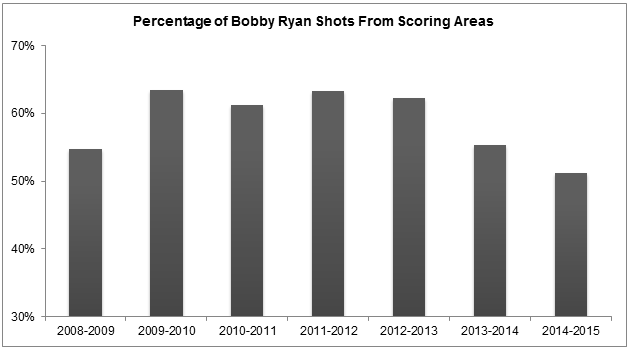 The answer is yes. A clear yes, I'd argue. Historically, about six of every 10 shots Ryan has taken are reasonably close to the opposing goaltender. Many of those won't go in, of course, but they're still threatening in nature.
Last year, about half of Ryan's shots came reasonably close to the opposing goaltender. That's well off the numbers we have seen him post in years past with Anaheim, and even off from two seasons ago with Ottawa.
To me, it raises a big enough question for Ottawa's hockey operations department to investigate further. How much of Ryan shooting from the perimeter was a result of his individual play, and how much of Ryan shooting from the perimeter was a result of the play of his teammates? That likely requires many hours of video analysis and the like, but it's a value-added exercise for a team that's committed to this player long-term.
The Takeaway
Ottawa needs Bobby Ryan to bounce-back in a big way this season. I think it's reasonable to bet that some of last year's poor performance by simple goal-scoring analysis was tied to luck, but I also think there were other drivers – specifically, the type and location of shots he took last year, and how that directly impacted his goal-scoring output.