What is wrong with Sidney Crosby?
Pittsburgh Penguins superstar Sidney Crosby does not have a point in eight of nine games this season. TSN Senior Hockey Reporter Frank Seravalli writes; what's going on with Crosby?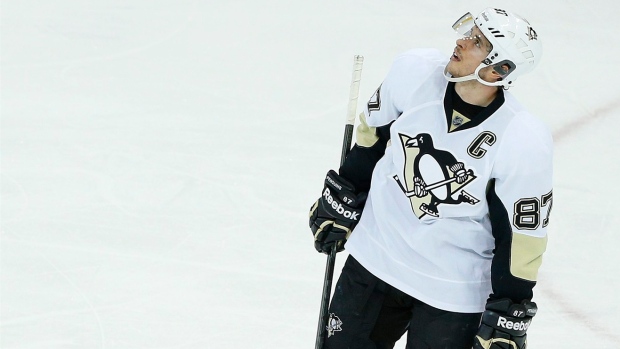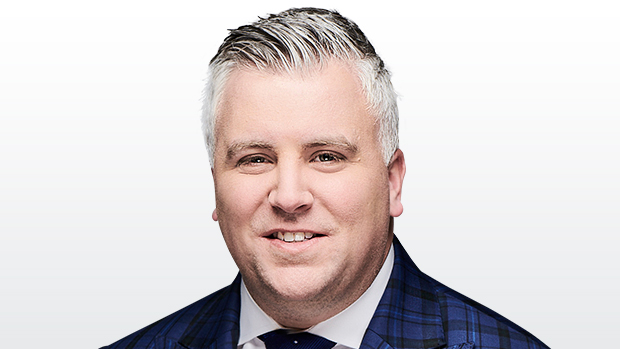 WASHINGTON - It probably wasn't exactly how Mike Johnston envisioned his Penguins registering the first third-period comeback of his tenure, but then again, it might not have been all that far off.
The Penguins' penalty kill was perfect. Johnston lauded his defencemen for their work in the corners. His team was patient. Goalie Marc-Andre Fleury was nearly flawless.
The only problem: Pittsburgh halted Washington's five-game steak in spite of its stars. Again. They won on the merit of their foot soldiers and Fleury.
Sidney Crosby does not have a point in eight of nine games this season, the first time that has ever happened at any point in his career - not just to start a campaign. His run with long-awaited supporting cast member Phil Kessel lasted just seven games.
Crosby, 28, has three points this season. They all came against the Panthers on Oct. 20.
So, what's going on with Crosby?
"He's got to be a little more selfish," Penguins assistant coach Rick Tocchet diagnosed. "The one game when he had three points, he had nine shots. He's got to attack the net more. I think he's looking to pass the puck. He's got to attack the net more. For me, you can't play a perimeter game in the NHL."
Crosby has 21 shots at even-strength through nine games this season, slightly more than two per game.
Under the surface, it seems like Crosby's struggles aren't tied to any lack of effort or desire, but rather he's limited in production by what his environment allows. Johnston, now into his second season, is preaching structure - not the freewheeling Penguins that struck the fear of God into opposing defencemen as they wheeled through the neutral zone. These aren't your father's Penguins - or your grandfather's.
They are less creative, more militant. Given the way the Penguins are assembled, spending the second-most money on offence ($50.2 million) this season, it would be akin to taking a Ferrari and driving it like a Model T.
Take the Penguins' power play for instance. On Wednesday at Verizon Center, this divisional game probably could've been won in the first 10 minutes if the Penguins broke through. They had a 5-on-3 advantage for 105 seconds, followed quickly by another 5-on-4 opportunity.
The league's worst power play (now 2-for-31) struggled to even generate chances. Their setup was different: Crosby was pushed further down toward the post than on the half-wall, where he has more room and range of vision.
"We've tried to get him to go down low right off the post," Tocchet explained. "When things aren't going well, you're looking for the perfect play. It's too pretty. We've just got to get a little more workmanlike out there. We want to be more of a working power play than a tic-tac-toe power play."
The last time Crosby went through such a rut - the previous worst of his career - was when he went pointless seven times through a 10-game stretch in early 2009. Coach Michel Therrien was fired less than a month later; Dan Bylsma opened it up and the Penguins won the Stanley Cup that spring.
For now, Crosby has remained calm on the outside, although Tocchet said he senses some obvious frustration. Crosby said earlier Wednesday he still trusted the Penguins' offence would come from solid defensive posture. He was not available post-game.
"I don't think buy-in is an issue with us," Crosby said after the morning skate. "I think it's a matter of finding ways to finish. We've been pretty good defensively and that's usually a pretty good indicator of how (committed you are) and how you are structurally that way. I think when you're good defensively, you believe that pucks will find a way to go in offensively."
We've seen in the past the impact a coach can have on a star's offensive production. Under defence-first Dale Hunter, Crosby's arch-nemesis Alex Ovechkin bought in, but was limited to 30 goals. His numbers have since rebounded. Not every coach's personal philosophy meshes with the makeup of his team.
In this case, Johnston seems to be pushing the Penguins to win behind Fleury, and the third least expensive blueline ($16.2 million) in the NHL with a team concept. They are searching for an identity after nine games. And Crosby is still searching for answers. He's failed to register a point in nearly half (23) of his last 50 games, dating back to last season.
"I think expectations for us to score five or six goals, that's just the outside world talking," Tocchet said. "For us, we just want to play a team game. That should be out mindset when we hit the ice. We don't have a game plan that says let's win the game 6-5. We just try to win the game."
Frank Seravalli can be reached at frank.seravalli@bellmedia.ca.