When it comes to contract talks, Donaldson can be patient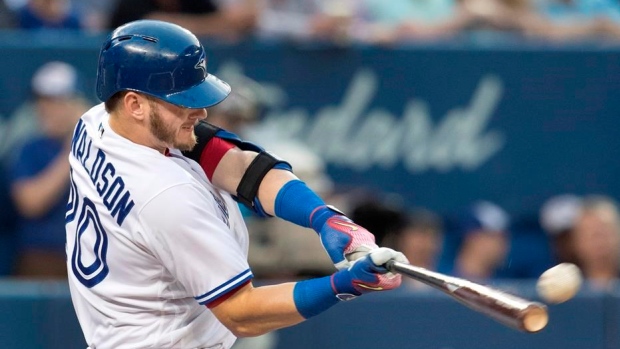 Josh Donaldson doesn't have a long-term commitment from the Toronto Blue Jays, but he's not empty-handed heading into the 2018 season.
He has his health, which is important, especially after the 32-year-old spent six weeks on the disabled list with a calf injury last season.
He also has a $23-million contract for 2018, handed to him via the arbitration process earlier this month.
There is one other thing in his back pocket: the motivation to go out and prove he's worth the long-term investment if he's still not signed by opening day.
Whether that'll be the Blue Jays giving it to him, or some other team on the free agent market next winter is another story.
It won't be the Jays if they don't start negotiating.
As far as Donaldson knows, the Blue Jays have not approached his agent, Dan Lozano of MVP Sports Group, about any kind of long-term deal.
"I kind of let my agent take care of what's going on as far as those type of talks, he fills me in whenever there's information that's going on with that," Donaldson said during his WinterFest appearance at Rogers Centre Saturday afternoon. "To my knowledge, there hasn't been (anything going on) up to this point. I think it's going to be a fluid situation at some point and it's just not right now.
"I'm happy with how everything's played out. As we talked about at the end of the season last year, I've definitely voiced my opinion that I would like to stay here, and that hasn't changed."
It's easy to figure out why Donaldson can be patient.
The 2015 American League MVP knows he'll get paid in a big way if he continues to play well and prove last season's DL stint was a blip and not a sign of things to come.
If the situation isn't resolved prior to the season, Donaldson also promises he's distraction-proof.
"I don't think about it," Donaldson said. "I think distractions are things that you allow to be a distraction. I'm very comfortable with where I'm at in this game and what I've done for this game.
"My mom always told me you don't always get things right away when you want it. Patience is a virtue and I definitely think being patient has worked out for me up until this point and I'm going to continue to do that."
The arbitration process was relatively smooth and while that may have helped produce a little bit of goodwill when - if? - long-term extension talks do take place, he's not sending any thank you cards for the $23 million he'll be raking in this season, a record payout for an arbitration-eligible player.
"Well, I mean, there's no generosity in arbitration," Donaldson said with a wry smile. "You don't get the money from arbitration if that's not earned. But I did appreciate the way we went about it, from both parties, and ultimately I'm happy to where we got and I'm excited for this upcoming season."
From afar, Donaldson has watched GM Ross Atkins add a trio of middle infielders — Yangervis Solarte, Aledmys Diaz and Gift Ngoepe — and a pair of outfielders with some power in Randal Grichuk and Curtis Granderson this off-season.
Thanks to a lagging free-agent market, he's also hoping the front office isn't done.
"I definitely see upside in them," Donaldson said. "These are quality players that are being brought in that are going to help this ball team and I'm looking forward to seeing what else happens as well."