Which NHLers are best at getting close to the net?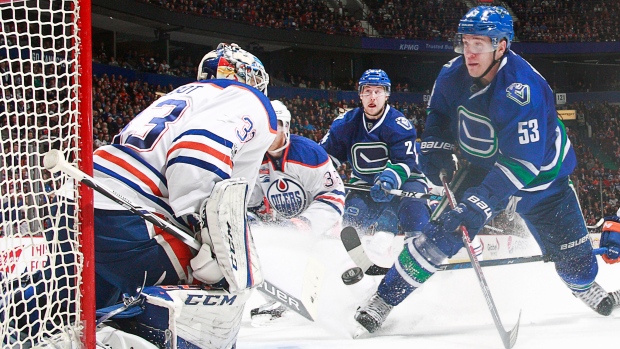 A tried-and-true way of generating scoring chances and goals? Get as close to the net as possible.
That's easier said than done in the modern era of hockey where defences are exceptional at pushing attacking forwards to the perimeter. Still, there are some players who have mastered the art of attacking through the heart of centre ice. Some use lightning-quick agility to duck around defenders. Others use brute strength and force to position themselves well for tape-to-tape passes and rebound opportunities. It's certainly not a one-size-fits-all type of talent, but it is a valuable one.
Let's be clear. Attacking at the front of the net is a repeatable talent. Shot locations for individual forwards do not fluctuate extensively year-over-year, meaning that the forwards who do routinely work their way inside of the defence continue to do so over long periods of time.
If you pulled out every regular forward's average shot location at even-strength situations in a given year and compared it to the same forward's average shot location in the subsequent year, you'd quickly see how persistent these distances are. The graph below speaks for itself: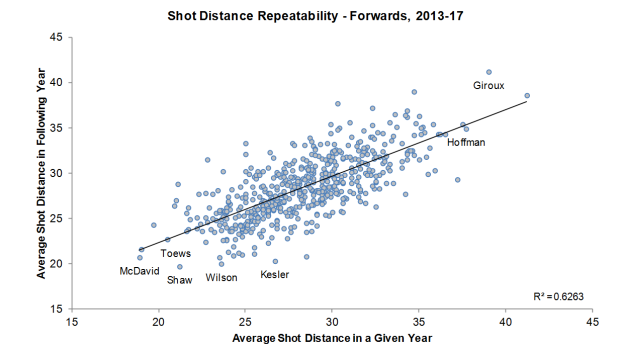 The names in the lower-left quadrant aren't particularly surprising. Connor McDavid already may be the best in the league at worming his way around less mobile defenders. Ryan Kesler is similarly effective, though the shots he's generating are mostly from him winning puck battles in traffic and out-positioning his defender.
The other side is interesting, too. I called out a couple of names in Claude Giroux and Mike Hoffman, if only to show that average shot distance is not the same for every player. Giroux has never been known as a sniper (over his career he's a little more than 10 per cent). Combine that with increasingly disparate shot distances, and you have to wonder how much these ridiculously long shot distances are plaguing his goal-scoring rates. Conversely, I'm not sure you have to wonder about Hoffman's longer distances here. Hoffman has one of the better shots in the entire league and, like most snipers around the league, he really just needs the right angle and right location (his preference is usually just outside of the dot) to beat goaltenders on a regular basis.
Now that we know shot distance is a repeatable talent, we can easily tease out which skaters in the league are the best (or worst!) at generating shots from around the net. Below is a breakout of some of the shortest and longest shot distances for forwards over the last four years.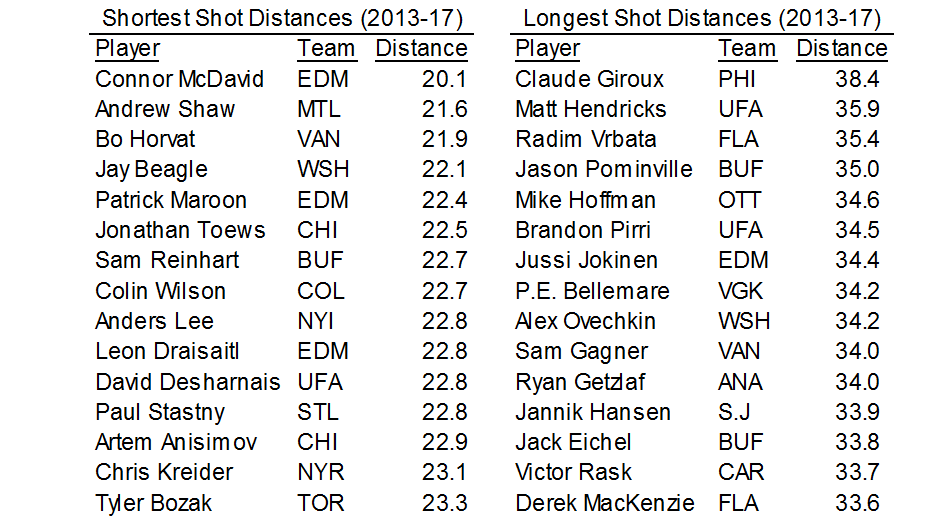 A few names stand out to me on both sides of the aisle. For starters, I look at Colin Wilson – a player who lives in front of the net and has shot about 12 per cent over the course of his career – as something of a steal for Colorado. Remember, they acquired him from Nashville for just a fourth-round pick. That's pretty darn good for a guy who has averaged about 40 points per full season over the course of his career.
Chris Kreider (we already knew this!) and Tyler Bozak are also interesting names here. Bozak has been something of a polarizing player for most of his career, but one thing you really can't knock is his ability to generate offence. Bozak's scored like a top-six forward for a few years now and that's at least partially driven by a ridiculous 15-per-cent conversion rate over 800 shots. I'd put Bozak in the 'crafty and elusive' category as it pertains to the short shot distances, by the way.
On the long shot distance side, there's a clear divide between snipers – Mike Hoffman, Alex Ovechkin and Jack Eichel – who know their sweet spot on the ice, and the guys who have seen ruinous or degrading goal-scoring rates because of how frequently they are pushed out of the premier scoring areas. It'll be interesting to see what happens with Ryan Getzlaf and whether he follows a similar pattern as Giroux has in Philadelphia. Getzlaf has managed just 13 and 15 goals, respectively, over the last two seasons. He's still an elite playmaker, but he's not nearly the effective goal-scorer he once was.
One last note: Shot distance is just one of many drivers affecting the probability of a goal being scored. Things like shooting angles, screeners, sequential passing, shot type and game state all explicitly drive the likelihood of a puck finding the back of the net. But there remains tremendous value in identifying the guys who can cut through the middle of the most dangerous scoring area on the ice, and average shot distance is extremely helpful at identifying this type of player.