Who are the best players not skating in the NHL?
Canadian NHL teams are well represented with 14 players in Craig Button's annual list of the Top 50 NHL-affiliated prospects.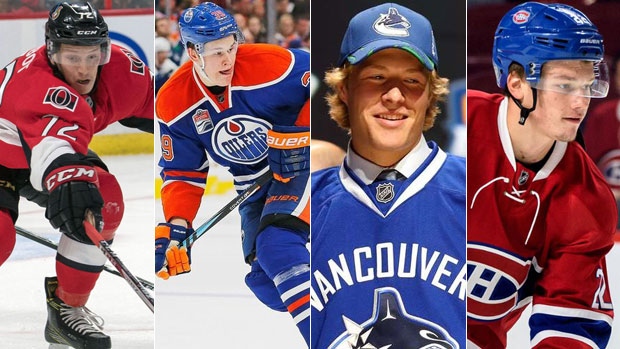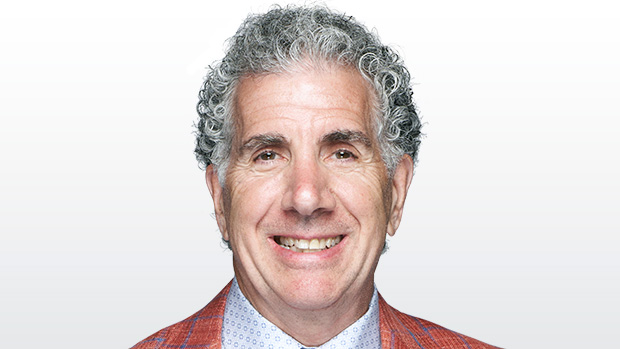 Who is the best hockey player currently not skating in the NHL?
Clayton Keller, the creative centre with Boston University, tops our list of the Top 50 NHL-affiliated prospects. Keller's sleight of hand is matched by a creative mind that allows him to be dangerous every time he's on the ice. The Arizona Coyotes prospect is an electrifying player who is highly productive.
Second on our list is Buffalo prospect winger Alex Nylander (Rochester, AHL), who reminds me so much of San Jose captain Joe Pavelski because of his ability to excel in any situation.
Ottawa defenceman Thomas Chabot (Saint John, QMJHL) is coming off a great performance at the World Junior Championship. No. 3 on our list, his progression this season has been impressive.
Our top five is rounded out by Arizona centre Dylan Strome (Erie, OHL) and Minnesota winger Kirill Kaprizov (Salavat Yulaev Ufa, KHL).
No. 6 Jesse Puljujarvi (Bakersfield, AHL) of Edmonton and No. 7 Kyle Connor (Manitoba, AHL) of the Jets have both gone through growing pains this season, but their skill and potential is undeniable. All they need is more time to physically mature.
Vancouver forward Brock Boeser (North Dakota, NCAA), who has 26 points in 25 games this season, is eighth on the list. Another college player, Boston defenceman Charlie McAvoy (Boston University, NCAA), is ninth.
Philippe Myers (Rouyn-Noranda, QMJHL) of Philadelphia was a junior free agent signee. The defenceman's blend of size, skill, smarts and competitiveness finds him rounding out the top 10.
Canadian teams are well represented with 14 players in the top 50, including four in the top 10 and seven in the top 20. Ottawa and Vancouver lead the way with four players each, while Winnipeg has three.
Six of those seven players in the top 20 could very well be in the NHL next season, with the exception being No. 12 Tyler Parsons of Calgary. The London (OHL) goaltender could probably benefit from some AHL development time.
Top 50 NHL-Affiliated Prospects
RK
Name
Age
NHL Team
2016-17 Team
GP
G
P

1

Clayton Keller

, C

18

Ari

Boston U (NCAA)

24

17

35

2

Alex Nylander, LW/RW

18

Buf

Rochester (AHL)

46

6

21

3

Thomas Chabot

, D

20

Ott

Saint John (QMJHL)

26

7

34

4

Dylan Strome

, C

19

Ari

Erie (OHL)

23

17

53

5

Kirill Kaprizov, LW

19

Min

Ufa (KHL)

49

20

42

6

Jesse Puljujarvi

, RW

18

Edm

Bakersfield (AHL)

17

6

13

7

Kyle Connor

, LW/RW

20

Wpg

Manitoba (AHL)

30

8

18

8

Brock Boeser

, RW

19

Van

North Dakota (NCAA)

25

11

26

9

Charlie McAvoy

, D

19

Bos

Boston U (NCAA)

31

4

20

10

Philippe Myers

, D

20

Phi

R-Noranda (QMJHL)

22

8

20

11

Ilya Samsonov, G

19

Was

Magnitogorsk (KHL)

27

2.00

.930

12

Tyler Parsons

, G

19

Cgy

London (OHL)

26

2.25

.926

13

Joel Eriksson Ek

, C

20

Min

Farjestad (SHL)

18

6

12

14

Mikhail Sergachev

, D

18

Mtl

Windsor (OHL)

38

9

37

15

Tyson Jost

, C

18

Col

North Dakota (NCAA)

24

11

25

16

Pierre-Luc Dubois

, LW

18

Clb

B-Boisbriand (QMJHL)

38

20

47

17

Sam Steel

, C

19

Ana

Regina (WHL)

52

39

105

18

Olli Juolevi

, D

18

Van

London (OHL)

46

8

37

19

Mathew Barzal

, C

19

NYI

Seattle (WHL)

34

8

63

20

Christian Fischer

, RW

19

Ari

Tucson (AHL)

40

18

36

21

Igor Shestyorkin, G

21

NYR

St. Petersburg (KHL)

39

1.64

.937

22

Colin White

, C/RW

20

Ott

B. College (NCAA)

29

14

27

23

Alex DeBrincat

, RW

19

Chi

Erie (OHL)

51

51

107

24

Ilya Sorokin, G

21

NYI

Moskva (KHL)

39

1.61

.929

25

Luke Kunin

, C/RW

19

Min

Wisconsin (NCAA)

27

19

33

26

Jacob Larsson

, D

19

Ana

Frolunda (SHL)

21

0

3

27

Vladislav Kamenev

, C

20

Nsh

Milwaukee (AHL)

49

13

38

28

Danny O'Regan, C

23

SJ

San Jose (AHL)

43

16

45

29

Travis Sanheim

, D

20

Phi

Lehigh Valley (AHL)

52

8

26

30

Tristan Jarry

, G

21

Pit

W-B Scranton (AHL)

33

2.27

.921

31

Julius Honka

, D

21

Dal

Texas (AHL)

33

6

23

32

Shea Theodore

, D

21

Ana

San Diego (AHL)

15

2

11

33

Thatcher Demko

, G

21

Van

Utica (AHL)

26

3.04

.893

34

Rasmus Asplund, C

19

Buf

Farjestad (SHL)

31

3

16

35

Ville Saarijarvi, D

19

Det

Mississauga (OHL)

30

10

28

36

Gabriel Carlsson

, D

20

Clb

Linköping (SHL)

32

2

4

37

Logan Stanley

, D

18

Wpg

Windsor (OHL)

35

4

17

38

German Rubtsov

, C

18

Phi

Chicoutimi (QMJHL)

11

7

18

39

Logan Brown

, C

18

Ott

Windsor (OHL)

28

13

35

40

Adam Gaudette, C

20

Van

Northeastern (NCAA)

31

23

49

41

Jonas Siegenthaler

, D

19

Wsh

Zurich (SUI)

23

0

6

42

Tage Thompson

, C

19

StL

Connecticut (NCAA)

30

17

29

43

Vitaly Abramov

, LW

18

Clb

Gatineau (QMJHL)

56

43

87

44

Jake Walman

, D

21

StL

Providence (NCAA)

32

5

19

45

Filip Chlapik

, C

19

Ott

Charlottetown (QMJHL)

45

30

81

46

Jack Roslovic

, C/RW

20

Wpg

Manitoba (AHL)

42

9

27

47

Jordan Greenway, LW

20

Min

Boston U (NCAA)

30

8

27

48

Jakub Vrana

, RW/LW

20

Wsh

Hershey (AHL)

36

16

34

49

Daniel Sprong

, RW

19

Pit

Charlottetown (QMJHL)

19

18

31

50

Zachary Senyshyn, RW

19

Bos

S.S. Marie (OHL)

48

36

51
Top 5 Prospects From Each Canadian NHL Team
RK
Name
Age
NHL Team
2016-17 Team
GP
G
P

1

Tyler Parsons

, G

19

Cgy

London (OHL)

26

2.25

.926

2

Mark Jankowski

, C

22

Cgy

Stockton (AHL)

42

16

33

3

Jon Gillies

, G

23

Cgy

Stockton (AHL)

29

3.08

.906

4

Oliver Kylington

, D

19

Cgy

Stockton (AHL)

39

4

15

5

Adam Fox, D

19

Cgy

Harvard (NCAA)

26

4

30

1

Jesse Puljujarvi

, RW

18

Edm

Bakersfield (AHL)

17

6

13

2

Caleb Jones

, D

19

Edm

Portland (WHL)

51

7

46

3

Ethan Bear

, D

19

Edm

Seattle (WHL)

58

25

62

4

Tyler Benson

, LW

18

Edm

Vancouver (WHL)

33

11

42

5

Griffin Reinhart

, D

23

Edm

Bakersfield (AHL)

33

5

12

1

Mikhail Sergachev

, D

18

Mtl

Windsor (OHL)

38

9

37

2

Noah Juulsen

, D

19

Mtl

Everett (WHL)

36

11

28

3

Nikita Scherbak

, RW

21

Mtl

St. John's (AHL)

45

11

29

4

Michael McNiven

, G

21

Mtl

Owen Sound (OHL)

43

2.17

.920

5

Will Bitten, RW

18

Mtl

Hamilton (OHL)

53

19

47

1

Thomas Chabot

, D

20

Ott

Saint John (QMJHL)

26

7

34

2

Colin White

, C/RW

20

Ott

B. College (NCAA)

29

14

27

3

Logan Brown

, C

18

Ott

Windsor (OHL)

28

13

35

4

Filip Chlapik

, C

19

Ott

Charlottetown (QMJHL)

45

30

81

5

Jonathan Dahlen, LW

19

Ott

Timra (SWE)

41

23

39

1

Andrew Nielsen

, D

20

Tor

Toronto (AHL)

51

10

30

2

Kasperi Kapanen

, RW

20

Tor

Toronto (AHL)

33

16

33

3

Adam Brooks

, C

19

Tor

Regina (WHL)

52

32

98

4

Carl Grundstrom, LW

19

Tor

Frolunda (SHL)

37

12

16

5

Jeremy Bracco

, RW

19

Tor

Windsor (OHL)

45

22

68

1

Brock Boeser

, RW

19

Van

North Dakota (NCAA)

25

11

26

2

Olli Juolevi

, D

18

Van

London (OHL)

46

8

37

3

Thatcher Demko

, G

21

Van

Utica (AHL)

26

3.04

.893

4

Adam Gaudette, C

20

Van

Northeastern (NCAA)

31

23

49

5

Jordan Subban

, D

21

Van

Utica (AHL)

44

12

27

1

Kyle Connor

, LW/RW

20

Wpg

Manitoba (AHL)

30

8

18

2

Logan Stanley

, D

18

Wpg

Windsor (OHL)

35

4

17

3

Jack Roslovic

, C/RW

20

Wpg

Manitoba (AHL)

42

9

27

4

Eric Comrie

, G

21

Wpg

Manitoba (AHL)

33

2.80

.910

5

Erik Foley, LW

19

Wpg

Providence (NCAA)

29

14

28