Who should be Oilers' captain?
There was no doubt in Dallas Eakins' mind that Andrew Ference should be the captain of the Edmonton Oilers in 2013. But the 36-year-old Ference may find himself in a dogfight for icetime this season so can he be captain if he is not an everyday player? TSN's Ryan Rishaug explores the possibilities.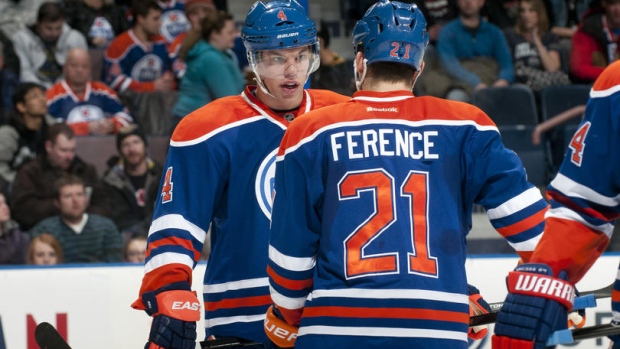 Andrew Ference stands for much of what the Edmonton Oilers want to stand for.
He's hard working, shows up every year in great shape, and is a leader in the community and a reasoned voice in the dressing room and in front of the cameras.
There was no doubt in Dallas Eakins' mind that Ference was the right guy for the job when he gave him the C in 2013. The issue now, two seasons later, is that 36-year-old Ference may find himself in a dogfight for ice time.
The additions of Andrej Sekera, Eric Gryba and Griffin Reinhart, combined with the development of Oscar Klefbom and Darnell Nurse, have put Ference in a tight spot. He may be in and out of the lineup this season. It's a good problem to have from a depth perspective, and it means the team is improving, but it creates a tricky situation from a leadership standpoint.
Can Ference properly captain this group if he is not an everyday player?
Ference has spoken with Todd McLellan and Peter Chiarelli about the captaincy and while none will get specific, Chiarelli said that whatever happens, he expects Ference will handle it like a professional.
That sounds like the Oilers are preparing for the possibility of change.
So if not Ference, then who? There are several possibilities.
The first is 24-year-old Taylor Hall. He has been the team's emotional leader for the last three seasons. He competes hard, wears his emotions on his sleeve and can take over games with speed and skill. But it hasn't all been rosy with Hall in Edmonton.
When things go bad, Hall's body language hasn't been the greatest. Everyone remembers his highly public tiff on the bench with Eakins over a spilled water bottle. When Ference talked to the media about players needing to feel thankful to play in the NHL and not have to be convinced to be happy, many perceived he was talking directly about Hall.
That all said, Hall is in his sixth NHL season and acknowledges he has done a lot of growing up.
The organization appears to agree, entrusting him with the critical responsibility of Connor McDavid's off-ice tutelage. McDavid is moving in with Hall and Luke Gazdic once the season begins. Make no mistake, the organization would have to sign off on this and it clearly signifies a level of trust in Hall's character.
If he's ready for this responsibility, wouldn't he also be ready for the captaincy? Whatever growing up Hall has left to do, perhaps the C on his sweater would nudge him across the finish line.
A sleeper possibility is 22-year-old Ryan Nugent-Hopkins, a fifth-year NHLer.
He's understated, but hugely respected in the locker room for his work ethic and commitment to a team game. Nugent-Hopkins has worked hard the last two seasons to be a reliable two-way point producer, and has a subtle, but equally competitive edge to Hall's. Nugent-Hopkins could be the leader of this group down the road, but it may be too soon for him to officially assume the mantle.
The other option - and this may be the most likely if any change is made - is that the C rotates through a variety of players.
On nights when Ference is in the lineup, he wears it. When he is not, it cycles between the likes of Hall, 25-year-old Jordan Eberle and Nugent-Hopkins. This is not a traditional setup, but would give each of the players a sense of responsibility and an opportunity to grow into the role. It would buy Chiarelli and McLellan some time to delay making the decision until next season, when the right call may be more obvious than it is now.
The elephant in the room in this conversation is McDavid.
While he is just a teenager - and likely a few years from being considered a leader at this level - he might be the most critical piece of the entire puzzle.
Sidney Crosby was named captain at 19, before his third season with Pittsburgh, and Jonathan Toews took on the "C" at 20 in his second season with Chicago. More recently, Gabriel Landeskog assumed the role at 19 in his second season with Colorado.
Should McDavid meet expectations there may be zero doubt who the captain should be in a scant two or three seasons. Then what would happen? Would the Oilers take the C away from, say, Hall and hand it to McDavid? Would they leave it on Hall and have McDavid in a supporting role as an alternate?
Players will tell you a letter doesn't matter, that leaders lead regardless of C's or A's, but a captain in a Canadian city is also the face of the franchise. Imagine bona fide NHL superstars Crosby and Toews not being team captains. It just wouldn't seem right.
The final possibility may rest with Ference himself.
This is a player who defied the odds to make the NHL as an undersized eighth-round draft pick. And while he's being professional and acknowledging the current conversation, you have to think this is both irritating and a challenge to him.
This team needs veteran defencemen. It needs competitors and it needs leaders. While his play dipped last season, if Ference shows he can still bring it every day and ensure his spot at the dinner table, the conversation may end as quickly as it started.
And the suspicion is, should this be the case, the Oiler brass would be just fine with that.