Wieters hits two homers, Orioles rout of Tigers
Matt Wieters hit two of Baltimore's four home runs, and Orioles chased Jordan Zimmermann in the second inning and moved back ahead of the Detroit Tigers in the AL wild-card race with an 11-3 rout Saturday night.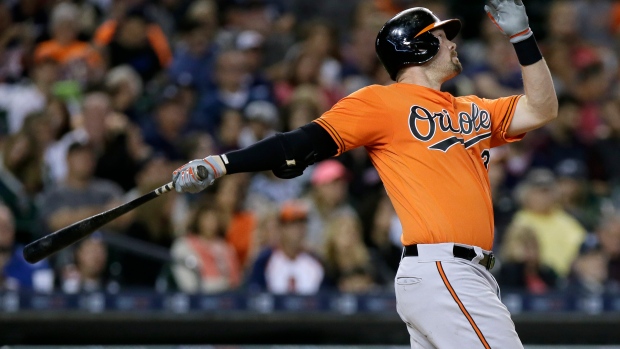 DETROIT — The Baltimore Orioles caught Jordan Zimmermann at the perfect time.
Saturday, in Zimmermann's first start off the disabled list, the Orioles hit three homers before chasing him in the second inning and moved back ahead of the Detroit Tigers in the AL wild-card race with an 11-3 rout.
"That's a very, very good pitcher and we happened to catch him on an off night," Orioles manager Buck Showalter said. "I certainly wouldn't want to be facing him in his next start."
Adam Jones and Chris Davis homered in the first inning off Zimmermannn (9-6), and Matt Wieters connected in the second and sixth innings.
"At this point in the season, with us in the race, every win is huge," Wieters said. "Obviously, it feels good to hit two homers tonight, but only because they came in a win. If we had lost, it wouldn't have mattered."
Baltimore is two games behind first-place Boston in the tightly bunched AL East and one game back of wild-card leader Toronto. The Orioles are one game ahead of the Tigers and New York Yankees for the second wild card.
Ubaldo Jimenez (7-11) allowed two runs, four hits and three walks in seven innings.
"The guys gave me a great start, and I just wanted to get us deep into the game with that lead," he said. "My sinker was really good tonight, and I was able to throw all the breaking pitches whenever I needed them."
Zimmermannn, bothered by a neck injury, has been on the disabled list three times and was making his first big league start since Aug. 4 and his second since June 30. He allowed six runs and four hits — including three homers — and two walks while getting three outs. He threw 42 pitches and faced 10 batters.
"I was terrible tonight, so this loss is on me," he said. "I felt fine physically, but I couldn't locate any of my pitches. I was trying to hit the corner with my fastball, and I'd miss five inches outside or five inches over the plate."
Between his stints on the disabled list, Zimmermannn has an 8.84 ERA in eight starts since the beginning of June. With the Tigers deep in the race, it isn't clear what his immediate future holds.
"We're going to weigh a number of factors," Tigers manager Brad Ausmus said when asked if Zimmermannn will remain in the rotation. "We need to win games, and we'll decide how we think we can best do that."
After an 11-minute rain delay at the start, Adam Jones hit Zimmermannn's first pitch on a high arc into the Tigers bullpen in left. After Manny Machado drew a one-out walk, Chris Davis launched a 2-0 fastball deep into the Baltimore bullpen in centre.
J.D. Martinez's RBI single cut the gap to 3-1 in the bottom half, when Jimenez retired Justin Upton on a grounder to strand runners at the corners.
"When I got into trouble, Matt came out there and calmed things down," Jimenez said. "He just kept calling for all the right pitches and I just had to throw them."
Wieters hit a two-run homer in the second, when Blaine Hardy threw a run-scoring wild pitch. Wieters hit a three-run homer off Buck Farmer in the sixth.
Ausmus responded by making eight lineup changes for the seventh, changing every position but catcher.
TRAINER'S ROOM
Orioles: Davis said he plans to keep playing despite a sore left hand that has bothered him for most of the season. Orioles manager Buck Showalter has tried to rest his first baseman by taking him out of lopsided games, and replaced him with Drew Stubbs in the seventh on Saturday..
LOOK OUT
Tigers third-base coach Dave Clark was uninjured after being hit on his rear by Erick Aybar's hard one-hopper in the fourth inning. Clark, who stands closer to the plate than most third-base coaches, laughed off the incident. Clark took a glancing blow in the eighth inning from a Steven Moya grounder as he tried to pirouette out of the way.
"In all the years I've been in this game, I have never seen a third-base coach get hit twice in the same night," Showalter said. "Baseball will never cease to surprise you."
UP NEXT
Tigers ace Justin Verlander (14-7, 3.28) faces Baltimore's Chris Tillman (15-5, 3.76) in Sunday's series finale. Tillman is coming off the disabled list, while Verlander is 6-1 with a 2.09 ERA in his last 11 games, posting a quality start each time.