Wild F Zucker on trade rumours: 'I want to be here'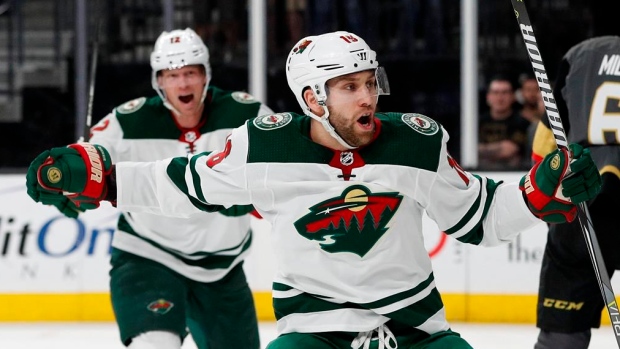 Jason Zucker is coming off the best season of his career, but with the Minnesota Wild looking to make a change to volley themselves past the first round of the playoffs, his name has come up in trade talk this summer.
The winger scored 33 goals for the Wild last season and posted a career-best 64 points. He's listed at No. 6 on TSN Hockey Trade Bait list.
"For me, I want to be here. I'll say that," Zucker told the Minneapolis Star Tribune. "I want to be in Minnesota. I love Minnesota. My family roots are now here. This is a second home to us, and I want to be here. We have a great team. We have a lot of really good things going for us."
The 26-year-old filed for arbitration last week and is likely in for a significant pay raise as a restricted free agent this summer. He told the Star Tribune he's hoping to avoid going through the arbitration process, but couldn't provide an update on talks between the two sides.
"I think [agent Eustace King is] in a lot of dialogue with the team, but I don't know how that's going necessarily," Zucker said. "Obviously, we filed for arbitration, and we're hoping we don't have to get there. For me, we're excited that we're still a part of this organization right now and we're looking forward to getting a contract done and put that in the past."
Zucker topped the 20-goal mark twice in his career before breaking out last season. He said his goal for next season is top his career highs.
"I'm not satisfied with scoring 33," Zucker said. "I want to keep getting better, and I want to improve my game. That doesn't necessarily mean I'm guaranteeing 40 goals. That just means I'm going to guarantee that I'm going to be a better player next season."
According to CapFriendly, the Wild have $9.9 million in cap space left for this season with Zucker and defenceman Matt Dumba left to re-sign. Dumba has also filed for arbitration.
Newly hired Wild general manager Paul Fenton promised tweaks this off-season and stayed mostly quiet in free agency, adding only defenceman Greg Pateryn and centre Eric Fehr on deals worth $1 million or more.
The Wild have reached the playoffs in six straight seasons, but have been eliminated in the first round in each of the past three seasons.