Willis, Ambrosie try to clear the air on fine
It was an eventful day for the B.C. Lions' defensive lineman and the CFL commissioner as they met with TSN Radio 1040 - as well as each other - to discuss the fine on Willis for his high hit on Saskatchewan's Zach Collaros.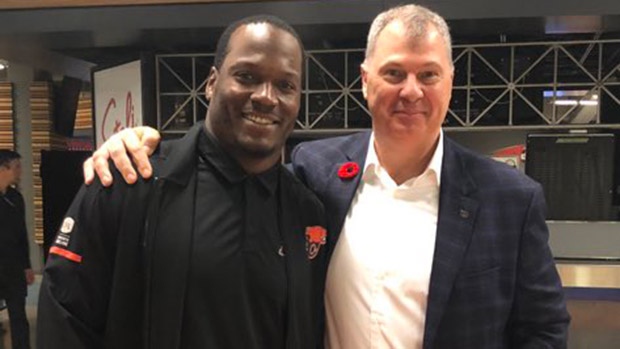 Randy Ambrosie is standing pat when it comes to Odell Willis.
Speaking to TSN Radio 1040 in Vancouver on Friday, the CFL commissioner doubled down on his decision to fine the B.C. Lions defensive lineman for his high hit on Saskatchewan Roughriders quarterback Zach Collaros - and particularly such an expensive one.
"There's a careful process that we use and we evaluate all the hits the very same way," Ambrosie explained. "We are encouraging the players to aim below the shoulder plate or lower and not above the shoulder plate or above because there's so much at stake now for our players.
"Keeping our players safe, keeping our players on the field, doing everything that we can to honour the goal of player safety and health. In the end, we had a player [Collaros] that suffered a head injury as a result of that hit."
Ambrosie added that the CFL's player football operations group determined that there was, "definitely head-to head contact" after reviewing hit and subsequently the group felt a maximum fine was warranted. He also said that the hit to Collaros - and not the injury the quarterback suffered afterwards - was factored into the decision.
"We're stressing to the players that we are going to err on the side of caution as it relates to head injuries," he said. "…And when in doubt, we're going to be tough on them because we want to send a message to the players that they have to help look after each other as much we want to look after the players ourselves."
The exact amount of the fine wasn't disclosed, but a maximum fine is half a game cheque.
Willis delivered the hit on Collaros in the first quarter of the Roughriders' 35-16 win over the Lions last Saturday. There was no flag thrown on the play - and an unnecessary roughness penalty was called only after the Riders challenged.
Willis and Randy Ambrosie met in person on Friday at a function at BC Place and discussed the fine, one day after Willis took to Twitter to sound off on his displeasure with it.
"Y'all fined me the maximum amount for leading with my shoulder, that's kool!!! Next time ima just lead with my head since y'all gon fine me the max anyway," Willis tweeted, followed by three 'shrugging' emojis.
He later issued an apology to Ambrosie.
"@RandyAmbrosie with all due respect I'm sorry and I apologize for the tweet if it came off negative or threatening," he wrote. "It wasn't meant for that. I just don't understand and I open to any feedback u might have. Again I apologize 4 the earlier tweet. It wasn't meant 2 be negative."
He told TSN Radio 1040's Karen Surman that he was taught to aim for the numbers on an opposing player's jersey when he's attempting to make a tackle and that's what he thought he did.
Following his face-to-face meeting with the commissioner, Willis still disagreed that he applied a high hit to Collaros, but appeared to be in better spirits as the two were seen smiling in a picture Willis uploaded on Twitter.
Willis and the Lions take on the Calgary Stampeders tomorrow in the final week of the regular season, and will then play the Hamilton Tiger-Cats in the Eastern semi-final on Sunday Nov. 11.