Wilson punished with $1.2M fine, 20-game ban in bid to stop violent hits
The NHL's Department of Player Safety dropped the hammer in a way not previously felt in delivering a 20-game suspension to Washington Capitals forward Tom Wilson that carries a fine of $1.26 million – nearly double the largest-ever salary forfeiture by a player for an on-ice incident in NHL history, Frank Seravalli writes.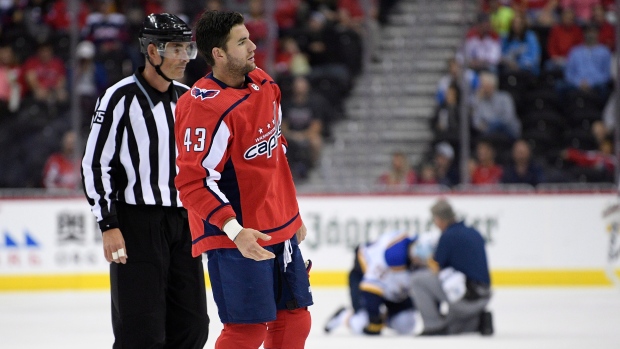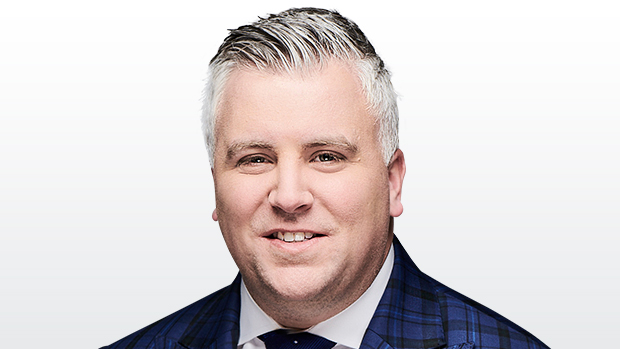 The hockey world did not see this coming, just like Oskar Sundqvist.
A double-digit ban for the Washington Capitals' human cruise missile seemed plausible for his latest brain-jarring blow, even likely given the accused and his rap sheet.
But the NHL's Department of Player Safety dropped the hammer in a way not previously felt.
Tom Wilson was suspended for 20 games without pay on Wednesday for his illegal check to the head of St. Louis Blues forward Sundqvist in Sunday's preseason finale.
As a repeat offender, Wilson's suspension carried a fine of $1.26 million – nearly double the largest-ever salary forfeiture by a player for an on-ice incident in NHL history.
The NHL Players' Association said the union was reviewing the ruling internally on Wednesday and planned to speak with Wilson about a potential appeal. Wilson has 48 hours to provide written notice of an appeal. In this case, it would appear that an appeal seems more likely than not, particularly given the amount of money on the line.
The NHL cited Wilson's "unprecedented frequency of suspensions in the history of the Department of Player Safety" for justification of the length of the 20-game suspension, which is tied for the eighth-longest ever in league history.
Serial offender Raffi Torres was suspended 41 games for a preseason hit in 2015. Even Torres had not been suspended that many times in such a short window.
This is the fourth suspension for Wilson in a span of 105 games played – and the second straight season opener he has sat out. He went just 15 games between suspensions after a three-game ban for shattering the jaw of Pittsburgh's Zach Aston-Reese in the second round of last year's playoff run.
On Sunday, Wilson violently connected with Sundqvist in a textbook illegal check to the head, textbook in that the head was the initial and main point of contact and totally avoidable. Wilson drew additional criticism because the hit seemed so unnecessary in an out-of-conference preseason game. Yes, professional hockey players play for keeps any time they are on NHL ice, but Wilson's hit on Sunday seemingly came with intent to maim.
Now, Wilson will have the best view of the Capitals' first Stanley Cup banner from the press box as it is raised to the rafters at Capital One Center on Wednesday night. It's the same view Wilson will have until he is eligible to return to Washington's lineup on Nov. 21.
Though more than double the total number of games he'd previously been suspended for in his career, Wednesday's 20-gamer was not as much about sending a strong message as it was about actually attempting to change Wilson's behaviour.
Any previous message fell on deaf ears, not stern enough to affect that change.​
Yes, the hope is that the time off the Caps' roster will give Wilson time to consider change. In reality, it is almost equally likely that the hit to Wilson's wallet will have the same or larger impact.
Taking nearly $1.3 million out of someone's pocket tends to cause them to snap to attention.
The largest previous salary forfeiture was just under $600,000. For perspective, the NHL collected just over $1.8 million in total fine and suspension money from the entire league last season.
Auspicious timing saved Wilson a lot of money last season and maybe prevented him from learning. Wilson did not lose a dollar on two of his three suspensions last season because they occurred in the preseason (two games) and in the postseason (three games), which are not official pay periods.
In the coming days, Wilson will need to write a cheque for $1,260,162.60 to the NHL's Player Emergency Assistance Fund. That has more than wiped out the $1.1 million he was set to earn this season in actual salary; he cashed a $5 million signing bonus on July 27 with his new six-year, $31 million deal earned for his ability to play on the edge.
Those strokes of the pen will hurt, but not as much as Sundqvist's head – and that's the point.
Contact Frank Seravalli on Twitter: @frank_seravalli