Winnipeg Blue Bombers Season Preview
Get ready for the CFL season with TSN.ca's Team Previews. Check out roster breakdowns and season outlooks from CFL on TSN analysts. We'll roll out a new team each week day. Today, the Winnipeg Blue Bombers.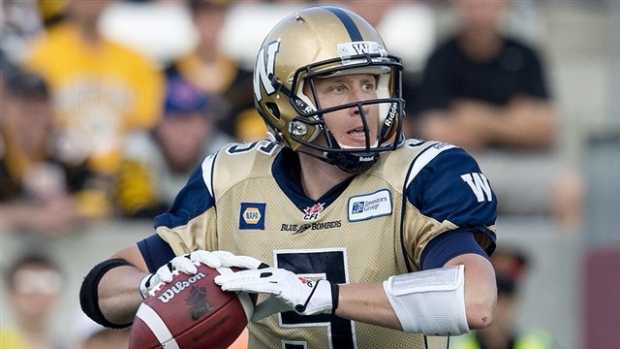 Bombers look for sustained success in 2015
Head Coach: Mike O'Shea
GM: Kyle Walters
| Record | Offence | Defence |
| --- | --- | --- |
| 7-11 | 291.7 (9th) | 338.6 (8th) |
The Blue Bombers got off to a dream start last season; after suffering through a 3-15 year the season before and with a new head coach in Mike O'Shea, Winnipeg stormed out of the gate winning their first three games and five of their first six.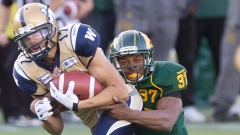 It was the second half of the season that reminded Bombers fans of their recent struggles; the team lost eight games in a row before pulling out a win in the season finale.
Once again the Bombers missed the playoffs, but showed plenty of signs that streak may come to an end sooner than later.
Winnipeg is halfway there, having found what appears to be a franchise QB in Drew Willy, and locked up the 28-year-old through 2017 in the off-season.
The Bombers focused on their offensive line in free agency, adding of note blue-chipper Stanley Bryant, one of the top gets this off-season.
A second-year in the O'Shea-Willy era, combined with some free agent augmentations, could provide Winnipeg the consistency to be playing late-November football.
Duane Forde's Canadian Content
Since becoming the Blue Bombers general manager during the 2013 season, Kyle Walters has made it a priority to upgrade the Canadian talent base of a team that hadn't drafted well for the better part of a generation.
Acting aggressively in free agency over the last two off-seasons, Winnipeg has added potential starters in cornerback Matt Bucknor, linebacker Sam Hurl, receiver Julian Feoli-Gudino, and centre Dominic Picard; along with solid depth/special teams players Graig Newman and Ivan Brown.
Meanwhile, the last two drafts have yielded highly regarded O-Line prospects Matthias Goossen and Sukh Chungh, who should push veterans Picard, Chris Greaves, and Pat Neufeld for playing time as the season progresses; as well as receiver Addison Richards.
Using a "by any means necessary" approach, Walters has also added kicker Lirim Hajrullahu (undrafted free agent), former NFL defensive end Jamaal Westerman (free agent after gaining National status), and linebacker Garrett Waggoner (supplemental draft). The Bombers hope that one or both of the latter two defenders can emerge as the kind of ratio breaker the team has lacked since Henoc Muamba's departure prior to last season. Grade: C
Matt Dunigan's Quarterback Analysis
How can Drew Willy stay focused and get better after a promising year and contract extension?
Answering this question about Drew Willy is easy. It's not about their franchise quarterback; Willy did enough last year to prove to me he has the ability and all the necessary parts to win and lead this team for the foreseeable future. For this team to move forward, they must put a better compliment of pieces around their young gun and keep him vertical...
Seventy-one is just another number and relatively insignificant; except when it represents the total number of sacks given up by the Bombers in 2014, it becomes a focus! I can tell you that when a quarterback has heat in the kitchen or constant pressure from the opposing defence, it limits his ability to be productive.
Early in the season Willy delivered under pressure and was able to bounce back seamlessly series after series and game after game. Well, those hits, hurries, and sacks add up. Defences knew they could get to the Bombers quarterback and they did, often!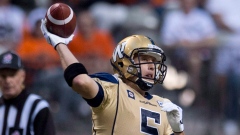 Enter GM Kyle Walters and his focus this offseason to find, buy, borrow, or steal quality offensive lineman to protect his team's prized commodity. Say hello to Stanley Bryant, Mark Dile, and first round draft pick Sukh Chungh, just to name a few.
Now that the Bombers have improved (on paper) up front, they have to find more weapons and create better depth for Willy to utilize in the receiving corps. Not sure this has been accomplished; I hope to be pleasantly surprised in this area. Full analysis
Farhan Lalji's Draft Analysis
Rookies are often expected to wait their turn. Sukh Chungh may not oblige so easily when it comes to that request. He is physical in everything he does on the field and it's hard not to take notice.
At the CFL Combine, Chungh dominated in the 1 on 1s – a drill typically set up for defensive linemen to have more success – and he did it with a physical style that quite simply is the only way he knows how to play. It would be hard to imagine any rookie coming in and being able to do that to a professional D-lineman, but Chungh hasn't been intimidated. And that's half the battle in some cases when it comes to rookies; if anything Chungh may at times try to be too physical, forcing him off balance. Chungh has also made an impression on veteran Dominic Picard, who has taken him under his wing.
Injuries to other Bombers offensive linemen in camp have also given Chungh plenty of reps with the starters and he has shown he belongs. Of all the offensive linemen taken in this talented draft class, Chungh appears to have the best opportunity to start early in the season.
The Bombers needed a Canadian receiver to contribute early and were hoping it might be Addison Richards, taken 12th overall, but after an impressive rookie camp, he has yet to take part in main camp because of a hamstring injury. Richards is expected to return at some point this week, but his absence has given the coaching staff a chance to take a longer look at another young receiver Kris Bastien, acquired in an off-season trade, and they have been very impressed with the former Rider draft pick.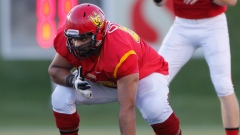 The surprise of rookie camp has been FB Christophe Normand, who lost his starting tailback job in his final season at Laval. Normand has shown more athleticism than all of the other fullbacks on the Bombers roster at this point. He has been good on special teams and can play tailback in a pinch also, giving the team plenty of flexibility, and giving the coaches plenty to think about.
| Round (Pick) | Player | Pos | College |
| --- | --- | --- | --- |
| 1 (2) | Sukh Chungh | OL | Calgary |
| 2 (11) | Addison Richards | WR | Regina |
| 2 (15) | Brendan Morgan | DB | Queen's |
| 4 (33) | Christophe Normand | RB | Laval |
| 5 (38) | Ettore Lattanzio | DL | Ottawa |
| 6 (46) | Justin Warden | LB | Bishop's |
Paul LaPolice's Scouting Report
The Bombers went out in the off-season and did a fantastic job of spending on areas of need in free agency. They brought in Stanley Bryant and Dominic Picard to help protect Drew Willy and get the run game going.
They will need to have to run the ball better to take the pressure off the QB. Willy showed flashes last year but also needs to prove that he can lead the team for the future, he must cut down on his league leading 18 interceptions. Paris Cotton will need to be productive to help the offence grow this season.
The Bombers need to protect the QB better and run the football offensively as well as stop the run defensively; very simple coaching tenets that will lead to wins. They will be better defensively but Willy needs to perform better to show that he can be a starter for the long haul.
Read LaPolice's full analysis here
East: Redblacks, Argonauts, Alouettes, Tiger-Cats
West: Blue Bombers, Lions, Roughriders, Eskimos, Stampeders