With Komarov out, Plekanec moves up lineup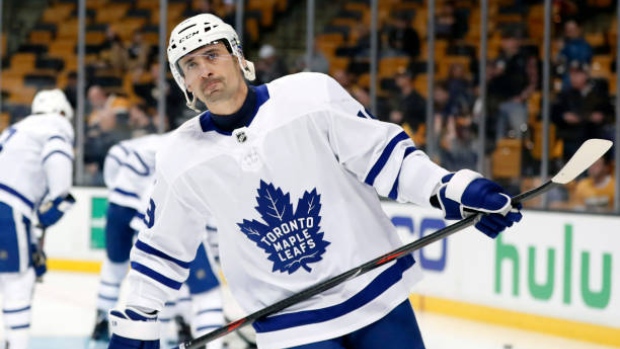 Toronto Maple Leafs forward Leo Komarov will miss Monday's Game 3 against the Boston Bruins due to a lower-body injury.
Maple Leafs head coach Mike Babcock said Komarov would be considered a game-time decision for Game 4 on Thursday night.
The 31-year-old played on the top line in Game 1, but was bumped down to the fourth in the second period after going down 4-0. He left in the second period with his injury.
With Komarov absent from Monday's gameday skate, fourth-line centre Tomas Plekanec moved up to the second line in between Patrick Marleau and Mitchell Marner while Dominic Moore moved into the lineup in Plekanec's former spot.
Over 17 games with the Maple Leafs this season, Plekanec, 35, has two assists and a minus-2 rating.
Auston Matthews, Zach Hyman and William Nylander will reunite on the top line after Komarov took Hyman's spot in Game 2. James van Riemsdyk, Tyler Bozak and Connor Brown remained together on the only line that has remained a constant for the Leafs this postseason.
Nazem Kadri skated with the team on Monday, but is still suspended for the next two games after an illegal hit on Bruins forward Tommy Wingels in Game 1.
In Bruins' lineup news, it appears forward Riley Nash will make his series debut in Game 3. The 28-year-old missed the final five games of the regular season after getting hit in the side of the head with a shot on March 31. Nash has 15 goals and 26 assists over 76 games with the Bruins this season.
Boston leads the opening round series 2-0.
Leafs' Projected Lines vs. Bruins
Forwards
Hyman-Matthews-Nylander
Marleau-Plekanec-Marner
van Riemsdyk-Bozak-Brown
Johnsson-Moore-Kapanen
Leivo, Kadri, Martin
Defeneceman
Rielly-Hainsey
Gardiner-Zaitsev
Dermott-Polak
Carrick
Goalies
Andersen
McEhinney
Bruins' Projected Lineup vs. Maple Leafs
Forwards
Marchand - Bergeron - Pastrnak
DeBrusk - Krejci - Rick Nash
Heinen - Riley Nash - Backes
Schaller - Kuraly - Acciari
Donato - Gionta - Wingels
Defence
Chara - McAvoy
Krug - Miller
Holden - McQuaid
Goalies
Rask
Khudobin