With Marchand signed, focus shifts to Burns
While talks between San Jose Sharks GM Doug Wilson and defenceman Brent Burns' agent Ron Salcer are not believed to be going too far, TSN Hockey Insider Bob McKenzie examines what will make this particular negotiation so interesting.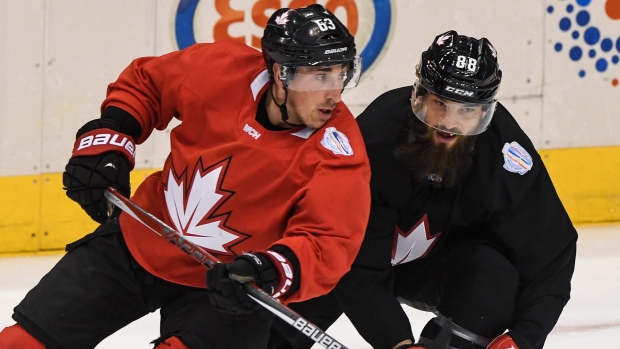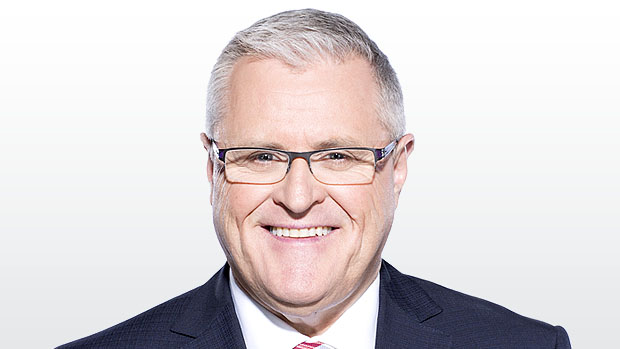 Now that the Boston Bruins have locked up Brad Marchand to an eight-year, $49-million deal, the focus will no doubt turn to the San Jose Sharks and defenceman Brent Burns.
Probably best to stand down on that one, for now anyway.
While Marchand's agent Wade Arnott had been working hard throughout September and during the World Cup to conclude an agreement with Boston, talks between San Jose GM Doug Wilson and Burns' agent Ron Salcer are not believed to be nearly as far advanced.
Neither Wilson nor Salcer will discuss where they're at, but it's my sense there hasn't been the same hard, number-crunching negotiations and trading of proposals that would suggest a deal is imminent or even close. The lines of communication, as the saying goes, are wide open, but the real work lies ahead.
Now, let's be clear on something here. This is not to suggest Brent Burns is not going to re-sign in San Jose or that the Sharks don't want him. Far from it. It's way too soon to even imply that (see Steven Stamkos-Tampa Bay Lightning for reference, please).
Until we hear otherwise, we have to presume Burns wants to return to San Jose and I'd say it's patently obvious San Jose wants Burns back. Wilson is a huge Burns booster.
That said, all negotiations are interesting; this one could be intriguing for a number of reasons.
The Sharks are coming off a Stanley Cup final appearance and Burns was obviously a huge part of making that happen. At age 31, though he'll be 32 by the time his next contract kicks in, it will be interesting to see what kind of term he's expecting to get.
Eight years would take him to age 40; five years to age 37.
He's going to get a big raise from his $5.76 million AAV, but how big?
The post-2004 CBA market for defencemen is interesting.
P.K. Subban, of course, got a $9 million a year deal in Montreal, but that may also be one of the reasons he's no longer in Montreal. A cautionary tale, perhaps.
Recently, the blueliner signings that could influence Burns are Winnipeg's Dustin Byfuglien at $7.6 million AAV (for five years) and Tampa's Victor Hedman at $7.875 AAV million for eight years. Hedman is only 25, but Byfuglien is the same age as Burns.
Those numbers could frame the debate for Burns' value. That is, a reasonable expectation would be more than Byfuglien's $7.6 million a year, but less than Subban's $9 million. Of course, term affects AAV in a big way, too.
Traditionally, certainly post-2004 CBA, the Sharks have been able to assemble and keep intact one of the most consistently competitive NHL teams without ever giving out a contract longer than five years. Joe Thornton is on the final year of his fourth-straight, three-year term. Patrick Marleau is entering the final season of his three-year deal. Joe Pavelski, Logan Couture, Marc-Edouard Vlasic, Justin Braun and Brenden Dillon are all on five-year deals. Even when the Sharks dive into the UFA pool, they haven't gone deeper than four years (Mikkel Boedker, Paul Martin, David Schlemko).
It's also worth noting that Thornton and Marleau expire at the same time as Burns. Jumbo Joe is 37 now and obviously loves it in San Jose. But if he's looking for his fifth straight three-year contract there, will the Sharks be as comfortable giving it to him now that he's in the over-35 classification? Marleau asked for a trade last year. Does he want to be back and, if so, do the Sharks want him, and, if so, at what price and term would the Sharks be comfortable?
The Sharks' challenge will be to keep their seven-man core intact for years to come. That would include netminder Martin Jones, defencemen Burns and Vlasic as well as forwards Pavelski, Couture, Thornton and Tomas Hertl. In order to do that, as we've seen in Tampa or, for that matter, San Jose in prior years, the key is getting players to take hometown discounts in exchange for a chance to play with good players on a contending team.
It will be fascinating to see how it all unfolds; equally interesting to see what the timeline is. As we saw with Stamkos in Tampa, the longer a high-profile pending free agent goes unsigned, the more it takes on a life of its own, regardless of how or where it ends up.
It's certainly fair to say Marchand took something of a hometown discount to stay in Boston.
Marchand's market value was, more or less, established this past summer with a series of free agent winger signings: Milan Lucic got seven years at $6 million per year from Edmonton, as did Kyle Okposo with Buffalo, while Loui Eriksson got six years at $6 million a year from Vancouver.
Marchand would generally be viewed as some degree of better than those comparables, but most certainly still in that same universe. And since the 28-year-old Marchand re-signed with his own team, he got the eight-year term, something that wasn't available to Lucic, Okposo and Eriksson on the free-agent market.
If Marchand had gone to free agency next summer, maybe he would have gotten $6.5M a year, maybe even $7M a year on a seven-year deal. That would be $49 million total, or exactly what he got for eight years (instead of seven) to stay in Boston.
So maybe the hometown discount wasn't, in the big picture anyway, that deep.
Incidentally, Marchand has a full No Move Clause for the first five years of the deal with a modified No Trade Clause in the sixth, seventh and eighth years. Of the total $49 million, $24 million is in signing bonuses.