With Matthews missing, Andersen stands tall for Maple Leafs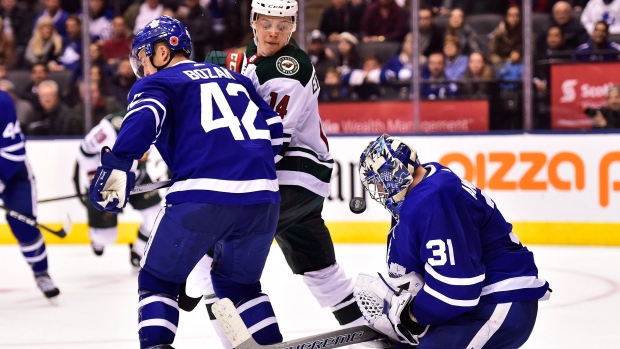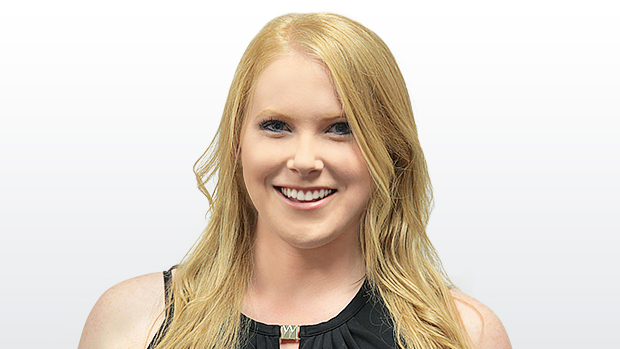 TORONTO – Frederik Andersen has had an inconsistent start to his season so far. But when the Maple Leafs needed a player to step up on a night the team was missing its best player, their goaltender emphatically answered the bell.
Toronto's top-line centre Auston Matthews missed Wednesday night's game – his first after playing in all 82 regular-season games in his 2016-17 debut campaign and 16 this season – against the Minnesota Wild with an undisclosed upper-body injury, and replacing his contributions wasn't going to come from a single teammate. Instead, it was Andersen who stood tallest behind his team, turning in one of his best performances of the season en route to a 4-2 triumph for the Leafs' second straight victory.
After a rough 2-5-0 stretch for him in net, Wednesday was the second time in as many games that Andersen has been the Leafs' difference-maker.
"When you get the good feeling, you want to build on it and replicate that mindset," he said. "I think it's tough to explain if you're not playing goalie, but once you're in that mindset you feel better in the game and before the game."
Toronto moves to 10-7-0 on the season.
Whatever frame of mind Andersen was drawing from, it was working for him in a big way against Minnesota. He turned aside 35 of 37 shots for his fourth-best save percentage of the season (.946). The Wild had won seven consecutive games against Toronto leading into the matchup on Wednesday, six by just one goal. Head coach Mike Babcock said before the game the Leafs wouldn't be "racing to 10 [goals]" without Matthews, and would have to play well without the puck to be successful.
In what ended up being a lower scoring game (the Leafs' fourth goal was a Connor Brown empty-netter), it wasn't so much the Leafs' play defensively that held the Wild at bay as Andersen making the key saves he's been missing too often of late. The shot disparity necessitated an especially strong game from Andersen – Toronto was outshot 37-19 on the night, and 28-13 over the final two periods – and the Leafs were brutal in the defensive zone faceoff dot, winning just four of 24 draws there.
"[Tonight was] good for our goaltender," said Babcock. "Confidence is an important thing, it's hard to get in the league, so a good night for him."
Andersen looked more settled in his crease right from the start of Wednesday's game, but wasn't tested much until the second period when the Wild forecheck started to get consistent pressure. While the game was tied 1-1, Andersen made a critical pad save on a Matt Cullen rebound that sent play back the other way. Zach Hyman carried the puck into the offensive zone and pulled up below the hashmarks before pitching the puck back to Patrick Marleau in the slot, and he gave the Leafs a lead they would never relinquish.
It was clear to his teammates after that stop that Andersen was right in the zone.
"He's just been finding his groove and I think he played really well tonight," said Hyman. "Everyone knows what kind of goalie is he is, you know he's a number one guy and can play a ton of games and play them well. He's calm, cool, collected."
Andersen faced a "scary" moment in the third period when teammate Connor Carrick went streaking around his net and got his stick caught under the netminder, pulling his shoulder around awkwardly. Andersen said after he was in pain at the time, but that he was lucky it didn't hyperextend more.
With no timetable set for Matthews' return, the Leafs will need Andersen and his newly rediscovered groove as much as ever.
"He just stays with it," said Nazem Kadri. "It doesn't seem like anything really bothers him in there, which is great. You want to see that attribute in a goaltender, especially playing in a city like Toronto."
TAKEAWAYS
Get it in there
Too often the Leafs have gotten caught in run-and-gun games where they're trying to score off the rush. On Wednesday, they found success by throwing pucks towards the net and establishing their game down low. Kadri's first goal was a tap-in that started with a Morgan Rielly point shot ricocheting off the endboards. Hyman's patience with the puck in front of Devan Dubnyk's crease is what set up the key pass to Marleau above the hashmarks. Carrick's third period strike was a blistering shot from the point through good traffic from the Leafs. The Leafs haven't done that enough lately, and without Matthews in the lineup it was especially important they do a better job cycling than they have been.
Puck protection problems
It has practically become a ritual for the Leafs to point out in postgame press conferences that they need to do a better job not turning over pucks. But being aware of the issue and actually fixing it have, so far, been very different things. Toronto was credited with 15 giveaways on Wednesday, putting them at second-most in the league with 217. Whether it was a lack of communication in the defensive zone or simply being careless with the puck, the Leafs committed some awful turnovers to Minnesota in their own end that if not for Andersen's terrific night would have ended up in the net. Andersen especially has talked about needing to play with pride and not throw pucks around haphazardly. So far, the Leafs have struggled to find a sustainable solution to one of their most glaring deficiencies.
Marleau moment
He may be the oldest player on the Leafs' roster at 38, but Marleau has enough jump to rival his youthful counterpoints. He was flying around the ice against Minnesota, even outracing two Wild players to negate an icing call in the second period. Marleau wasn't supposed to be playing centre the way he has been the last several games, but he's adjusted back into the role he had earlier in his career and is one of the Leafs' best 200-foot players. The go-ahead goal he scored on Wednesday was the 514th of his career, putting him past Jeremy Roenick for 39th all-time in the NHL. He finished the night with a team-high four shots on goal, and won 67 per cent of his draws. ​
Big-time Brown
Connor Brown has never garnered quite the same amount of attention drawn by his fellow sophomores, but despite spending several games on the fourth line to start the season, he's far eclipsing his scoring pace as a rookie. Brown notched a goal and an assist on Wednesday, putting him at 11 points on the season after 17 games. It took him 33 games to reach that point a year ago, when he was playing half the time on Matthews' line. Brown's seven goals on the season are also more than William Nylander (three) and Mitch Marner (one) combined. The winger's versatility in the Leafs lineup and contributions on both special teams are still underrated, but he makes the most of his opportunities wherever they come.
Next game
Toronto caps off its homestand with a meeting against the Boston Bruins on Friday.