Without a captain, a good start is key for Sens' Murray
With Jason Spezza gone, the Ottawa Senators are on the lookout for a new captain. But as general manager Bryan Murray tells TSN Hockey Insider Bob McKenzie, they're in no rush to do so and may even play with a core of alternates this season.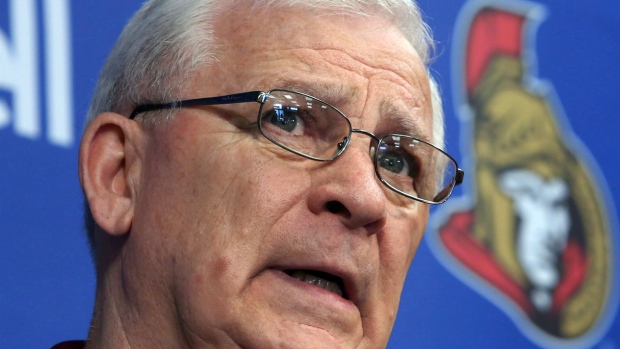 Every team wants to start its season on the right foot, but general manager Bryan Murray says training camp this season is vitally important for the Ottawa Senators.
"Maybe, we were too comfortable," he told TSN Hockey Insider Bob McKenzie. "It looked to me that - the year before we had a lot of injuries and a number of the key guys didn't play very much - we came to camp with a full group, maybe we thought we were going to be better than we were going to be and, certainly, we didn't compete at the same level. There's no question. Maybe there was a comfort that the stars were back, so the other guys didn't have to work so hard."
Murray, heading into his eighth year at the helm of the club, insists that things will be different this season.
"At the end of last year, we had a long, intense meeting with all of management and coaching staff," he explained. "This year, a week ago, we had a sit-down again to review what we had talked about, but also have some objectives going forward starting with training camp and the first visit we have with our players. There's no question that we have a plan that we think it's going to allow our players to be more productive."
That plan, he added, begins with a commitment to defence, something that he believes was the source of the team's biggest failings last year that saw the Senators finish fifth in the Atlantic Division, 11th in the Eastern Conference and five points outside the final playoff spot.
"I don't think we played defence at all last year," he said. "A lot of people blamed our goaltending, but I don't think our defensive corps were any good. I think each and every one of them took a step backwards. I don't think we were focused at all on preventing or that type of thing and we weren't disciplined. I thought our penalties were far too high. Our goals against were far too high. Shots against in every game were far too high. The focus has got to be getting back to the team game and the team game starts at playing defence."
For Murray, defence will start from the back out, with the team signing goaltender Craig Anderson to a three-year extension late last month worth $12.6 million. Anderson, 33, is coming off of a season where he went 25-16-8 in 53 games, posting a save percentage of .911 and a goal against average of 3.00.
Despite the emergence of Robin Lehner, a player Murray says "is ready to be a No. 1 goaltender," Murray is a strong believer in the importance of having two NHL-calibre keepers.
"To get a deal done in the league at this time, you just can't ask a guy to sign a one-year deal and then go away," said Murray. "We didn't wanna do that. Craig Anderson is a good goaltender. He might be in the top half of the league in goaltending, certainly, at this point in time. I like the fact that he have two. I think Paul is going to give opportunity to the guy who plays the best to play the most and that's all we can ask for. I think that the two of them appear to get along very well at this point in time and, if we have to make a move later on, then we'll do it. But we didn't want to walk a away from a good person and a good goaltender."
One player the team walked away from in the offseason was captain Jason Spezza. After 11 seasons in the nation's capital, Spezza, the team's leader and best player, was traded to the Dallas Stars for Alex Chiasson, a pair of prospects and a second-round pick next summer.
Murray believes that the time was right for Spezza to move on.
"Jason Spezza hasn't been happy, really, for a couple of years in Ottawa," he said. "I think the finger-pointing at him, sometimes, was a little harsh. We all thought Jason was a quality player, a big point-getting for us, but maybe it was time for him and maybe it was time for us to make the next step and try to get another player in that role or a variety of players to play that role. I think we'll find the solution and we think Jason will do well with Dallas. We think we'll do well with the group we've got."
In Spezza's absence, Kyle Turris will be looked upon to jump into the No. 1 slot and match up with opposing team's top defensive pairings and checking lines.
Murray thinks that Turris is ready, but also is of the opinion that the other pivots around Turris will help provide needed insulation, namely Mika Zibanejad and free agent signing David Legwand.
"I think Kyle will handle it, but I think he will have a more difficult time when they play the No. 1 pair of defence against him on a regular basis or the number-one checking centre," he acknowledged. "We think Zibanejad is going to make a huge step this year. He looks big and strong coming into the little bit I've seen of him so far in the skates that we've had. Getting David Legwand, a veteran guy who probably hasn't scored the points that Nashville thought he was going to get, but has been a good, honest player in the league.
We have a couple of other kids that we think can step up. We think Zack Smith can play a more prominent role than he's played. We lost the big guy in the middle and we're not discounting it. That's a big loss for us. We think we have a couple of guys that can handle it and, if it's Kyle who has to face the No. 1 guy, then it's Zibanejad who'll face the No. 2 guys. I think it will work out, maybe not as quickly as we want, but I think it will work out."
With Spezza gone, the Senators, like it was last summer when Daniel Alfredsson signed with the Detroit Red Wings, are without a captain. But Murray doesn't think the team will rush to fill the vacancy.
"We have to make the right decision, if we make a decision in that area," said Murray. "It may well be that we go with three 'As' this year and appoint one of them as sort of the senior guy. I think a captain is really important, but I also think that having a core of four or five guys, at least, that relate to the coach and help with the players is just as important."
What about superstar defenceman Erik Karlsson for the captaincy?
"He's a guy who's taken leadership as a very important thing for him," he said. "We've had talks at the end of last year and we didn't like some of the games that a lot of our defencemen played. I think Erik is going to back and he's going to be our star, no doubt."
If somebody were to be made captain this season, Karlsson looks to be the frontrunner.
"He's a forceful guy, he's an opinionated guy and he's a talented guy," said Murray. "He's respected by all of the players in the room. I think we just have to see now, can he take the step that we think he'll get back to and I don't think there's a big hurry to put a young guy in a pressure spot at this time. But we may well decide at the end of training camp that there is a need to do that and if we have to, we will."
What the team does have to do, says Murray, is return to the post-season and the general manager believes his team is a playoff club.
"We work hard, we play right and play more conscious of defence," said Murray of what it will take to direct the team back to success.
The Ottawa Senators open training camp on Thursday.