World Junior selection process ramps up
TSN Hockey Insider Bob McKenzie starts to piece together a potential roster and list of contenders as the stretch drive to earn a spot on Team Canada starts in earnest.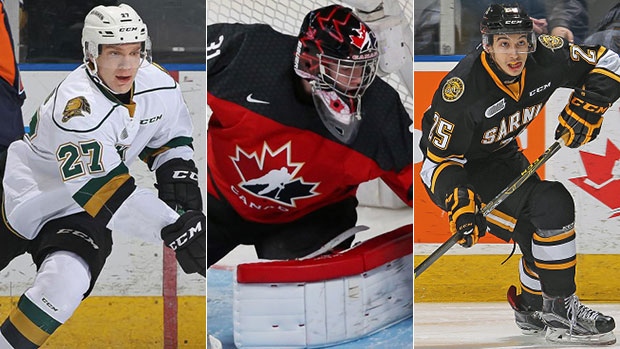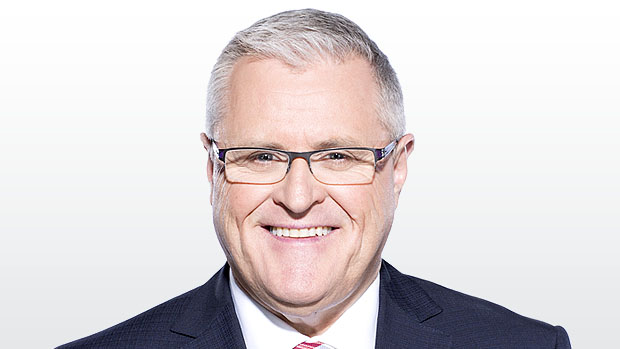 If it's an early November Monday in Moose Jaw, it must be time to get down to the serious business of choosing Canada's national junior team for the 2018 IIHF World Junior Hockey Championship.
The six-game Canada-Russia series, featuring Canadian national junior team candidates against the barnstorming visitors, kicks off tonight in Moose Jaw and tomorrow in Swift Current for the Western Hockey League hopefuls for Team Canada.
Then it's onto Owen Sound and Sudbury on Thursday and next Monday for Ontario Hockey League national junior candidates before shifting to Charlottetown on Nov. 14 and Moncton on Nov. 16 for the Quebec Major Junior Hockey League counterparts.
The Hockey Canada brass, including returning national junior team head coach Dominique Ducharme, general manager Joel Bouchard and new Hockey Canada head scout Brad McEwen, will use the six games against the Russians this month to determine which players will be invited to the final selection camp, Dec. 11-15 in St. Catharines, Ont.
There's always uncertainty as to exactly how Team Canada will look in any given year, but it seems as though that uncertainly is even higher this year.
That starts with the seven junior-eligible Canadians currently still on NHL rosters – Philadelphia Flyer centre Nolan Patrick; Columbus Blue Jacket forward Pierre-Luc Dubois; Colorado Avalanche centre Tyson Jost; New Jersey Devil centre Michael McLeod; Los Angeles King forward Gabe Vilardi; Montreal Canadien defenceman Victor Mete; and Colorado defenceman Samuel Girard.
Let's have a quick look at each of them:
- Patrick, the No. 2 overall selection in the 2017 NHL draft, is currently out of the Flyer lineup due to what is believed to be a concussion. But Patrick was playing a prominent role on the Flyers – one goal, three points and averaging 12:28 in nine games – before the injury and is expected to resume that role once healthy. No one is expecting Patrick as a Team Canada possibility.
- Dubois has played in all 14 of the Blue Jackets' games, averaging 11:16 with one goal and three points. As long as Dubois is playing regularly and contributing, there's little reason to believe he would be loaned to Team Canada. That said, Columbus GM Jarmo Kekalainen is known to believe the WJC can be a useful development tool, so perhaps if Dubois' standing in the NHL lineup were to change, some consideration might be given in December. Nevertheless, a long shot.
- Jost has been limited to only six games played for the Avs because of a pair of minor knee sprains (one left, one right) but did have a goal and two points while averaging 13:33. If Jost had remained in college and not turned pro at the end of last season, he almost certainly would have been pegged as captain of Team Canada this year. But as soon as he signed his NHL contract, the expectation was he ceased to be a Team Canada consideration. That is mostly still true. With the Matt Duchene trade, Jost will be getting even more opportunity to be a regular in the Avs' lineup once he is healthy. Still, this may be one that could be revisited for consideration in December, depending upon how things go for both Jost and the Avs.
- McLeod has played no games for the Devils and is currently recovering from a procedure on an injured knee. He's back skating now and could be cleared to play within the next week or two. There has been considerable speculation that, as soon as he's healthy and cleared, he will be returned to Mississauga of the OHL. Whether he is or isn't, as long as he's healthy, McLeod is considered a strong bet to be on Team Canada this year. If so, McLeod would be one of six potential returning players from last year's team that lost to Team USA in a gold-medal game shootout.
- Vilardi has played no games of any type this season after undergoing a medical "procedure" in the summer to clean up some physical ailments he played through during the Memorial Cup. He is skating every day in Los Angeles but isn't expected to be cleared in time to play games in December that would allow him to be a consideration for Team Canada.
- Mete has been a pleasant surprise this season in Montreal, averaging 17:18 and getting two assists in 15 games where he has often been partnered with Shea Weber. But in the last couple of Montreal games, Mete's ice time has decreased to the 10-minute level. In this case, it's simply far too early to speculate on whether he could end up on Team Canada. If he's playing regularly, and as often as he was to start the season, it's highly unlikely. But the Canadiens will evaluate the situation in a month from now.
- Girard is in the news this week as part of the blockbuster three-way trade between Ottawa, Nashville and Colorado. Girard had played five games for Nashville, averaging 16:54 while scoring one goal and three assists. As soon as he was traded to Colorado, Girard flew to Sweden to meet the Avs for their games Friday and Saturday against Ottawa in Stockholm. Colorado wants to see Girard in action before making a determination after he's played nine games whether to keep him in the NHL or return him to his Quebec League team. If available, Girard would be a strong consideration to be on Team Canada but not necessarily a lock.
There are no iron-clad guarantees Team Canada gets any NHL help this year, although McLeod is the best bet to be made available. The rest?
That uncertainty, more or less, permeates the entire Team Canada roster selection process this year.
Let's start with the known quantities then – the returnees from last year's team.
Up front, not including McLeod, there are only two.
Calgary Flame prospect Dillon Dube of the Kelowna Rockets can be inked into a left wing spot. Tampa Bay Lightning prospect Taylor Raddysh of the Erie Otters should be a fixture on the right side.
Returning players, of course, have to earn their way. Raddysh, for example, didn't have a particularly strong summer showcase in August and will have to put up some numbers in the games versus Russia this month and the final evaluation camp in December. But the returnees are in a position where they almost have to play their way off the team.
On defence, there are three returnees.
Carolina Hurricane prospect Jake Bean of the Calgary Hitmen and Los Angeles King prospect Kale Clague of the Brandon Wheat Kings are set on the left side; Nashville Predator prospect Dante Fabbro of Boston University is set on the right side.
In goal, there is one.
Philadelphia Flyer prospect Carter Hart of the Everett Silvertips, who is back playing after a mononucleosis-induced absence, should be one of the two netminders on the roster.
If McLeod finds his way onto Team Canada as a returnee, it means three of 13 forward spots are spoken for, as well as three of seven defencemen spots and one of two goalie berths.
Now, let's fill in the players who we believe to be mortal locks, or close to it, to make the final roster.
Up front, there are probably only three who fall into that category.
That would be two centres – Anaheim Ducks prospect Sam Steel of the Regina Pats and St. Louis Blue prospect Robert Thomas of the London Knights – and one right winger – St. Louis prospect Jordan Kyrou of the Sarnia Sting.
Even though the Florida Panthers today returned Owen Tippett to Mississauga of the OHL, he doesn't automatically fall into the category of a lock.
On defence, beyond returnees Bean, Clague and Fabbro there may not be an obvious lock, although some believe Colorado prospect Cale Makar of UMass-Amherst is close to being that. For argument's sake, let's put him in that category.
If so, the formative stage of depth-chart (not lines) nucleus of the national junior team would look as follows:
Team Canada Preliminary Depth Chart
| | | |
| --- | --- | --- |
| | Goaltender | |
| | Carter Hart | |
| | | |
| Left Defence | | Right Defence |
| Jake Bean | | Dante Fabbro |
| Kale Clague | | Cale Makar |
| | | |
| Left Wing | Centre | Right Wing |
| Dillon Dube | Michael McLeod | Taylor Raddysh |
| | Robert Thomas | Jordan Kyrou |
| | Sam Steel | |
If this configuration is accurate, we get a clear picture of what's on the line or up for grabs in these Canada-Russia games and the final evaluation camp in December – seven forward slots, three defence positions and one spot in net.
The battle for right wing positions could be particularly heated. Beyond Raddysh and Kyrou, strong challenges are expected to be mounted from Tippett, if he's made available, and Vegas Golden Knight prospect Nick Suzuki of the Owen Sound Attack. Diminutive (5-foot-7, 155 pounds) Calgary Flames prospect Matthew Phillips of the Victoria Royals has been dynamic and prolific this season in the WHL and will get a long look, as will Vancouver Canuck prospect Kole Lind of Kelowna, Montreal Canadien prospect Will Bitten of the Hamilton Bulldogs and Florida Panther prospect Adam Mascherin of the Kitchener Rangers.
On the left side, beyond Dube, the competition appears wide open. Vancouver prospect Jonah Gadjovich of Owen Sound, Tampa prospect Boris Katchouk of the Soo Greyhounds, Ottawa prospect Alex Formenton of the London Knights and St. Louis prospect Tanner Kaspick of Brandon are all viable candidates. Technically, so are Edmonton Oiler prospect Tyler Benson of the Vancouver Giants and Detroit Red Wing prospect Givani Smith of the Guelph Storm, although injuries have hampered them greatly. Benson has played in only four games this season; Smith has yet to play because of a high-ankle sprain.
As always, competition is most fierce at centre ice, but many of the centres have the ability to play on the wing. Of the three pivots we've penciled into the Team Canada lineup – McLeod, Thomas and Steel – the first two have the flexibility to play wing.
Centres in their final year of junior eligibility competing for spots include Tampa prospect Brett Howden of the Moose Jaw Warriors, Florida prospect Jonathan Ang of the Peterborough Petes and Buffalo prospect Cliff Pu of London.
High-profile pivots who have a year of WJC eligibility beyond this year include Detroit first rounder Michael Rasmussen of the Tri-City Americans and Vegas first rounder Cody Glass of the Portland Winterhawks.
On defence, we're not sure what the final composition will look like, but one guarantee is that every blueliner will be in his final year of junior eligibility.
There's not a single defenceman being considered for Team Canada who isn't 1998-born.
The other (relatively) common trait is that most of the blueline candidates are mobile puck movers with some offensive upside or flair, but who aren't necessarily physically imposing.
NHLers Mete and Girard certainly typify that, as do Bean, Clague and Makar. Fabbro is more of a steady two-way defender.
Detroit prospect Dennis Cholowski of the Prince George Cougars and Anaheim prospect Josh Mahura of Regina are also challenging for positions on the left side; Colorado prospect Conor Timmins of Sault Ste. Marie on the right side.
Two defencemen who don't fit the mold of smaller puck movers are 6-foot-7 Logan Stanley, the Winnipeg Jet prospect from the Kitchener Rangers, and 6-foot-4 Cal Foote, the Tampa prospect from Kelowna. Do one of them stand a better chance of being one of the seven defenceman who make it simply because they provide an element that is in short supply this year?
Vegas prospect Nic Hague of Mississauga, at 6-foot-5, and New York Islander prospect David Quenneville of Medicine Hat, at 5-foot-8, are at opposite ends of the spectrum to round out the blueliners challenging for positions.
In goal, if we assume one spot goes to returnee Hart, the battle for the other spot is between Vancouver prospect Michael DiPietro of the Windsor Spitfires, Edmonton prospect Dylan Wells of Peterborough, Edmonton prospect Stuart Skinner of Lethbridge and undrafted Samuel Harvey of Rouyn-Noranda.
All but DiPietro are in their final year of junior eligibility. DiPietro and Harvey have been dominating the OHL and QMJHL respectively this season.
So the competition battle lines are effectively drawn. All we know for certain is the stretch drive to earn a spot on Team Canada starts in earnest this week and next.