Yanagita's homer powers Japan past MLB in series opener
Yuki Yanagita hit a two-run walkoff home run in the bottom of the ninth inning Friday to lift Japan to a 7-6 win over the MLB All-Stars in the opening game of a six-game exhibition series.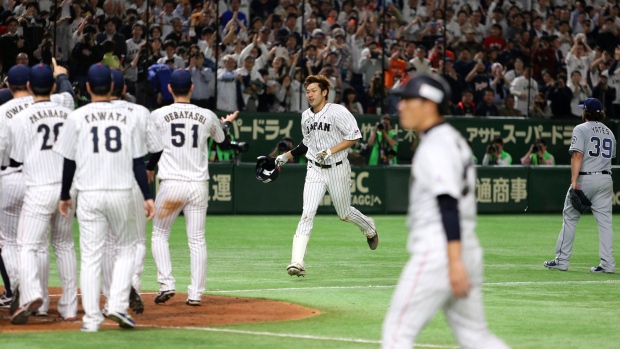 TOKYO — Yuki Yanagita hit a game-ending, two-run home run off Kirby Yates in the ninth inning, and Japan beat the MLB All-Stars 7-6 Friday in the opener of a six-game exhibition series.
Juan Soto, Carlos Santana and Amed Rosario homered to build a 6-4 lead.
Yates relieved Collin McHugh to start the ninth and gave up a leadoff single to pinch-hitter Seiji Uebayashi, who stole second. Pinch-hitter Tsubasa Aizawa had a one-out RBI single, and Yanagita homered to centre two pitches later before 44,943 at Tokyo Dome.
"No matter how you look at it, it's tough to lose a game like that," MLB manager Don Mattingly said. "You feel like you played well enough to win. ... Other than that last inning, I thought we played well."
Rosario had a solo homer in the third and Santana hit a three-run homer in the fifth for a 4-1 lead, but Shogo Akiyama hit a three-double double off Matt Andriese in the bottom half. Soto hit an opposite field two-run homer to left in the sixth.
"Before the game, we talked about getting off to a good start to build up some confidence for the rest of the series," Akiyama said. "We never felt like we were out of it and knew if we stayed close we'd have a chance to win."
The series continues this weekend with two more games in Tokyo followed by one game in Hiroshima on Tuesday and two games in Nagoya on Wednesday and Thursday.
___
More AP sports: https://apnews.com/apf-sports and https://twitter.com/AP_Sports