Yankees on top, Jays 30th in MLB Power Rankings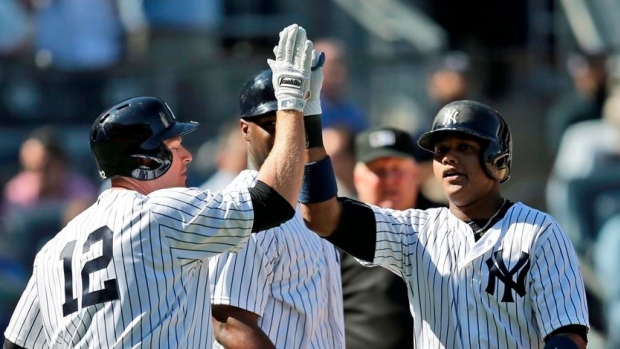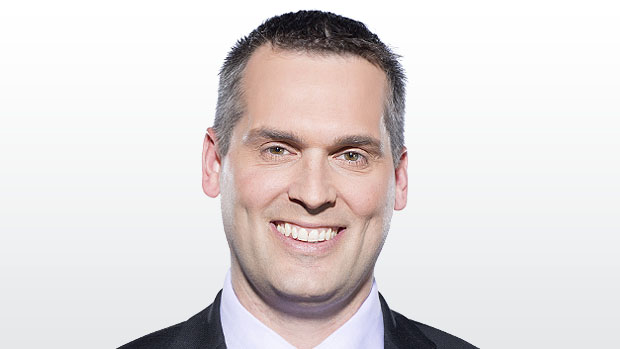 The New York Yankees have made a surprising move to the top, and the Toronto Blue Jays have made a quick descent to the bottom, of the TSN.ca MLB Power Rankings.
While it was expected to be a bit of a rebuilding-on-the-fly season, the Yankees have put some wins in the bank early. It may not last, but early in the year the small sample sizes allow for bigger moves in the rankings.
Some other teams making big jumps include the Baltimore Orioles, Cincinnati Reds, Milwaukee Brewers and Minnesota Twins.
When it comes to teams going the other way, no team has collapsed more quickly than the Toronto Blue Jays, who have dropped from five to 30!
The Blue Jays aren't alone though. The St. Louis Cardinals, San Francisco Giants, Seattle Mariners and Texas Rangers are among the teams that entered the year with some expectations and they are way down the list.
NEW YORK YANKEES
RECORD: 9-5 THIS WEEK: 1 LAST WEEK: 15
RS: 68 RA: 48 DIFF: +20
OPS: .777 ERA: 3.17
It's more than a little stunning that the Yankees are off to a strong start, especially with C Gary Sanchez injured, but 3B Chase Headley is hitting .409 (which will totally last) and their bullpen has allowed six earned runs in 40 2/3 innings (1.33 ERA).
Key Injuries: C Gary Sanchez (biceps), SS Didi Gregorius (shoulder).
WASHINGTON NATIONALS
RECORD: 8-5 THIS WEEK: 2 LAST WEEK: 4
RS: 63 RA: 63 DIFF: 0
OPS: .810 ERA: 4.28
The Nationals have outstanding starting pitching, but their bats have been the difference-makers early in the year, with CF Bryce Harper (1.162 OPS) and 1B Ryan Zimmerman (1.075 OPS) leading the league's most potent attack.
Key Injuries: SS Trea Turner (hamstring).
BALTIMORE ORIOLES
RECORD: 8-4 THIS WEEK: 3 LAST WEEK: 13
RS: 56 RA: 52 DIFF: +4
OPS: .742 ERA: 4.29
The Orioles have made hay in recent seasons thanks to an overpowering bullpen, led by closer Zach Britton, but with Britton injured, Brad Brach takes over as the game finisher and they're getting by even while DH Mark Trumbo (.593 OPS) and 3B Manny Machado (.615 OPS) notably off to slow starts.
Key Injuries: RHP Chris Tillman (shoulder), LHP Zach Britton (forearm).
HOUSTON ASTROS
RECORD: 9-5 THIS WEEK: 4 LAST WEEK: 10
RS: 60 RA: 53 DIFF: +7
OPS: .754 ERA: 3.41
Dallas Keuchel is back in ace form (0.86 ERA, 0.62 WHIP), and CF George Springer (7 HR, .924 OPS) is leading an attack that is overcoming slow starts from SS Carlos Correa and 3B Alex Bregman.
Key Injuries: RHP Collin McHugh (elbow).
BOSTON RED SOX
RECORD: 9-5 THIS WEEK: 5 LAST WEEK: 2
RS: 65 RA: 62 DIFF: +3
OPS: .770 ERA: 4.14
1B Mitch Moreland is having an instant impact (1.046 OPS) and ace lefty Chris Sale (1.25 ERA, 0.74 WHIP, 29 K in 21 2/3 IP) has been even better than advertised.
Key Injuries: LHP David Price (elbow), CF Jackie Bradley Jr. (knee).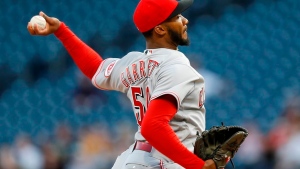 CINCINNATI REDS
RECORD: 9-5 THIS WEEK: 6 LAST WEEK: 28
RS: 71 RA: 50 DIFF: +21
OPS: .793 ERA: 3.46
The Reds' stunning early-season success is backed by a couple of strong starts (1.42 ERA, 0.71 WHIP) from rookie LHP Amir Garrett and they are mashing, with SS Zack Cozart (1.200 OPS) and 3B Eugenio Suarez (1.145 OPS) leading the way.
Key Injuries: C Devin Mesoraco (hip), RHP Anthony DeSclafani (elbow), LHP Brandon Finnegan (shoulder).
COLORADO ROCKIES
RECORD: 10-5 THIS WEEK: 7 LAST WEEK: 18
RS: 52 RA: 58 DIFF: -6
OPS: .690 ERA: 3.86
Strangely enough, the Rockies' early success isn't built on offence. 22-year-old rookie RHP Antonio Senzatela (2.37 ERA, 0.95 WHIP) has been a rotation revelation and veteran closer Greg Holland has eight saves in eight chances.
Key Injuries: RHP Chad Bettis (cancer), 1B Ian Desmond (hand), LHP Jonathan Gray (foot).
NEW YORK METS
RECORD: 7-7 THIS WEEK: 8 LAST WEEK: 12
RS: 63 RA: 59 DIFF: +4
OPS: .692 ERA: 3.59
These Mets aren't hitting enough, which isn't unusual, but their elite starters – Noah Syndergaard, Jacob deGrom and Matt Harvey – are carrying the team early. Getting Zack Wheeler healthy is another, ahem, shot in the arm.
Key Injuries: 3B David Wright (back), LHP Steven Matz (elbow).
CHICAGO CUBS
RECORD: 7-7 THIS WEEK: 9 LAST WEEK: 1
RS: 59 RA: 56 DIFF: +3
OPS: .723 ERA: 3.54
The defending champs are off to a mediocre start but, as expected, having a healthy Kyle Schwarber (.842 OPS) has been a nice lift for the lineup.
Key Injuries: None.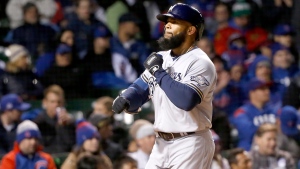 MILWAUKEE BREWERS
RECORD: 8-7 THIS WEEK: 10 LAST WEEK: 29
RS: 72 RA: 64 DIFF: +8
OPS: .783 ERA: 3.87
Coming back from Korea, 1B Eric Thames is crushing the ball (7 HR, 1.491 OPS) and suddenly gives the Brewers some pop in the lineup and that brings a massive jump in this week's update.
Key Injuries: RHP Junior Guerra (calf), RHP Matt Garza (groin).
MINNESOTA TWINS
RECORD: 7-7 THIS WEEK: 11 LAST WEEK: 26
RS: 58 RA: 44 DIFF: +14
OPS: .704 ERA: 2.98
So, the Twins have the third-best staff ERA (2.98) in baseball, which is a little surprising. Ervin Santana and Hector Santiago head the rotation, but the bullpen, led by Brandon Kintzler, Tyler Duffey and Matt Belisle has been a strength.
Key Injuries: None.
MIAMI MARLINS
RECORD: 8-6 THIS WEEK: 12 LAST WEEK: 16
RS: 65 RA: 53 DIFF: +12
OPS: .706 ERA: 3.46
LF Marcell Ozuna (5 HR, 18 RBI, .030 OPS) has powered the Marlins to a solid start but, more quietly, C J.T. Realmuto (.356 AVG, .986 OPS) has been terrific too.
Key Injuries: SS Adeiny Hechevarria (oblique).
DETROIT TIGERS
RECORD: 8-5 THIS WEEK: 13 LAST WEEK: 14
RS: 55 RA: 68 DIFF: -13
OPS: .732 ERA: 4.97
The Tigers have done okay by record, but their run differential isn't good and they have some early issues, like 1B Miguel Cabrera hitting .222, 2B Ian Kinsler hitting .200, and staff ace Justin Verlander posting a 5.71 ERA through his first three starts.
Key Injuries: RF J.D. Martinez (foot).
ARIZONA DIAMONDBACKS
RECORD: 10-5 THIS WEEK: 14 LAST WEEK: 25
RS: 78 RA: 62 DIFF: +16
OPS: .743 ERA: 3.71
3B Jake Lamb (.970 OPS, 14 RBI) is pacing the Diamondbacks attack, but their starting pitching has been superb, with a 3.28 ERA, even though ace Zack Greinke (4.32 ERA) is worst of the bunch.
Key Injuries: None.
OAKLAND ATHLETICS
THIS WEEK: 15 LAST WEEK: 27
RECORD: 6-8 RS: 50 RA: 66 DIFF: -16
OPS: .684 ERA: 4.10
LF Khris Davis has mashed six home runs and RHP Andrew Triggs has yet to allow a run in three starts, but the A's also have problems with injuries and suspect performance from a team that doesn't get on base enough, and has lost top OBP threat Marcus Semien to a wrist injury.
Key Injuries: RHP Sonny Gray (shoulder), SS Marcus Semien (wrist), RHP Kendall Graveman (shoulder).
KANSAS CITY ROYALS
RECORD: 6-7 THIS WEEK: 16 LAST WEEK: 16
RS: 39 RA: 46 DIFF: -7
OPS: .630 ERA: 3.49
There are many holes in the Royals' lineup, with five regulars hitting .200 or below, but the Royals have received strong starting pitching from Jason Vargas (0.00 ERA), Danny Duffy (1.80 ERA) and Ian Kennedy (2.37 ERA).
Key Injuries: RF Jorge Soler (oblique).
CLEVELAND INDIANS
RECORD: 7-7 THIS WEEK: 17 LAST WEEK: 7
RS: 69 RA: 70 DIFF: -1
OPS: .748 ERA: 4.94
One of the reasons that the Tribe are expected to contend this season is that their pitching staff is healthy, but some starters have struggled early, most notably staff ace Corey Kluber (6.38 ERA, 1.42 WHIP).
Key Injuries: 2B Jason Kipnis (shoulder).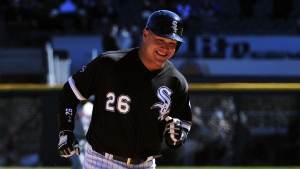 CHICAGO WHITE SOX
RECORD: 7-6 THIS WEEK: 18 LAST WEEK: 20
RS: 48 RA: 40 DIFF: +8
OPS: .641 ERA: 2.85
The White Sox, surprisingly enough, have the best ERA in baseball, but it's countered by surprisingly inept hitting, especially beyond RF Avisail Garcia, who is hitting .440 with a 1.161 OPS.
Key Injuries: LHP Carlos Rodon (biceps).
ATLANTA BRAVES
RECORD: 6-7 THIS WEEK: 19 LAST WEEK: 23
RS: 51 RA: 55 DIFF: -4
OPS: .744 ERA: 3.52
1B Freddie Freeman (.426 AVG, 1.390 OPS) needs more help, especially with Matt Kemp injured, but a steady pitching staff has made the Braves competitive.
Key Injuries: LF Matt Kemp (hamstring).
LOS ANGELES DODGERS
RECORD: 7-8 THIS WEEK: 20 LAST WEEK: 3
RS: 65 RA: 45 DIFF: +20
OPS: .737 ERA: 2.94
Injuries have thinned out the rotation, though the Dodgers have been helped by RHP Brandon McCarthy's strong start (2.12 ERA, 1.18 WHIP, 16 K in 17 IP).
Key Injuries: LHP Scott Kazmir (hip), LHP Rich Hill (blisters).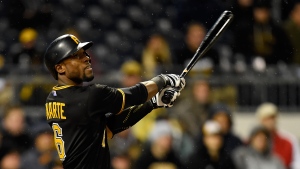 PITTSBURGH PIRATES
RECORD: 6-8 THIS WEEK: 21 LAST WEEK: 19
RS: 48 RA: 61 DIFF: -13
OPS: .655 ERA: 3.81
The Pirates don't have enough power in the lineup and the situation isn't made better by Starling Marte taking an 80-game PED suspension.
Key Injuries: CF Starling Marte (suspension), 3B Jung-Ho Kang (personal).
TAMPA BAY RAYS
RECORD: 7-8 THIS WEEK: 22 LAST WEEK: 21
RS: 64 RA: 64 DIFF: 0
OPS: .724 ERA: 3.57
Outfielders Steven Souza Jr. and Corey Dickerson are off to strong starts, helping to counteract 3B Evan Longoria, who has struggled early.
Key Injuries: RHP Jake Odorizzi (hamstring), SS Matt Duffy (Achilles), C Wilson Ramos (knee).
TEXAS RANGERS
RECORD: 5-9 THIS WEEK: 23 LAST WEEK: 8
RS: 71 RA: 64 DIFF: +7
OPS: .687 ERA: 4.11
As much as the Rangers have stumbled a bit early, a lot of that falls on ex-closer Sam Dyson, who gave up 13 earned runs in 4 1/3 innings. The starting rotation, for example, is rocking a collective 3.39 ERA.
Key Injuries: 3B Adrian Beltre (calf).
L.A. ANGELS OF ANAHEIM
RECORD: 7-8 THIS WEEK: 24 LAST WEEK: 24
RS: 55 RA: 66 DIFF: -11
OPS: .673 ERA: 4.35
A little help for Mike Trout, please? The Angels' second and third-best hitters early in the season have been glove-first SS Andrelton Simmons and veteran 3B Yunel Escobar.
Key Injuries: RHP Garrett Richards (biceps).
SEATTLE MARINERS
RECORD: 6-9 THIS WEEK: 25 LAST WEEK: 9
RS: 59 RA: 63 DIFF: -4
OPS: .658 ERA: 4.15
Canadian lefty James Paxton has been the ace of the Mariners' staff (admittedly, through just three starts) but, not surprisingly, the Mariners aren't producing enough offensively, despite a hot streak for fill-in shortstop Taylor Motter, who has a 1.063 OPS.
Key Injuries: LHP Drew Smyly (arm), SS Jean Segura (hamstring).
SAN FRANCISCO GIANTS
RECORD: 6-9 THIS WEEK: 26 LAST WEEK: 5
RS: 61 RA: 61 DIFF: 0
OPS: .679 ERA: 3.93
Good for the Giants to get C Buster Posey back in the lineup after a week when he was hit in the head by a pitch, and he's been San Francisco's most dangerous hitter (1.077 OPS) early.
Key Injuries: LF Jarrett Parker (collarbone).
PHILADELPHIA PHILLIES
RECORD: 5-8 THIS WEEK: 27 LAST WEEK: 22
RS: 62 RA: 61 DIFF: +1
OPS: .718 ERA: 4.67
RHP Jeremy Hellickson may be the de facto staff ace, and does have a 1.59 ERA in 17 innings through three starts, but he's also struck out just five.
Key Injuries: RHP Clay Buchholz (forearm), LF Howie Kendrick (abdominal).
ST. LOUIS CARDINALS
RECORD: 5-9 THIS WEEK: 28 LAST WEEK: 5
RS: 46 RA: 66 DIFF: -20
OPS: .608 ERA: 4.39
The Cardinals offence hasn't been able to get in gear and CF Dexter Fowler is the…never mind, Fowler blasted two home runs Tuesday afternoon.
Key Injuries: None.
SAN DIEGO PADRES
RECORD: 5-10 THIS WEEK: 29 LAST WEEK: 30
RS: 47 RA: 79 DIFF: -32
OPS: .652 ERA: 5.01
It's bad news for the Padres when they can't even get decent pitching numbers and a 5.01 staff ERA is the worst in baseball.
Key Injuries: LF Alex Dickerson (back), RHP Christian Friedrich (lat).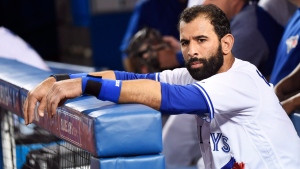 TORONTO BLUE JAYS
RECORD: 2-11 THIS WEEK: 30 LAST WEEK: 6
RS: 41 RA: 62 DIFF: -21
OPS: .629 ERA: 4.76
Well, this season has gone south incredibly quickly. Considering that it's been a terrible start, with their best bet and two top starting pitchers on the DL already, it's getting difficult to imagine how this ends well for Toronto.
Key Injuries: 3B Josh Donaldson (calf), RHP Aaron Sanchez (blister), LHP J.A. Happ (elbow).
Scott Cullen can be reached at scott.cullen@bellmedia.ca