Yanks legend Stottlemyre dead at 77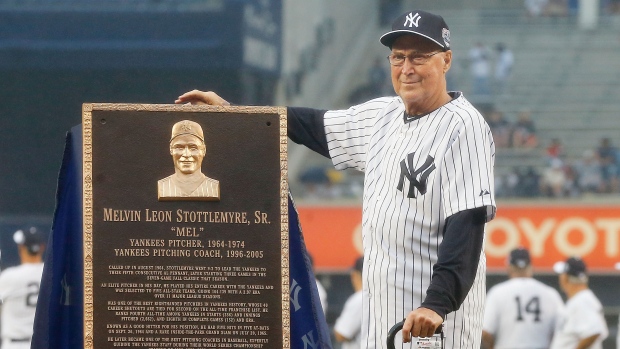 Mel Stottlemyre has died at the age of 77.
A five-time All-Star as a pitcher with the New York Yankees in the '60s and '70s, the native of Hazelton, MO went on to a lengthy coaching career with both New York teams.
Stottlemyre, the father of pitchers Todd and Mel Jr., died on Sunday in Seattle and had been diagnosed with marrow cancer, the New York Daily News reports.
Raised in Mabton, WA, Stottlemyre made his MLB debut with the Yankees in 1964, going 9-3 as a rookie with a 2.06 earned run average over 96.0 innings pitched.
Over his 11-year career with the Yankees, Stottlemyre won 20 games on three occasions and finished with a 164-139 record with a 2.97 ERA and 1.219 WHIP.
Upon his retirement, Stottlemyre joined the New York Mets as its pitching coach in 1984 and helped mentor a youthful and talented roster of pitchers including Dwight "Doc" Gooden, Sid Fernandez, David Cone and Ron Darling. In his decade with the Mets, Stottlemyre would win the 1986 World Series.
After leaving the Mets for two seasons with the Houston Astros, Stottlemyre rejoined the Yankees in the same capacity, serving under Joe Torre for 10 seasons. With a Yankees staff that included Roger Clemens, Andy Pettitte, Mike Mussina and Orlando "El Duque" Hernandez, Stottlemyre won World Series titles in 1996, 1998, 1999 and 2000.
Stottlemyre resigned from the team following the 2005 American League Division Series, citing disagreements with owner George Steinbrenner as one of the determining factors in his decision.
He would return to the game in 2008 for a single season with the Seattle Mariners under John McLaren and retired after his dismissal at the conclusion of that year.
Todd Stottlemyre had a 15-year career in the majors with the Toronto Blue Jays, Oakland Athletics, St. Louis Cardinals, Texas Rangers and Arizona Diamondbacks, winning the World Series with the Jays in 1992 and 1993.
Mel Stottlemyre Jr. appeared in 26 contests for the Kansas City Royals in 1990. He was named pitching coach of the Miami Marlins in December after two years with the Mariners in the same role.
Stottlemyre's third son, Jason, died of leukemia in 1981.
Stottlemyre was first diagnosed with myeloma, an incurable form of cancer, in 1999 and underwent a number of treatments for it.
In 2015, the Yankees honoured Stottlemyre with a plaque in Monument Park.
Stottlemyre is survived by his wife, Jean.