Yost: Sabres' start sets course for draft lottery
One of the National Hockey League's big pushes this off-season was to refine the draft lottery process in preparation for the upcoming 2015 Draft. Travis Yost examines the Buffalo Sabres' historically-poor start and how it could set them up to land a franchise player.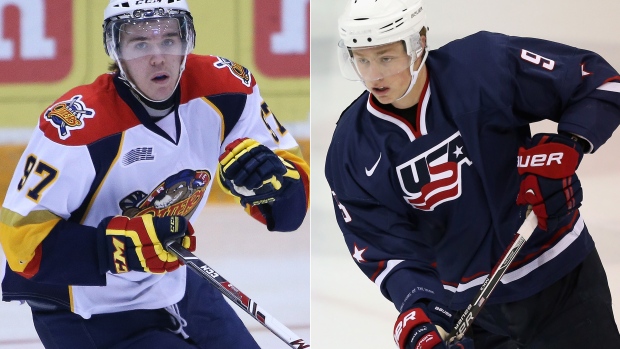 One of the National Hockey League's big pushes this off-season was to refine the draft lottery process in preparation for the upcoming 2015 Draft.

The lottery weights were adjusted to "more appropriately reflect the current state of competitive balance in the league," a thinly-veiled attempt to lessen the incentive to tank a full season in hopes of picking up the first overall pick.
It's difficult to not look at Connor McDavid, Jack Eichel, and the Buffalo Sabres as impetus behind the change. McDavid, who has already racked up 34 points in 12 games this year in the OHL, is the consensus No. 1 pick, but Eichel is not far behind. McDavid is considered a generational talent, and outside of Sidney Crosby in recent seasons, no other draft eligible hockey player has produced at his current rate. American Jack Eichel, the consensus No. 2 pick, offers an impressive consolation prize for the team that misses out on McDavid. He has three goals and six assists in three games for Boston University, competing against much older players than McDavid. His hot start comes on the heels of an impressive 20-goal, 45-point run with U.S. Hockey's National Under-18 Team.
The two players create serious opportunity for the team that manages to finish dead last.

Under the 2015 Draft lottery rules, the 30th-place team has a 20% chance at picking No. 1 and a 100% chance at getting no worse than the consolation prize. It's the final year where the draft will utilize the lottery to identify the first overall pick – in 2016, the lottery will expand to determine the top three teams, further depressing the motivation to lose out.
The Sabres appear to be a lock for the upcoming draft lottery. And despite other poor performances around the league, it's growing increasingly difficult to see them finishing anywhere other than dead last – although Carolina is winless and two points behind Buffalo. Few will accuse them of outright tanking, but the organization has certainly done an excellent job of stripping away most of the talent at the NHL-level, using this year to develop a litany of younger players. The team might not be actively trying to lose, but the roster has been carefully assembled to the point where it's going to be almost impossible for Ted Nolan's lineup to sustain any kind of success, even over short periods of time. It's a rebuild, by the harshest of designs.
In the early goings, the Sabres have amassed four points in nine games – a shocking victory over San Jose, and a shootout win over Carolina. What's amazing is that the 2-7-0 record is probably favorable to how they've played, which is historically bad.
To show just how bad the Sabres have been in the early season, I compiled monthly Score-Adjusted Fenwick% -- or even-strength possession, adjusted for score effects -- for every team over the last eight years. Score-Adjusted Fenwick measures 5-on-5 unblocked shot attempts while the score is within a two-goal margin. It should be noted that Buffalo has two games remaining in the month of October – one in Toronto, one at home against Boston.
Possession Lost
| Team - Month | Score-Adjusted Fenwick% |
| --- | --- |
| Buffalo Sabres - October 2014 | 34.5% |
| Atlanta Thrashers - March 2008 | 38.7% |
| Buffalo Sabres - October 2013 | 40.1% |
| Columbus Blue Jackets - January 2012 | 40.3% |
| Edmonton Oilers - January 2014 | 40.9% |
| Minnesota Wild - March 2011 | 41.2% |
| Edmonton Oilers - November 2010 | 41.5% |
| Minnesota Wild - March 2010 | 41.7% |
| Calgary Flames - February 2011 | 41.7% |
| Atlanta Thrashers - January 2007 | 41.8% |
So, Buffalo's possession rates – importantly adjusted for score effects, since they are almost always trailing in hockey games – through the stretch of October are as bad as we have ever seen. You simply cannot win hockey games getting territorially drilled at the rate which Buffalo experiences, and this is with the team getting decent goaltending (.921 save percentage) at 5-on-5. If Michal Neuvirth and Jhonas Enroth ever go through a poor stretch of hockey – and they will, at some point – wins are going to be almost impossible to come by.
I don't think Buffalo will be able to sustain this low of a percentage over a full season, simply because the historical data we have suggests it's almost impossible to be this bad. But, it's comparatively difficult to see Buffalo not becoming the worst possession team of the analytics era when next April rolls around.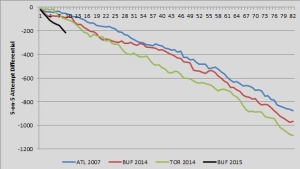 What's going to be fascinating is whether Buffalo really has any lottery competitors three months from now, and how extreme they'll take roster-stripping in order to preserve a hopeful 30th-place finish. There are going to be plenty of opportunities to move veteran players, especially guys on expiring deals. Chris Stewart, the team's best possession player at 43.7%, has been the subject of trade rumors and will likely be one of many shuffled off to the highest bidder at the deadline.
Some will say Buffalo's version of tanking will be worth it the minute they grab one of McDavid or Eichel; others will point to failed rebuild strategies in places like Edmonton and argue that throwing away seasons for nothing more than a chance isn't worth it. The one point both sides will find agreeable is that this year's edition of the Sabres is headed for futility.