Young blueliners ignite Ducks' resurgence
Preseason darlings are back in the playoff picture thanks to coach Bruce Boudreau's increased reliance on Hampus Lindholm and Sami Vatanen, TSN's Travis Yost writes.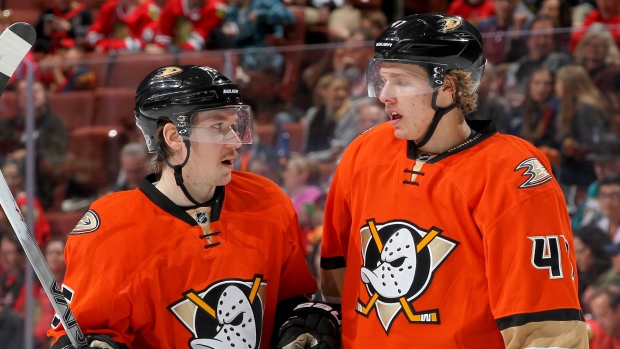 For a team that seemed to check all of the boxes - top-end talent, a mobile blueline, competent depth, respectable goaltending, and a quality head coach - the Ducks couldn't buy a victory for the first two months of the season.
I was suspicious of one thing driving the ugly win/loss record, that being an excessively low team shooting percentage. But even still, there was legitimate reason to revisit our lofty summer predictions. Most felt this was a squad that would contend for the Stanley Cup. Through mid-November, this was a team that was being out-shot and out-chanced more often than not, to say nothing of the heinous goal differentials and an ugly win/loss record.
But very quietly, Anaheim's rallied, and in a big way. Despite the rocky start, Anaheim sits in a playoff position - just one point back of second-place Arizona in the Pacific.
Surely, most of the talk will be about Anaheim benefiting from playing in a weak division. And we shouldn't ignore that. Arizona and Vancouver grade out as two of the worst teams in the National Hockey League, and they're currently occupying spots two and four in the division. That's not exactly flattering for the likes of San Jose, Calgary, and Edmonton.
Divisional weakness aside, it's impossible not to notice the transition Anaheim has made in reasonably short time. Their underlying numbers have spiked in a massive way - going from a team scratching and clawing to break even, to one of the league's better 5-on-5 clubs (and more specifically, the team we expected to see in 2015-16).
Below, I've plotted out Anaheim's 5-on-5 averages by Corsi%, ScoringChance%, and Goal% since the start of the season. Right around mid-November, the team woke from a serious lull to start taking the game to their opposition.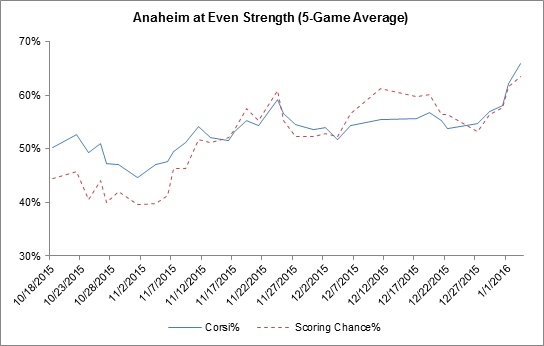 Those are really striking numbers. You'll see that they are in the midst of five-game stretches where they are controlling at or just above 60 per cent of the shots and scoring chances, uncharted territory unless you are the Los Angeles Kings.
So, what's underpinning the team's change in 5-on-5 performance? There are likely a variety of contributing factors, but it's hard to ignore the subtle changes Bruce Boudreau's made in deploying his defence. More specifically, he's providing a larger percentage of ice time to his young, mobile rearguards.
Here's how 5-on-5 ice-time has been handed out since the start of the season: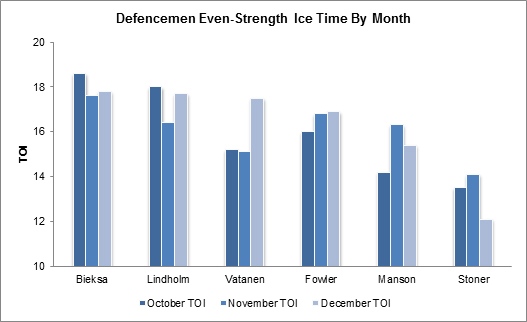 I'm particularly interested in the November to December change - I'll speak to that in a minute. But notice how Boudreau's changed it up on the back end. Hampus Lindholm's almost playing two more minutes a night (month over month). The same can be said for Sami Vatanen. Those minutes seem to be coming at the expense at some of Anaheim's bigger, physical bodies in Josh Manson and Clayton Stoner.
The Lindholm change is the most notable. For my money, he's emerged as one of the league's preeminent blueliners - he's comfortably the best defender on his team, a rare thing to say about a 21-year-old player.
The impact of his game can't be understated. He's one of those rare types who seem to make every player around him better, and that's such a critical piece for a team to have. Just look at how some of Lindholm's most common teammates over the years have played without him on the ice: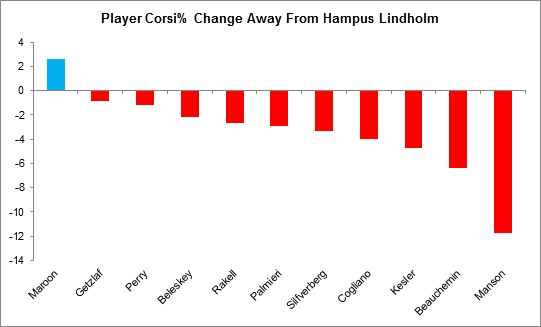 This is generally what we see from the highest cut of defenders, players like Erik Karlsson and P.K. Subban. Almost every Ducks forward and defenceman - save Patrick Maroon, oddly enough - sees his Corsi% drop when playing away from Lindholm. In most cases it's a substantial decrease.
To me, this makes intuitive sense. Anaheim, at their best, is a brutally physical, fore-checking team. They work the walls well, dominate the space of the home plate area where most NHL goals are scored, and frustrate opposing defences, preventing them from moving the puck out of the danger areas with any kind of efficiency.
The key for this team to me is getting the big bodies - Corey Perry and Ryan Getzlaf for starters, but also a slew of other depth guys who do it reasonably well lower in the lineup - into the offensive zone. If you burden them with playing a 200-foot game, they'll fatigue and lose their usual sharpness up top.
That's where the beauty of Lindholm comes into play. He's a gifted skater with unbelievable touch - the kind of mobile back-end presence that just about every team needs to be successful these days. He can wheel through the neutral zone and find a breaking forward, or he can drop the puck into a soft area where the Anaheim fore-checkers can get to work.
So, maybe we shouldn't be surprised that giving more minutes to the team's best defender has manifested itself in the form of excellent even-strength play over the last month. For as long as the Ducks have the Getzlaf/Perry duo, they'll be faces of the franchise. But, for my money, the young Swede is just as crucial to their success.
The Takeaway
Did you know Hampus Lindholm is a restricted free agent at the end of the season? Just thought you'd like to know.