Young Stars: Parting thoughts from Penticton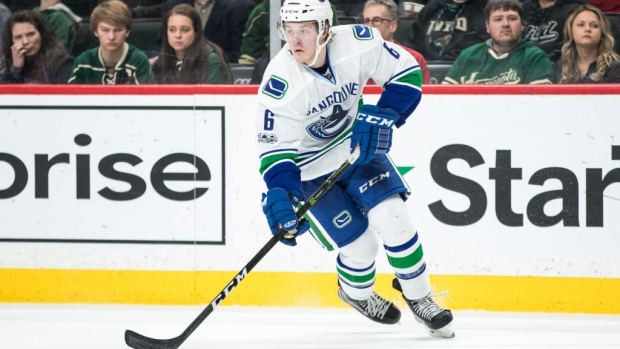 PENTICTON, BC – With their third game in less than 72 hours, the Vancouver Canucks wrapped up the 2017 Young Stars tournament here on Monday afternoon. It's a whirlwind weekend with players at different stages of their development thrown together with just one practice and the end result is predictable. The hockey isn't great and ultimately very little is determined about the futures of the prospects on display. Sure, there were some solid individual efforts in the team's 4-2 win over Winnipeg to start the proceedings on Friday night, but that was the best the team looked. The Canucks finished the weekend with losses to both Calgary and Edmonton and on an individual level no one in the prospect pool blew the doors off the South Okanagan Events Centre.
Griffen Molino was probably the best of the Canucks bunch. And that shouldn't come as a huge surprise. I wrote about Molino prior to the tournament. With five National Hockey League games under his belt late last season, he came to Penticton as the oldest skater on the Canucks roster and with expectations that he should stand out. His exceptional speed sets him apart and it was on display in each of the games he dressed for. He showed finish, too, scoring a power play goal in Friday's 4-2 victory over Winnipeg. On Sunday afternoon used his acceleration to beat his man wide, cut hard to the net and nearly deposit a puck behind the Calgary goaltender. Monday was not his best game of the three he dressed for.
Jonah Gadjovich led the team in scoring with two goals and two assists over the three games and the big second rounder came very much as advertised. He used his size effectively and was involved physically. He had a great chance to score the overtime winner on Monday afternoon, but couldn't pull the trigger. The fact he was around the puck and around the net for much of the weekend provided a glimpse of what caught the attention of scouts. His goal came on Monday came from in tight on a 5-on-3 power play a spot from which he can likely make a pretty good living as a professional hockey player.
Brock Boeser was among the better Canucks here this weekend. No, the goal scorer didn't score any goals. But he came close, ringing pucks off the post in each of the two games he dressed for (he sat out Monday's finale). His big-league shot and release was on full display Friday when he held onto the puck on a two-on-one and from 20 feet out snapped one past the netminder and rattled the puck off the crossbar. Known primarily as a finisher, Boeser also showed playmaking skills at this level on a number of occasions, drawing defenders to him and creating space which he used effectively to set up teammates. As one of the leaders of the young Canucks, Boeser was used in all situations including as a penalty killer. There were no issues with Boeser's performance in his two outings this weekend. And now it's on to main camp where he will have the chance to flourish with better players.
Olli Juolevi saved his best for last – granted the bar had been lowered with his first two outings. The 2016 fifth-overall pick had a decent tournament on the offensive side of centre, but the concern came in his own zone where he looked tentative and was caught flat footed more than you would like to see from a prized prospect. Monday, he was reunited with Jalen Chatfield, who sat out Sunday's loss to Calgary, and together they formed a solid pairing that rarely ran into problems in their own zone. Juolevi needs to continue to improve and the hope is he can use Monday's solid performance as a springboard to a successful main camp.
For the most part, Thatcher Demko did what was expected of him. He stopped 18 of 20 shots in his tournament opener on Friday night and returned to the net Monday afternoon by stopping 12 of 15 shots in 40 minutes of work. He's a big goalie who looks the part of a future NHL'er. He exudes confidence and performed reasonably well in a tournament where getting a read on opponents can be difficult and the play isn't nearly as crisp as the action he will see in the weeks ahead as he moves on to main camp and then into the NHL exhibition season. With the Canucks expected to take just two goalies (Jacob Markstrom and Anders Nilsson) to China, Demko should get plenty of split-squad opportunities in games while the traveling party is overseas. Penticton was a chance to get some game action under his belt, so in that sense it was mission accomplished here and he looks ready for the next step in the process.
After a reasonably strong tournament opener against Winnipeg in which Guillaume Brisebois wore an alternate captain's 'A', the 2015 third-round draft pick struggled mightily on Saturday afternoon against Calgary. He took a double-minor for high sticking and watched as the Flames cashed in while he was in the box. When he was on the ice, he seemed to struggle with reads and reactions for much of the afternoon. Although singled out by Canucks assistant General Manager John Weisbrod as a standout here this weekend, Brisebois will need to show more at main camp.
Along with Gadjovich, fellow second-round selection Kole Lind showed well as an 18-year-old. The Kelowna Rocket winger impressed with a goal and two assists in Friday's victory over the Jets. He admitted to being nervous prior to pulling on a Canucks jersey in game action for the first time, but those nerves quickly subsided and he didn't look out of place at this level although he was quieter as the tournament progressed. Still there were plenty of examples of his hockey smarts on display and he didn't seem to shy away from high traffic areas.
Jalen Chatfield had a strong start to the weekend, partnering with Juolevi on the Canucks' defence. He scored early in Friday's tournament opener, but later was forced to leave the game for a short while after taking a high, hard hit on the end boards. He did not dress for the second game on Sunday and was fairly quiet in his return to the line-up on Monday afternoon. Still, he was among the Canucks' better defencemen over the course of the weekend. The free agent from the Memorial Cup champion Windsor Spitfires played a controlled game here and is an intriguing prospect as he launches his pro career. He is likely to see game action in the pre-season and that will provide a better read on his readiness to play at the next level.
Odds and ends: Zack MacEwen, before being injured against Calgary, was starting to assert himself in this tournament. The big centre signed as a free agent out of Gatineau late last season was noticeable on almost every shift. He is listed as day-to-day with an upper body injury and will have to wait for medical clearance to join the group at main camp.
Brett McKenzie excelled in the face-off circle, winning draws that led directly to goals in each of the Canucks' first two games. The seventh-round pick in 2016 saw his offensive numbers increase in each of his four years in North Bay and looks ready to test himself at the next level. He had three helpers in three games here.
Michael Carcone scored both Canucks goals on Monday afternoon – his second likely the goal of the tournament as he went coast to coast down the right wing boards and cut hard to the slot using the traffic in front as a screen before depositing the puck in the net. The 21-year-old also got into a scrap in Friday's tournament opener. He played 61 games in Utica last season – his first as a professional. His performance in Penticton likely left an impression on Comets new head coach Trent Cull who worked the Canucks bench here this weekend.