Zibanejad, Legwand score in third as Senators top Canadiens in preseason
Mika Zibanejad and David Legwand scored power-play goals in the third period to lift the Ottawa Senators to a 4-2 pre-season victory over the Montreal Canadiens on Saturday night. The Senators ended their pre-season schedule at 4-3-0 while Montreal dropped to 4-2-1.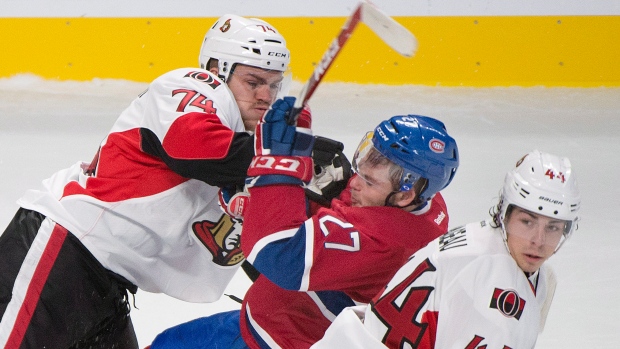 MONTREAL - The Ottawa Senators can go into the NHL regular season feeling pretty good about themselves.
The Senators completed a two-game sweep of the rival Canadiens with a 4-2 NHL pre-season victory on Saturday night, a day after beating Montreal 3-2 in overtime on home ice.
Mika Zibanejad and David Legwand scored power-play goals in the third period to erase a 2-1 Montreal lead.
"Sometimes pre-season doesn't matter at all, there are no points involved, but it's a good chance to get a feeling for the locker room," said Zibanejad. "To win these two games against the Habs, our rivals, and the way we did it shows the mentality we have, how we react as a group. That's a good sign."
Mike Hoffman scored in the first period and Curtis Lazar had an empty-net goal with nine seconds left to play for Ottawa, which went 4-3 in the pre-season.
Max Pacioretty and Andrei Markov put pucks past Craig Anderson for the Canadiens, who were 4-2-1.
After the game, Montreal assigned defenceman Darren Dietz and forward Christian Thomas to AHL Hamilton.
"They were two players who opened our eyes in camp," said coach Michel Therrien. "They both had injuries last season, so we didn't know them that well, but they came in and played well and worked hard."
The Canadiens still must cut a goalie, one defenceman and a forward before the roster deadline on Tuesday, but Therrien said they would take their time to make their decisions.
A player on the bubble is six-foot-six defenceman Jarred Tinordi, who struggled in camp but closed it with what Therrien called his best game. The Canadiens must decide whether to keep Tinordi or aging veteran Francis Bouillon, who is in camp on a tryout.
They also must decide between Dustin Tokarski and Peter Budaj as backup to goalie Carey Price and whether to keep newcomers Jiri Sekac or Jacob de la Rose, who have both been solid. Sekac appears to have the edge, but Therrien had high praise for de la Rose.
"It's surprising how well he understands his position," said Therrien. "He was very well developed in Sweden."
Ottawa, whose Binghamton AHL club is currently training in France, did not announce any cuts.
The Senators controlled the early minutes and got the first goal at 11:56 when Tinordi lost the puck in his zone and Hoffman put it past Price with a shot that went off a stick.
Pacioretty scored from the front of the net on a power play at 13:19 and P.K. Subban ragged the puck through the Ottawa zone and set up Markov for a shot into an open side at 19:58.
Zibanejad tied in on a power play 8:19 into the third when he jumped on a loose puck and scored with a blast from the high slot.
"I didn't really expect it," said Zibanejad. "I saw the puck was trickling out and Milan (Michalek) did a great job of dragging two guys to him, so I was wide open. I just closed my eyes and shot."
Legwand's pass attempt came back to him off Alexei Emelin's skate and he shot into an open side with Price moving the other way.
The 19-year-old Lazar may have moved closer to making the team was he was sent on to protect a lead in the final minute and ended up scoring a goal.
"There were a couple of passes, a couple of reads I need to makes differently, but I'm comfortable with how my game's come along," said Lazar.
Notes — Canadiens right winger P.A. Parenteau left in the first period with a lower body injury and did not return, centre Lars Eller sat out with a lower body injury. Therrien said both players should be ready for the season opener Wednesday in Toronto.. . . Montreal sat out defenceman Nathan Beaulieu to take another look at Tinordi. . . Chris Neil, Chris Phillips, Marc Methot, Alex Chiasson and Erik Condra weren't in Ottawa's lineup.