Blue Bombers flush with free agents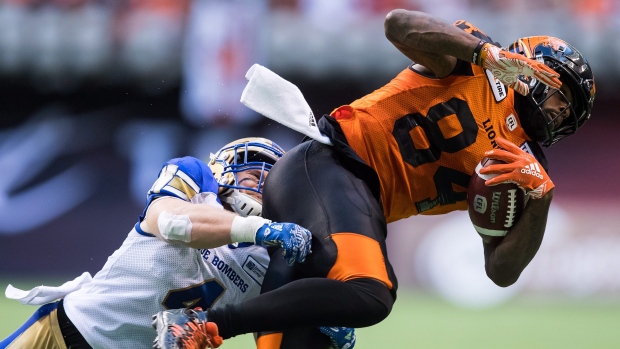 Following their loss in the West Division Final, and the club's most promising season in years, the Winnipeg Blue Bombers now enter the off-season with a number of key positions requiring general manager Kyle Walters' attention.

The current CFL-CFLPA collective bargaining agreement is set to expire, which will have significant contract implications for both sides when it comes to the upcoming negotiations and eventual result. This leaves many players and teams alike waiting for some sort of conclusion be found before exploring their free agent situation heading into 2019.
Atop Winnipeg's list of free agent priorities is linebacker Adam Bighill, who, following a superb 2018 season is pitted up against Hamilton's Larry Dean for the CFL's Most Outstanding Defensive Player award to be handed out during Grey Cup week in Edmonton.
But Bighill is far from alone when exploring Winnipeg's lengthy list of impact players that are due to hit free agency, including the likes of offensive tackle Stanley Bryant, veteran kicker Justin Medlock, special teams demon Mike Miller, emerging linebacker Jovan Santos-Knox, perennial All-Star safety Taylor Loffler, and impact defensive end Jackson Jeffcoat.
Here is a breakdown of the Blue Bombers roster, with details on who is set to hit the market, and the statuses of those still under contract for the 2019 season and beyond.
* indicates National/Canadian status
Quarterback:
Matt Nichols – signed through 2020
Chris Streveler – signed through 2019
Bryan Bennett – signed through 2019
Running Back:
Andrew Harris* – signed through 2020
Kienan LaFrance* – free agent
Timothy Flanders – free agent
Johnny Augustine* – free agent
Receiver:
Darvin Adams – signed through 2019
Weston Dressler – free agent
Nic Demski* – free agent
Drew Wolitarsky* – signed through 2019
Kenbrell Thompkins – signed through 2019
Ryan Lankford – free agent
Charles Nelson – signed through 2019
Corey Washington – signed through 2019
Rashaun Simonise* – signed through 2020
Daniel Petermann* – signed through 2019
Kenny Lawler – free agent
Offensive Line:
Stanley Bryant – free agent
Patrick Neufeld* – signed through 2019
Matthias Goossen* – free agent
Sukh Chungh* – free agent
Jermarcus Hardrick – signed through 2019
Manase Foketi – signed through 2019
Michael Couture* – free agent
Geoff Gray* – signed through 2020
Cody Speller* – signed through 2020
Qadr Spooner* – free agent
Special Teams:
Justin Medlock – free agent
Chad Rempel* – free agent
Mike Miller* – free agent
John Rush* – free agent
Shayne Gauthier* – free agent
Frederic Plessius* – free agent
Thomas Miles* – free agent
Abu Conteh* – signed through 2019
Jeff Hecht* – free agent
Brendan Morgan* – free agent
Frank Renaud* – free agent
Jacob Firlotte* – free agent
Derek Jones* – signed through 2019
Jesse Briggs* – free agent
Defensive Line:
Jackson Jeffcoat – free agent
Craig Roh – signed through 2019
Tristan Okpalaugo – free agent
Drake Nevis – free agent
Brandin Bryant – signed through 2019
Jake Thomas* – free agent
Trent Corney* – free agent
Gerald Rivers – free agent
Patrick Choudja – free agent
Linebacker:
Adam Bighill – free agent
Jovan Santos-Knox – free agent
Ian Wild – free agent
Kyrie Wilson – free agent
Defensive Back:
Taylor Loffler – free agent
Chris Randle – signed through 2019
Marcus Sayles – signed through 2019
Kevin Fogg – free agent
Brandon Alexander – free agent
Anthony Gaitor – signed through 2019
Chandler Fenner – signed through 2019
Maurice Leggett – free agent
Chris Humes – signed through 2019
Tyneil Cooper – free agent