The 7-Eleven Power Rankings - Jets continue to soar
Presented by: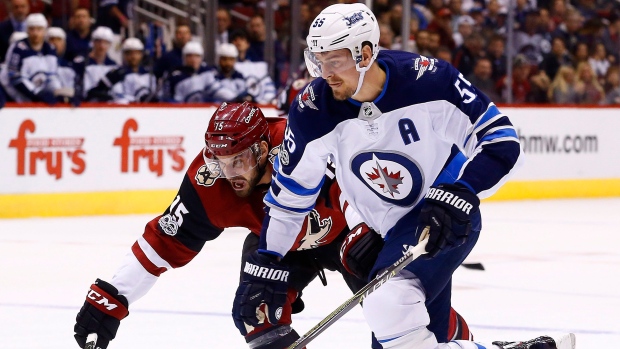 Everything seems to be going right for the Winnipeg Jets these days.
After a disastrous start to the 2017-18 NHL season, where they sat dead-last during Week 2 of TSN's 7-Eleven Power Rankings, the surging Jets are 6-1-3 in their last 10, Canada's top team of the week and No. 3 overall in the weekly power rankings, according to consensus rankings formulated by the TSN Power Ranking panel of Ray Ferraro, Jeff O'Neill, Jamie McLennan, Craig Button and Darren Dreger.
Steve Mason, signed during the off-season to start for Winnipeg but supplanted in net by the solid play of Connor Hellebuyck, also pulled out of a slump to help the Jets climb higher, stopping 29 shots Saturday to rally his team past the Arizona Coyotes and improve to 9-4-3.
The Tampa Bay Lightning remain the top-ranked team for a second straight week, with the league's best record (14-2-2), top-two scorers in Steven Stamkos (31 points) and Nikita Kucherov (30, including a league-best 16 goals), and stellar goaltending from Andrei Vasilevskiy, who still leads the NHL in wins with 13.
The St. Louis Blues, who remain atop the Western Conference standings, are still No. 2 in the power rankings for a third straight week, while the surprising No. 4 New Jersey Devils, winners of two in a row, move up a spot from No. 5. The Los Angeles Kings, who have lost two straight, slip to No. 5 from No. 3 a week ago.
Following the Jets this week as Canada's best teams are the Ottawa Senators, who improve to No. 7 in the rankings from No. 10 a week ago after two wins against the Colorado Avalanche in Sweden. Despite missing injured star Auston Matthews for the last three games, the Toronto Maple Leafs make a big leap to No. 8 from No. 16 a week ago, riding a four-game win streak on the strength of tighter defensive play to land as the third-best team in the country.
The red-hot New York Rangers, with six straight wins, make the biggest jump of the week, skyrocketing to No. 11 from No. 21, while the slumping Vancouver Canucks have the worst drop in the rankings, tumbling all the way to No. 22 from No. 8 last week.
Languishing in the basement for a fifth straight week are the Arizona Coyotes, while the Florida Panthers, who were in 18th spot in Week 3 of the rankings, continue their descent to sit at No. 30. The Buffalo Sabres (No. 29) are third-last, followed by the Boston Bruins and the Carolina Hurricanes (stuck at No. 27) to round out the bottom-five teams.
Check out TSN Hockey's full list below.

2017-18

14-2-2

LAST 10

8-1-1

LAST WEEK

1
Three West Coast wins (first California sweep in 23 years) bettered Tampa Bay's road record to 7-1-1 and increased their road winning streak to six, one short of the team record, set in 2007.

2017-18

13-4-1

LAST 10

7-2-1

LAST WEEK

2
Jaden Schwartz's breakout season has been a key component to the Blues' success. The 25-year-old product of Wilcox, Sask., has 22 points in 18 games and is on pace for 100 points.

2017-18

9-4-3

LAST 10

6-1-3

LAST WEEK

7
Less is more for the Jets. Four times they've managed a meagre 21 or fewer shots on net. But Patrik Laine is on a five-game goal streak, and Steve Mason was solid Saturday in his first start in two weeks.

2017-18

11-4-2

LAST 10

5-3-2

LAST WEEK

5
The Devils overcame a three-goal deficit to beat Chicago 7-5 Sunday. Miles Wood had a hat trick to double his goal total. Nico Hischier added a goal and two assists and has 14 points in 17 games.

2017-18

11-4-2

LAST 10

5-4-1

LAST WEEK

3
Anze Kopitar has 21 points in 17 games, compared to the nine he earned in his first 17 in 2016-17. Dustin Brown has 17 in 17 this season and also had nine in his first 17 last year.

2017-18

9-5-2

LAST 10

6-3-1

LAST WEEK

13
The Predators stretched their winning streak to four games, and welcomed aboard Kyle Turris, who had a goal and an assist in his first game. They also beat the Penguins in a Stanley Cup rematch Saturday.

2017-18

8-3-5

LAST 10

5-2-3

LAST WEEK

10
A trip to Stockholm was a Swedish delight for the Senators, winning both games by the same 4-3 score. But new addition Matt Duchene was held pointless after notching 10 in 14 games with the Avs.

2017-18

12-7-0

LAST 10

5-5-0

LAST WEEK

16
The Maple Leafs have bounced back from their mini-slump with four straight wins, including two against Boston, with injured star Auston Matthews out of lineup for the last three games.

2017-18

10-7-1

LAST 10

5-4-1

LAST WEEK

4
Just one win in the last five games for the Blue Jackets, partially from of a lack of scoring. Still in need of another top-six forward, they have just one goal in each of their last three games.

2017-18

10-5-1

LAST 10

5-4-1

LAST WEEK

6
What happens in Vegas is better for Vegas. They returned home after winning just one of six on their road trip, and promptly earned their sixth straight home win, and seven in eight tries.

2017-18

9-7-2

LAST 10

8-2-0

LAST WEEK

21
The Rangers are the NHL's hottest team with a six-game winning streak. Michael Grabner has five goals over that stretch, while Kevin Shattenkirk and Mika Zibanejad have eight points each.

2017-18

10-7-1

LAST 10

6-4-0

LAST WEEK

14
The Capitals, with Braden Holtby recording his 200th win, have started off November much better. They were 2-5 in their last seven October games, but are 5-1 in their first six November games.

2017-18

10-6-0

LAST 10

7-3-0

LAST WEEK

15
After starting the season with a 5-6 record, the Sharks have since gone 6-1. Their 5-0 win against Vancouver certainly helped with two empty-net goals and a penalty shot in the final two minutes.

2017-18

9-7-0

LAST 10

6-4-0

LAST WEEK

11
A light week for the Stars, with just two games, but they continued to show their dominance at home where they have won six of their last seven after losing their opening game.

2017-18

9-7-3

LAST 10

4-4-2

LAST WEEK

12
Sidney Crosby hasn't scored in 11 games and they have lost three of their last four. But a 3-1 defeat of Arizona in Pittsburgh continued the team's streak of earning a point in every home game this season.
2017-18

9-6-2

LAST 10

6-3-1

LAST WEEK

9
After being shut out 5-0 by Dallas and John Tavares finishing minus-3, coach Doug Weight accused his players of lacking heart. They bounced right back the next night with a 5-2 win in St. Louis.

2017-18

9-7-0

LAST 10

5-5-0

LAST WEEK

17
The Flames have had a decent homestand, winning four of six. Mike Smith has more than proved his worth, starting all six of those games, as well as 15 of 16 on the season and has nine wins.

2017-18

8-9-1

LAST 10

7-3-0

LAST WEEK

19
The Canadiens are almost at .500, thanks to seven wins in their last nine. Charlie Lindgren has stepped in during Carey Price's injury and is 3-1 with a .964 save percentage and 1.24 GAA.

2017-18

7-7-2

LAST 10

5-5-0

LAST WEEK

22
The Wild blanked Montreal 3-0 and Philadelphia 1-0 and Jason Zucker scored all four goals. He has scored every Wild goal in the team's last three games, including two in a 4-2 loss to the Leafs.

2017-18

8-7-2

LAST 10

4-4-2

LAST WEEK

20
A 1-0 loss to Minnesota was the fourth time the Flyers have been shut out this year, which leads the league. Despite those lapses, they still rank 14th in the league in goals for per game with 2.94.

2017-18

8-8-2

LAST 10

4-6-0

LAST WEEK

18
Patrick Kane has one goal in his last eight games and Brandon Saad has just one goal in his last 12 games. Rookie Alex DeBrincat has picked up some of the slack with five goals in his last six.

2017-18

8-7-2

LAST 10

5-4-1

LAST WEEK

8
Things are starting to slip in Vancouver. They lost three of four this week, and in their last five losses they've scored a total of four goals and were blanked by the Sharks 5-0 on Saturday.

2017-18

8-8-2

LAST 10

4-5-1

LAST WEEK

23
The Red Wings made it through a tough stretch of seven of nine games on the road, with a 3-4-0 away mark and 1-0-1 home mark for a combined 4-4-1. Jimmy Howard has been solid (.930 save percentage).

2017-18

7-7-3

LAST 10

4-4-2

LAST WEEK

25
Injury problems have now extended to Anaheim's goalies, with Gibson and Miller both needing to be replaced in games. The Ducks have just one win in their last six games.

2017-18

6-9-2

LAST 10

4-4-2

LAST WEEK

28
A few things are starting to go Edmonton's way. They had two wins on the road this week in overtime. But then on Sunday in Washington they earned a point, but lost in the shootout.

2017-18

8-7-1

LAST 10

4-5-1

LAST WEEK

24
The Avalanche didn't have much success in Sweden, losing both games to Ottawa (one in OT), but newly-acquired Samuel Girard made his presence felt by playing over 20 minutes in each game.

2017-18

6-5-4

LAST 10

3-4-3

LAST WEEK

27
The Hurricanes had a decent week, defeating Florida and Columbus and earning a point against Chicago, but they don't have a power play goal in their last five games and just one in their last 10.

2017-18

6-6-4

LAST 10

3-3-4

LAST WEEK

26
The struggling Bruins, ranked 14th in Week 2, blew a one-goal lead with less than a minute remaining in Toronto and then lost in overtime as their power ranking freefall continues.

2017-18

5-9-3

LAST 10

4-5-1

LAST WEEK

30
A 3-1 win over Washington offered some hope, but they lost their next two games and have just one goal in five of their last eight. Jack Eichel has just three assists in his last seven games.

2017-18

5-9-2

LAST 10

3-5-2

LAST WEEK

29
Just one win in their last seven games - and that was over Buffalo. But Vincent Trocheck has four goals in his last five games and Roberto Luongo earned his 455th career win on Friday.

2016-17 RECORD

2-14-3

LAST 10

2-6-2

LAST WEEK

31
It's always something with the league's worst team. They get back goalie Antti Raanta, but now they can't score. They've gone five straight games without scoring more than two goals.