ATP on TSN: National Broadcast Schedule
Watch the hottest stars on the ATP Tour as they play 250-, 500- and 1000-level series events around the world.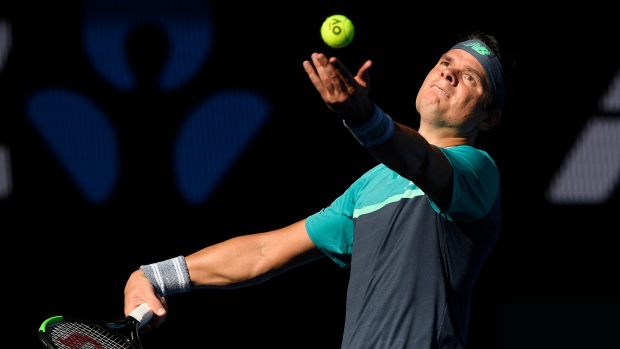 TSN's five national feeds deliver more than 1,600 hours of world-class tennis a year, including the ATP 250 Series, World Tour 1000 and 500 series events.
Schedule subject to change.
Rakuten Japan Open - Tokyo
| Round | Date | Time (ET) | Network |
| --- | --- | --- | --- |
| Early Round Coverage - Day 1 | Sunday, October 2 | 10pm | TSN2 |
| Early Round Coverage - Day 1 (Colosseum) | Sunday, October 2 | 10pm | TSN.ca/TSN App |
| Early Round Coverage - Day 1 (Rakuten Arena) | Sunday, October 2 | 10pm | TSN.ca/TSN App |
| Early Round Coverage - Day 2 | Monday, October 3 | 10pm | TSN2 |
| Early Round Coverage - Day 2 (Colosseum) | Monday, October 3 | 10pm | TSN.ca/TSN App |
| Early Round Coverage - Day 2 (Rakuten Arena) | Monday, October 3 | 10pm | TSN.ca/TSN App |
| Early Round Coverage - Day 3 | Tuesday, October 4 | 10pm | TSN2 |
| Round of 16 | Wednesday, October 5 | 10pm | TSN2 |
| Round of 16 | Thursday, October 6 | 5am | TSN2 |
| Round of 16 (World Feed) | Thursday, October 6 | 10pm | TSN.ca/TSN App |
| Round of 16 (Rakuten Arena) | Thursday, October 6 | 10pm | TSN.ca/TSN App |
| Quarterfinals | Friday, October 7 | Midnight | TSN2 |
| Semifinals | Saturday, October 8 | 1am | TSN2 |
| Final | Sunday, October 9 | 3:30am | TSN2 |
Astana Open - Nur-Sultan, Kazakhstan
| Round | Date | Time (ET) | Network |
| --- | --- | --- | --- |
| Early Round Coverage - Day 1 | Monday, October 3 | 2am | TSN5 |
| Early Round Coverage - Day 1 | Monday, October 3 | 8am | TSN5 |
| Early Round Coverage - Day 1 (Centre Court) | Monday, October 3 | 2am | TSN.ca/TSN App |
| Early Round Coverage - Day 1 (Court 1) | Monday, October 3 | 2am | TSN.ca/TSN App |
| Early Round Coverage - Day 2 | Tuesday, October 4 | 1am | TSN5 |
| Early Round Coverage - Day 2 (Centre Court) | Tuesday, October 4 | 1am | TSN.ca/TSN App |
| Early Round Coverage - Day 2 (Court 1) | Tuesday, October 4 | 1am | TSN.ca/TSN App |
| Early Round Coverage - Day 3 | Wednesday, October 5 | 1am | TSN5 |
| Early Round Coverage - Day 3 (Centre Court) | Wednesday, October 5 | 1am | TSN.ca/TSN App |
| Early Round Coverage - Day 3 (Court 1) | Wednesday, October 5 | 2am | TSN.ca/TSN App |
| Round of 16 | Thursday, October 6 | 2am | TSN5 |
| Round of 16 | Thursday, October 6 | 8am | TSN5 |
| Quarterfinals | Friday, October 7 | 2am | TSN5 |
| Quarterfinals | Friday, October 7 | 8am | TSN5 |
| Semifinals | Saturday, October 8 | 6am | TSN3 |
| Final | Sunday, October 9 | 6:30am | TSN3 |
Tennis Napoli Cup - Naples, Italy
| Round | Date | Time (ET) | Network |
| --- | --- | --- | --- |
| Early Round Coverage - Day 1 (Arena Court) | Monday, October 17 | 5am | TSN.ca/TSN App |
| Early Round Coverage - Day 2 (Arena Court) | Tuesday, October 18 | 5am | TSN.ca/TSN App |
| Early Round Coverage - Day 3 (Arena Court) | Wednesday, October 19 | 5am | TSN.ca/TSN App |
| Early Round Coverage - Day 4 (Arena Court) | Thursday, October 20 | 5am | TSN.ca/TSN App |
| Quarterfinals (Arena Court) | Friday, October 21 | 5am | TSN.ca/TSN App |
| Semifinals (Arena Court) | Saturday, October 22 | 8am | TSN.ca/TSN App |
| Final (Arena Court) | Sunday, October 23 | 9am | TSN.ca/TSN App |
European Open - Antwerp, Belgium
| Round | Date | Time (ET) | Network |
| --- | --- | --- | --- |
| Early Round Coverage - Day 1 (Centre Court) | Monday, October 17 | 9:30am | TSN.ca/TSN App |
| Early Round Coverage - Day 2 (Centre Court) | Tuesday, October 18 | 6:30am | TSN.ca/TSN App |
| Early Round Coverage - Day 3 (Centre Court) | Wednesday, October 19 | 6:30am | TSN.ca/TSN App |
| Early Round Coverage - Day 4 (Centre Court) | Thursday, October 20 | 6:30am | TSN.ca/TSN App |
| Quarterfinals (Centre Court) | Friday, October 21 | 6:30am | TSN.ca/TSN App |
| Semifinals (Centre Court) | Saturday, October 22 | 9:30am | TSN.ca/TSN App |
| Final (Centre Court) | Sunday, October 23 | 10am | TSN.ca/TSN App |
Stockholm Open - Stockholm, Sweden
| Round | Date | Time (ET) | Network |
| --- | --- | --- | --- |
| Early Round Coverage - Day 1 (Centre Court) | Monday, October 17 | 7am | TSN.ca/TSN App |
| Early Round Coverage - Day 2 (Centre Court) | Tuesday, October 18 | 7am | TSN.ca/TSN App |
| Early Round Coverage - Day 3 (Centre Court) | Wednesday, October 19 | 7am | TSN.ca/TSN App |
| Early Round Coverage - Day 4 (Centre Court) | Thursday, October 20 | 7am | TSN.ca/TSN App |
| Quarterfinals (Centre Court) | Friday, October 21 | 6am | TSN.ca/TSN App |
| Semifinals (Centre Court) | Saturday, October 22 | 8am | TSN.ca/TSN App |
| Final (Centre Court) | Sunday, October 23 | 9:30am | TSN.ca/TSN App |
Erste Bank Open - Vienna, Austria
| Round | Date | Time (ET) | Network |
| --- | --- | --- | --- |
| Early Round Coverage - Day 1 | Monday, October 24 | 8am | TSN3 |
| Early Round Coverage - Day 1 (Centre Court) | Monday, October 24 | 8am | TSN.ca/TSN App |
| Early Round Coverage - Day 1 (#glaubandich Court) | Monday, October 24 | 9am | TSN.ca/TSN App |
| Early Round Coverage - Day 2 | Tuesday, October 25 | 8am | TSN3 |
| Early Round Coverage - Day 2 (Centre Court) | Tuesday, October 25 | 8am | TSN.ca/TSN App |
| Early Round Coverage - Day 2 (#glaubandich Court) | Tuesday, October 25 | 8am | TSN.ca/TSN App |
| Early Round Coverage - Day 3 | Wednesday, October 26 | 8am | TSN3 |
| Early Round Coverage - Day 3 (Centre Court) | Wednesday, October 26 | 8am | TSN.ca/TSN App |
| Early Round Coverage - Day 3 (#glaubandich Court) | Wednesday, October 26 | 8am | TSN.ca/TSN App |
| Round of 16 | Thursday, October 27 | 8am | TSN3 |
| Round of 16 (Centre Court) | Thursday, October 27 | 8am | TSN.ca/TSN App |
| Round of 16 (#glaubandich Court) | Thursday, October 27 | 8am | TSN.ca/TSN App |
| Quarterfinals | Friday, October 28 | 8am | TSN3 |
| Semifinals | Saturday, October 29 | 8am | TSN3 |
| Final | Sunday, October 30 | 9am | TSN5 |
Swiss Indoors Basel - Basel, Switzerland
| Round | Date | Time (ET) | Network |
| --- | --- | --- | --- |
| Early Round Coverage - Day 1 | Monday, October 24 | 9:30am | TSN5 |
| Early Round Coverage - Day 1 | Monday, October 24 | 1pm | TSN5 |
| Early Round Coverage - Day 1 (Center Court) | Monday, October 24 | 9:30am | TSN.ca/TSN App |
| Early Round Coverage - Day 1 (Court 1) | Monday, October 24 | 1pm | TSN.ca/TSN App |
| Early Round Coverage - Day 2 | Tuesday, October 25 | 9am | TSN5 |
| Early Round Coverage - Day 2 (Center Court) | Tuesday, October 25 | 9am | TSN.ca/TSN App |
| Early Round Coverage - Day 2 (Court 1) | Tuesday, October 25 | 7am | TSN.ca/TSN App |
| Early Round Coverage - Day 3 | Wednesday, October 26 | 9am | TSN5 |
| Early Round Coverage - Day 3 (Center Court) | Wednesday, October 26 | 9am | TSN.ca/TSN App |
| Early Round Coverage - Day 3 (Court 1) | Wednesday, October 26 | 7am | TSN.ca/TSN App |
| Round of 16 | Thursday, October 27 | 9am | TSN5 |
| Round of 16 (Center Court) | Thursday, October 27 | 9am | TSN.ca/TSN App |
| Round of 16 (Court 1) | Thursday, October 27 | 7am | TSN.ca/TSN App |
| Quarterfinals | Friday, October 28 | 9am | TSN5 |
| Semifinals | Saturday, October 29 | 8:30am | TSN4 |
| Final | Sunday, October 30 | 10am | TSN4 |
Rolex Paris Masters - Paris, France - October 31, 2022
Nitto ATP Finals - Turin, Italy - November 13, 2022
Schedules subject to change