Ice Chips: Leafs D Muzzin to miss start of training camp with back discomfort
Keep updated on all the injury news and roster updates from around the NHL with daily Ice Chips.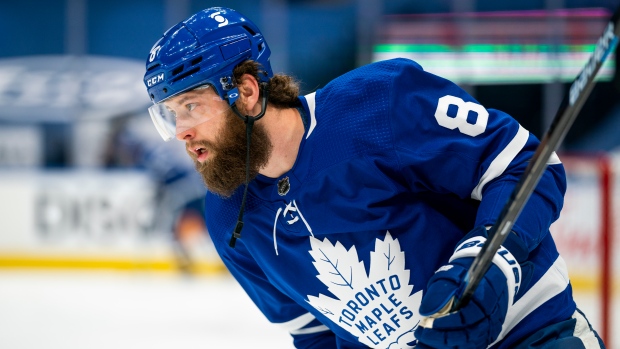 Keep updated on all the injury news and roster updates from around the NHL with daily Ice Chips.
---
Toronto Maple Leafs
The Toronto Maple Leafs announced on Thursday that defenceman Jake Muzzin will miss the start of training camp due to back discomfort.
Muzzin, 33, registered three goals and 14 points in 47 games last season.
The 6-foot-3 defenceman missed 35 games last season after sustaining concussions on two separate occasions.
The Maple Leafs split up long-time teammates Auston Matthews and Mitch Marner during their first formal skate of training camp on Tuesday.
Group 1:
Bunting - Matthews - Jarnkrok
Aston-Reese - Kampf - Anderson
Robertson - Kerfoot - Aube-Kubel
Clifford - Minten - Simmonds
Rielly - Brodie
Benne - Mete
Kokkonen - Villeneuve
Group 2:
Gaudette - Tavares - Marner
Malgin - Holmberg - Nylander
McMann - Der-Arguchintsev - Abruzzese
Steeves - Douglas - Ellis
Gordano - Holl
Kral - Dahlstrom
Rifai - Hollowell
---
Montreal Canadiens
The Montreal Canadiens will be without forwards Nick Suzuki, Josh Anderson, Jake Evans, and defenceman Joel Edmundson to start training camp.
Suzuki, 23, has a lower-body injury and is expected to be out for two weeks. The 5-foot-11 centre was named team captain on Sept. 12 and he had 21 goals and 61 points in 82 games last season.
Anderson, 28, is out with an upper-body injury and is considered to be day-to-day. The 6-foot-3 winger registered 19 goals and 32 points in 69 games last season.
Evans, 26, is out day-to-day with an upper-body injury but he did participate in speed and conditioning skates as well as testing on Thursday. The 6-foot centre had 13 goals and 29 points in 72 games last season.
Edmundson, 29, is out indefinitely with a lower-body injury. The 6-foot-5 defenceman had three goals and six points last season but was limited to 24 games due to a back injury.
Additionally, there are no changes in the status of forward Sean Monahan and goaltender Carey Price.
Monahan, 27, was acquired by the Canadiens in August, along with a conditional first-round draft pick, from the Calgary Flames in exchange for future considerations. The former sixth overall draft pick underwent season-ending surgery in April and is expected to be ready to start the season.
Price, 35, was placed on the long-term injured reserve list on Sept. 8 due to a long-standing knee injury.
---
Washington Capitals
Forwards T.J. Oshie and Carl Hagelin did not participate in on-ice testing on Thursday, according to Tom Gultti of NHL.com.
Oshie, 35, sat out the testing as a precaution after undergoing an upper-body procedure in the off-season and is expected to participate in practice on Friday and do the testing later during training camp. The 6-foot winger had 11 goals and 25 points in 44 games last season.
Hagelin, 34, is dealing with an eye injury and it is unknown when he will be available to practice with the team. The 6-foot winger registered three goals and 14 points in 53 games last season.
---
Colorado Avalanche
Forwards Gabriel Landeskog, Darren Helm, Valeri Nichushkin, and defenceman Josh Manson did not practice on Thursday, according to The Athletic's Peter Baugh.
Landeskog, Helm, and Nichushkin were all out with lower-body injuries while Mason wasn't available due to personal reasons.
---
Arizona Coyotes
Forward Andrew Ladd did not pass his physical and will go on long-term injury reserve, according to Craig Morgan of PHNX Sports.
Ladd, 36, has had his knee surgically repaired three times and continues to be an issue.
As a result the Coyotes will receive a 2023 third-round draft pick as part of the trade that sent Ladd to Arizona.
Ladd registered seven goals and 12 points in 51 games last season.
Defenceman Shayne Gostisbehere did not skate on did not skate on Thursday after tweaking a muscle and is considered day-to-day, according to Morgan.
Gostisbehere, 29, registered 14 goals and 51 points in 82 games last season.
---
Minnesota Wild
General manager Bill Guerin says that he expects forward Jordan Greenway and defenceman Jon Merrill to miss five to 10 games of the regular season.
Greenway, 25, underwent surgery for an upper-body issue during the offseason. He registered 10 goals and 27 points in 62 games last season.
Merrill, 30, sustained an arm injury during the IIHF World Championship in May. He had four goals and 20 points in 69 games last season.
---
Vegas Golden Knights
General Manager Kelly McCrimmon announced on Thursday that forward Nolan Patrick will not be available for the 2022-23 season.
Patrick, 24, has been dealing with upper-body injuries that caused him to miss 57 games last season and 32 goals and 77 points in 222 career games split between the Philadelphia Flyers and Golden Knights.
The former second overall draft choice registered two goals and seven points last season.
Patrick was acquired by the Golden Knights prior to the 2021-22 season in a three-way trade that saw defenceman Ryan Ellis join the Flyers and forward Cody Glass and defenceman Philippe Myers join the Nashville Predators.
Patrick will join defenceman Shea Weber and goaltender Robin Lehner as players who will miss the season.
Additionally, goaltender Laurent Brossoit, forwards Spencer Foo, Jakub Demek, and defenceman Daniil Miromanov will miss training camp due to injury.
Brossoit, 29, had a 10-9-3 record with a .895 save percentage and 2.90 goals-against average last season.
Foo, 28, played the last three seasons with the KHL's Kunlun Red Star and had 14 goals and 33 points in 48 games last season.
Demek, 19, played for the Western Hockey League's Edmonton Oil Kings last season and had 20 goals and 54 points in 55 games. The 6-foot-4 forward was drafted 128th overall by the Golden Knights in the 2021 NHL Draft.
Miromanov, 25, registered an assist in 11 games with the Golden Knights last season.