MLB Rumours: Soto sweepstakes heating up?
The 2022 MLB trade deadline is fast approaching and TSN has you covered with all the latest news and rumours ahead of Aug. 2 at 6pm et.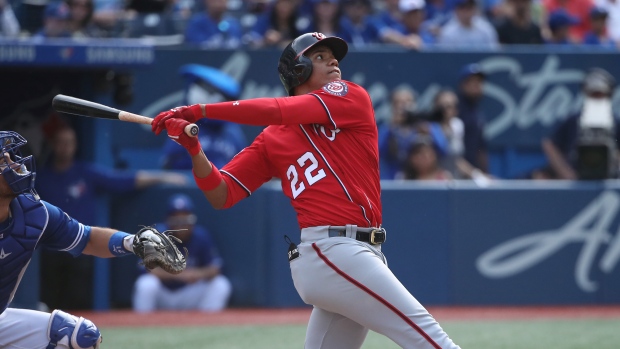 Frontrunners forming in the chase for

Soto
While every contender across MLB has likely called the Washington Nationals about superstar right fielder Juan Soto, New York Post's Jon Heyman believes there are four frontrunners at this time.
"The St. Louis Cardinals, San Diego Padres, Los Angeles Dodgers and Texas Rangers appear at the forefront," wrote Heyman in a piece last night.
The New York Yankees and New York Mets have been rumoured to be in the mix as well, though the Yankees acquiring outfielder Andrew Benintendi earlier this week puts a dent in the trade chips they have to offer the Nationals. Heyman adds a deal involving Soto heading to the Mets would be unlikely considering they share a division with Washington.
With the 23-year-old Soto expected to seek a contract a contract that could exceed $500 million, the resources needed to acquire the left-handed batter will be extreme.
---
Guardians SP Plesac on Phillies radar
27-year-old right-handed pitcher Zach Plesac, who has played his entire major league career with the Cleveland Guardians, is drawing the interest of many teams around the Major Leagues, as per Jon Heyman.
Plesac is 2-8 this season with a 4.09 earned runs against average and 72 strikeouts in 99 innings.
The Guardians currently sit at 50-48, just two games behind the division-leading Minnesota Twins, so they may not be looking to sell at the deadline.
---
Tigers' Skubal seems unlikely to be dealt
As the Detroit Tigers roll towards another sub-.500 season, questions about their roster continue to mount.
The Athletic's Cory Stavenhangen reports that while multiple executives around the league are intrigued by the amount of chatter surrounding pitcher Tarik Skubal, who has been one of the few bright spots for the Tigers this season, it seems unlikely he is dealt at the deadline.
"The Tigers would have to get a king's ransom to part with their young left-hander," wrote Stavenhangen.
---
Astros seeking upgrade at first base, Bell not likely
New York Post's Jon Heyman indicated today in an article that the Houston Astros are looking to upgrade over Yuli Gurriel, who has struggled this season, and have asked the Washington Nationals about Josh Bell.
The 38-year-old Gurriel, who won the American League batting title last season with a .319 batting average, is hitting just .238 this year with seven home runs and 27 runs batted in in 91 games.
However, it seems the Nationals' asking price on Bell is a bit too high. The Mets reportedly also made an offer on Bell, but, as noted on Soto, the Nationals will be less inclined to deal stars to division rivals.
---
Marlins telling teams 'everyone not named Alcantara' is available
According to New York Post's Jon Heyman, everyone not named Alcantara is available on the Miami Marlins roster.
This would include outfielder Garrett Cooper, first baseman/designated hitter Jesus Aguilar, and relief pitchers Tanner Scott and Anthony Bass.
Cooper has reportedly received interest from the Los Angeles Dodgers, who have dealt with injuries to outfielders Mookie Betts and Chris Taylor (currently on the 10-day IL with a fractured foot suffered on July 6th) at different times this season.