Adams Jr. ramping up preparation to battle for Lions' starting job
It's time for veteran quarterback Vernon Adams Jr. to amp up his off-season workouts.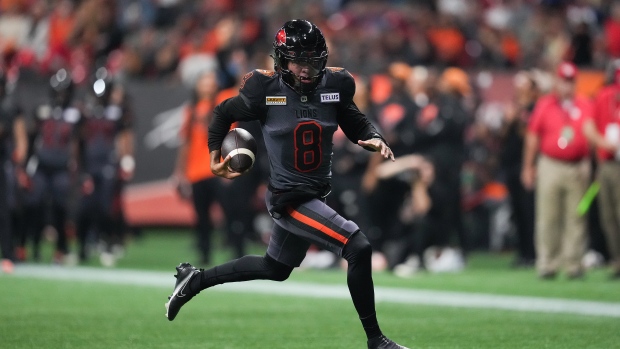 It's time for veteran quarterback Vernon Adams Jr. to amp up his off-season workouts.
With Canadian Nathan Rourke signing with the NFL's Jacksonville Jaguars on Sunday, the B.C. Lions will have a new starter in 2023. And Adams, who joined the club midway through last season, says he'll be more than ready to battle for the job in training camp.
"If Nathan was coming back, I'd still be working hard to be able to push him and make sure he could be the best he could be," Adams said during a telephone interview Monday. "Now that I know the spot is kind of wide open, my thing is, 'It's just time to step it up a notch, keep grinding hard but also grind smart.'"
B.C. acquired the five-foot-11, 200-pound Adams last August from the Montreal Alouettes. The move came after Rourke, who led the Lions to an 8-1 start to the season, suffered a Lisfranc sprain in his right foot that required surgery.
Rourke returned for B.C.'s regular-season finale as the Lions (12-6) finished second in the West Division. He threw for 321 yards and two touchdowns in a 30-16 conference semifinal win over Calgary then had 300 yards passing and a touchdown with two interceptions in a 28-20 division final loss to Winnipeg.
Rourke, 24, of Victoria, completed 255-of-324 passes (league-high 78.7 per cent) for 3,349 yards with 25 TDs and 10 interceptions in 10 regular-season starts. He also ran for 304 yards and seven touchdowns in being named the CFL's top Canadian.
Adams won four of his six starts with B.C., completing 118-of-180 passes (65.6 per cent) for 1,504 yards with six TDs and one interception. He also ran for 129 yards on 14 carries (9.2-yard average).
"Our organization is excited to move ahead with Vernon Adams Jr. as our quarterback," Lions head coach/co-GM Rick Campbell said in a statement. "Vernon was instrumental to our success in 2022 and we look forward to building on it this season."
Adams said having time in the Lions' offence will definitely be a huge benefit.
"I'm just more comfortable now," he said. "Having a full off-season to meet with our offensive co-ordinator Jordan Maksymic and get in with my guys Lucky, Hatcher and Rhymes (receivers Lucky Whitehead, Keon Hatcher and Dominique Rhymes) and getting the chemistry down with them is big.
"I'm very excited to work with these players and coaches."
Adams, 30, is entering his seventh CFL campaign and in 2019 established career highs in pass attempts (431), completions (283), yards (3,942), touchdowns (24), rushing carries (82), yards (394) and TDs (12) with Montreal. The Alouettes (10-8) finished second in the East Division and made the CFL playoffs for the first time since 2014 but lost 37-29 to Edmonton in the conference semifinal.
Rourke's departure wasn't surprising as at season's end he wanted to gauge NFL interest. Jacksonville was among 12 clubs Rourke worked out for.
If there's a silver lining to the cloud created by Rourke's departure, it's B.C. still has the benefit of time to prepare for the '23 campaign. But Adams admits he'll have big shoes to fill.
Adams said as the Lions starter, his team goals will mirror what Rourke's were last year. However, Adams cautions he'll go about trying to achieve them in his own unique way, a message he tweeted to B.C. fans Sunday.
"Nate was having such an incredible season, one where he was going to break many records if he didn't get hurt," Adams said. "And he's Canadian, it's the Canadian game . . . and he's a generational talent so I really do feel for them (Lions fans), you don't want to lose someone like that.
"I just wanted them to know what he did is going to be hard to replicate but I'm going to try to do it the best I can and my way."
Rhymes (85 catches, 1,401 yards, 11 TDs), Hatcher (70 catches, 1,043 yards, five TDs) and Whitehead (78 catches, 1,011 yards, three TDs) anchored B.C.'s receiving corps last year but the unit will without veteran Bryan Burnham, who retired last month.
Burnham was a three-time CFL all-star who had four 1,000-yard seasons over his eight-year career but was limited to just nine regular-season games last year due to injuries.
B.C. also scored 23 rushing TDs last season, one behind league-leading Calgary. Running back James Butler (1,060 yards, five touchdowns) was the CFL's second-leading rusher.
"Man, I think we have a really good team, a really good coaching staff," Adams said. "Coach Maksymic has helped me read defences quicker than I ever have before.
"For me, I kind of look at as people don't know what they're going to get from Vernon so I think it's my year to step up and show them that 2019 wasn't too far back. I just had a couple of injuries these last couple of years but I'm injury-free now and ready to step it back up and show them what Big Play VA is all about."
This report by The Canadian Press was first published Jan. 16, 2023.