Ajax signs five-time FIFA champion k0entj92
Andrew Robichaud, TSN.ca Staff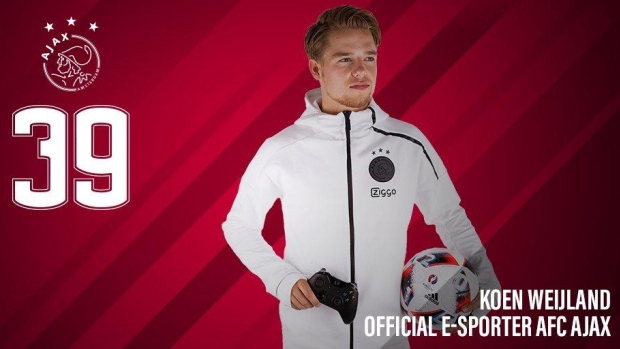 Dutch soccer team AFC Ajax has signed five-time national FIFA champion Koen "k0entj92" Weijland.
"Koen is multiple FIFA-champion, inspires youth, has a personality that matches this club and is a big Ajax-fan. Reasons enough to be happy about our collaboration," Ajax's marketing director and former goalkeeper Edwin van der Sar said in a statement. "Besides, we have been looking for new ways to appeal to young fans better. This initiative can be seen in that light. We will not only support Koen in big tournaments, but also organize activities for our fans together with him. Finally, we find it important to contribute to more 'digital fun', as well as to inspire youth to pick up a ball and play football. These worlds can exist together very well and even complement each other."

Ajax is not the first professional soccer team to dive into esports. Manchester City signed FIFA player Kieran "Kez" Brown in July, FC Schalke 04 competed in the European League Championship Series in the summer split and Valencia FC has representatives in Hearthstone and Rocket League.
K0entj92 has over 14,000 subscribers on YouTube to go along with his five Dutch titles.
"Today is a dream come true for me. I have been Ajacied all my life and I am very proud to defend the beautiful red and white in FIFA-tournaments," k0entj92 said in a statement. "The story of Ajax speaks to me. Like me, they want to organize a variety of activities for youth and link those to real-life football. As a YouTube-personality and FIFA E-Sports athlete, I am convinced I will be able to inspire young people, just like the Ajax-players."