Go ahead and panic, Jays fans
Dirk Hayhurst, TSN Baseball Analyst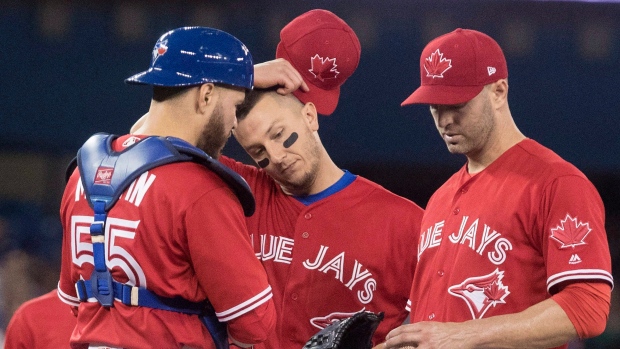 So the Toronto Blue Jays are in an offensive rut. It happens.
No need to panic – I'm looking at you, Pedro Martinez. Heck, there's no need even to suggest that Jays fans think about panicking when the team has struggled for all of five per cent of their games. All you're doing when you spout stuff like "Panic!" is giving fair-weather fans a reason to toxify the web with their sky-is-falling whining. It ruins the game for everyone, darn it!
Oh, wait. The Jays are in an offensive rut, and Josh Donaldson (their best hitter) is hurt, Aaron Sanchez (their would-be Cy Young contender) is on the 10-day disabled list, and J.A. Happ (their 20-win lefty) might have injured his elbow on Sunday.
But wait, there's more!
Jose Bautista is still hitting well below the Mendoza Line and has all of one RBI to his name, with no home runs. In fact, Russell Martin, Devon Travis and Bautista share three RBIs and zero home runs between them. That's three RBIs in 113 at-bats, and two of them belong to Travis. To put that in perspective, San Francisco's Madison Bumgarner has two RBIs and two homers in seven at-bats, and he's a pitcher!
Overall, the Jays currently have the worst batting average, on-base percentage, slugging percentage, and runs-scored total in baseball.
Basically, what I'm saying is: NOW you can panic.
The argument that it's early works when talented players are starting cold. In that scenario, it's only a matter of time before they heat up and find their stride. Truthfully, you don't want great players to come out of the gate at full steam. You want them to hold their own for the first half of the season, then turn it up to 11 in the second half, pushing into to the postseason at full speed ahead and red hot.
Remember, this is a marathon, not a sprint. It's not a game of who is the best team, but who is the hottest team, and when. The first two weeks of April don't mean much – unless your most talented players are dropping like flies, in which case you can dig a hole so deep you'll never get out of it.
When teams suffer injuries to their anchoring stars, like Happ and Donaldson, it means the rest of the team has to pull the slack, or reinforcements have to arrive in glorious fashion.
That last part is a real problem for the Jays. In 2016, they were talent top-heavy. There were very few prospects to call up who had high ceilings and were ready to be tested. Not much has changed this year.
There aren't many Toronto prospects ready for impact roles, and the ones that are probably won't get to play. Rowdy Tellez, the eye-opening first base option the Jays got to know so well this spring training is, as mentioned, a first baseman. The position is already staffed well in the bigs by Justin Smoak, Steve Pearce, and, if need be, Kendrys Morales.
The Jays' biggest prospect, Vlad Guerrero Jr., hasn't even seen Double-A yet. Off-season signing Lourdes Gurriel Jr. is in Dunedin. Most of the other position prospects play spots currently staffed by well-paid MLB regulars, or are just getting their first taste above high Single-A ball.
In the case of Happ, who replaces him? Joe Biagini? A starter from Triple-A Buffalo? A Double-A prospect? Who will take the starts Sanchez misses?
Most of the pitching prospects in the Jays' system were last year's Single-A prospects. Sadly, many of the almost ready replacement arms left town when former general manager Alex Anthopoulos made his 2015 mid-season splash.
In 2016, many of the Jays prospects were low-level guys just starting to get seriously tested. I'm sure they're good, but calling them up in the first couple weeks of a season quickly going sideways sounds like a nice way to produce more Drew Hutchisons (who is currently in Triple-A with the Pirates, sporting an ERA over 7.00).
Of course, giving a youngster a shot wouldn't be so bad if this was last year's Jays team, with an offence that could carry a struggling arm or an innings-eater, like R.A. Dickey. The 2015 Jays had enough offence to carry both Dickey and Mark Buehrle.
But this year's offence is a diminished and gate-fumbling bunch that doesn't look like it can make up for any pitcher's bludgeoning, let alone support its star performers, as evidenced by the wasted gems of Marcus Stroman against the Brewers and Marco Estrada against the Orioles.
Ideally, young prospects like Jon Harris, Sean Reid-Foley or T.J. Zeuch should be left where the results don't matter as much as the development. Rushing young arms often damages development.
Then there's the Triple-A replacement part options, which are Band-Aid quality at best and batting practice at worst.
The Jays made news when they signed Mat Latos, but he's a disaster waiting to happen should the Jays call him up. Yes, he's enjoying a 1.00 ERA in Triple-A right now, but he's walked six in nine innings. Those numbers are over two starts, meaning he's not making it past the fifth inning, and he has thrown nearly 100 pitches in both outings.
Matt Dermody has been roughed up. T.J. House looks serviceable, and Brett Oberholtzer could be a touch-and-go option. They could fill in for Sanchez while he rests his finger, but not for an injured Happ.
I suggest Biagini take a crack at starting if Happ is down for an extended stretch. You can hide a long, innings-eating Band-Aid in the pen, or even call up one of the Triple-A favourites and let them bank some service time. In fact, of all the options in Triple-A and the pen, Biagini has enough stuff to hold his own and has shown flashes of becoming a solid big-league rotation regular.
Biagini can get the swing and miss, but his best asset is his cutter/four-seam combo, which has surprisingly little cut. That's why he sees so much contact on it ­– usually a pop-out. It's not that Biagini is the most swing and miss oriented of the options, it's that he's the most consistent. His most used pitches – the cutter and four-seamer – he throws for abundant strikes or airborne outs. May seem like a ho-hum factoid, but it's a real pain in the bottom for opposing hitters when this style of pitching is sandwiched between two sinking-fastball dispensaries like Sanchez and Stroman.
While Biagini doesn't solve the Jays woes – and there aren't a lot of internal options that do –he's a logical choice to make the best of out of bad situation. As for the rest of the panic equation, it has the same solution it did a week ago, with one twist: The Jays still have to start hitting, except now they desperately have to stay healthy while doing it.