Jays position themselves for active off-season
Dirk Hayhurst, TSN Baseball Analyst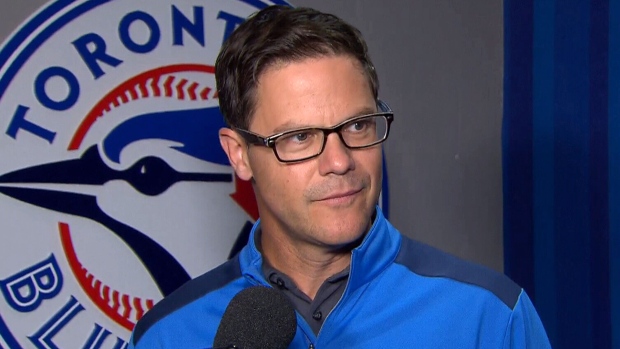 Say goodbye to Francisco Liriano and Joe Smith. Both are on their way to greener pastures. Smith is headed back to Cleveland to his former Tribe. Liriano will take the long flight down to Houston to join the Astros' bullpen and most likely make a trip to the postseason.
If you're Marco Estrada, or Josh Donaldson, or just about anyone else on the Blue Jays roster that had any trade value, you've got to be jealous of Liriano and Smith. The two former Jays will now be role players on teams loaded with young explosive talent that could very well be fighting it out for a chance at a World Series.
They're lucky.
Clearly this was a good move for those players, but was it a good move for the Jays? Did they get enough back to justify the deals? The short answer here is yes, though it will take some time before you see it all.
Liriano netted back a darn-near major league–ready, multi-outfield-position-capable, highly ranked prospect in Teoscar Hernandez. The Blue Jays needed this kind of player badly.
The Jays lack outfield depth options. Ezequiel Carrera is more of a utility player than a starter. The Jays (and really, any team for that matter) work best with they fill the outfield corner spots with thumpers. Since Jose Bautista has slowed down dramatically and his range is well south of liability territory, the Jays needed a replacement option with some serious upside – not just more filler.
Hernandez will be in the show with the Jays before the year is out and he'll be a big-league starter on Opening Day next season unless the franchise goes nuts on other moves this off-season, which seems unlikely since these moves were so measured. His bat may take a minute to translate, but if all these conspiracies I keep hearing about baseballs flying further (and eating pitcher's hands) are true, maybe he'll hit better in the bigs than his already impressive minor league work.
The other player in the Liriano deal was Nori Aoki, who won't be a factor in the 2018 season. He doesn't have any power, but his good plate discipline and spray ability make him an interesting depth option. Sadly, this is bit player in a lost season who will give the Jays some options in the outfield while Hernandez is vetted. As I said above, they don't want a spray guy, they want a power guy, meaning Aoki will have to be satisfied with bench time come 2018.
Overall, the Liriano deal was a nice one, giving the Astros what they wanted – pen depth – and the Jays what they wanted – some outfield depth.
As for Smith to the Indians, well, it's hard to say as it will be a while before you see any of the prospects involved at the major-league level.
I can, however, tell you that Samad Taylor is fast. How do I know that? Before the season started I went up to Mahoning Valley (where Taylor was playing) and watched their first workout.
In talking with the Scrapper's manager, former teammate and friend Luke Carlin, I was informed the team is loaded with a lot of future "Progressive Field starters" – a.k.a. Indian big leaguers of the future.
The Scrappers are in first place in their division this year, by the way.
Taylor could now be the Rogers Centre second basement of the future. Unfortunately that's a future a long way away from now. Mahoning Valley is a low Class-A Short-Season club and any stats that happen there might as well be Xbox trophies for all they really matter to projecting a player's ability. Taylor has raw talent, of course, but a lot can happen between now and the dreams of a glorious future.
A little further ahead in development is the other name in the Smith trade, Thomas Pannone. He's a lefty and he throws hard. What else do you really need? How about command and a low ERA? Check and check.
Pannone was drafted in the ninth round in 2013, but that's irrelevant now. What really matters is that the Indians have a deep system, so just because this guy isn't at the forefront of their conversations about future studs doesn't mean he can't be a role player for some organization light on bona fide prospects. Remember, the Indians stunk for a long time. They stock piled a lot of goodies to trade with.
Pannone is in Double-A ball, but that's probably going to lead to a promotion soon now that he's been swapped for a major leaguer. Pannone will see action at spring training next year, but a September call up might be a possibility, though very slim.
As for Smith, he is a good reliever going back to a club that needs a few more options. Last year, the Indians' bullpen was essentially their starting rotation.
First, their pen was one of the best in baseball, and second their rotation was so beat up they had to run the bulls out every chance they could. The Cleveland relievers practically embarrassed the Jays in last year's playoff and I'm pretty sure the Jays who faced him treat Andrew Miller like Lord Voldemort – He who shall not be named.
I'm not disappointed with the Jays trades. They didn't hold a fire sale, like some of us had hoped, if only because it would have been fun to talk about all the action.
Thing is, the Jays' start to this season is what ultimately killed it. Take away the countless injuries and the stumble out of the gate and this is a good club. The team was two, maybe three trades from contention if it hadn't face-planted and the front office knows that.
Moreover, trading now puts the team at a disadvantage for 2018. The deals thinned some of the current roster, but they put themselves in a position to makes moves during the off-season, when the deals for a club with more money than prospects work better.
You also have to consider what the rest of the teams in the division did. The Yankees are scary right now with their power pen and the acquisition of Sonny Gray. The Red Sox are poised to be good for some time. And don't forget about the Rays, who never fell off like we thought they might. That's another young club that's going to be good for some time.
The AL East just got a lot tougher and the Jays need to be very prudent from here on out. This was a good start, but I expect the serious action to come this off-season.