{{ currentStream.Name }}
{{ currentStream.Desc }}
Related Video
Continuous Play:
The information you requested is not available at this time, please check back again soon.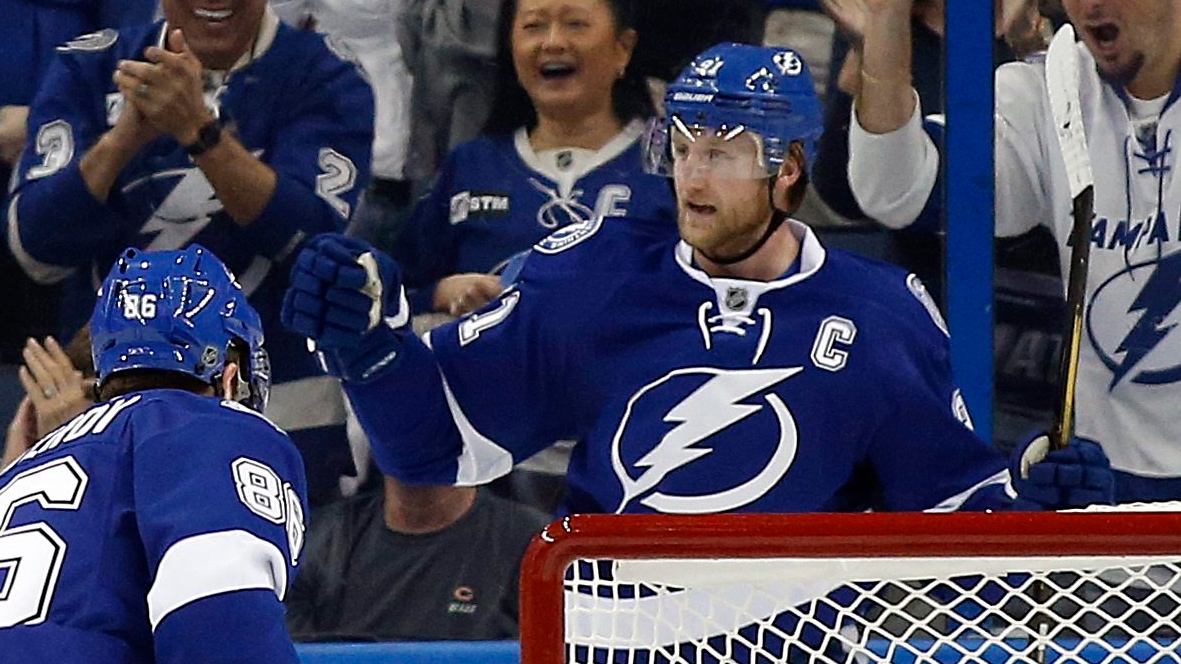 Will Steven Stamkos end up with the Maple Leafs?
Total Results: 0

Listen Live
Connor McDavid had two goals and three assists as the Edmonton Oilers came away with a 5-2 victory over the Toronto Maple Leafs on Thursday night. Jordan Eberle completed his first career hat trick while he and Benoit Pouliot each netted four points.

Lowry: All-Star weekend proud moment for Toronto

Toronto Raptors All-Star, Kyle Lowry joins the show to talk about hosting the All-Star game this weekend, the importance of patience, pride in the organization, and the growth of the Raptors and their fan base.

1:45

Welcome to the 6ix

With the NBA All-Star festivities upon us, Cabbie and some of his friends welcome everyone to "The 6ix" with a little history lesson on Toronto.

Williams: Raptors are heating up the city

Former Raptor, Jerome 'Junk Yard Dog' Williams joins the show to talk about Read 60 Charity Jam, this weekends NBA All-Star festivities, and how far Canadian basketball has come.

TSN Maple Leafs Reporter, Mark Masters, joins Hayes, O'Dog and Button, to break down the Maple Leafs getting their first look at young star, Connor McDavid, as Toronto visits the Edmonton Oilers.

0:40

Maple Leafs' Kadri fined $5K for gesture

The National Hockey League has fined Toronto Maple Leafs forward Nazem Kadri $5,000 for a throat-slashing gesture towards Calgary Flames defenceman Mark Giordano. The fine is the largest allowed under the current collective bargaining agreement and will go towards the Players' Emergency Assistance Fund.

Trade Talk: Who's next on Leafs' trade block?

The NHL's Feb. 29 Trade Deadline is approaching and teams are making decisions on whether to buy or sell and decide which players can make the biggest difference and hold the greatest value. Check out today's trade rumours and speculation from around the NHL beat.

Latest Leafs Videos

2:56

T'wolves come back to bounce Raptors

Karl-Anthony Towns had 35 points and 11 rebounds, and the Minnesota Timberwolves came back from 18 points down to stun the Toronto Raptors 117-112 on Wednesday night.

Latest Raptors Videos

TSN 1050 Blue Jays Reporter, Scott MacArthur, joins Dave Naylor and Bruce Arthur on TSN Drive to talk about Josh Donaldson signing a two-year contract extension, if this deal signals the possibility of both Jose Bautista and Edwin Encarnacion leaving, who should the Blue Jays choose if they could only keep one of them, and what the team could look like beyond the 2016 season.

0:40

Blue Jays get 'clarity' with Donaldson deal

Baseball fans watch him play and quickly realize there aren't many who compare to Josh Donaldson. That fact, however, proved to be a slight complication as the Blue Jays worked toward the arbitration-avoiding, two-year deal the club inked with its slugger earlier this week.

Rautins: DeRozan is only going to improve

Leo Rautins from the NBA on TSN, joins Dave Naylor and Bruce Arthur on TSN Drive to talk about if this is the best Raptors team has ever seen, how much of Toronto's success should be credited to Dwane Casey, if he is still the coach next year if the Raptors exit in the first round of the playoffs again, and if the play of DeMar DeRozan can get even better.

USA Today MLB Columnist Bob Nighteganle joins Bryan Hayes to discuss Josh Donaldson's two-year extension and if Marcus Stroman is the future face of the MLB.

McGuire: NHL experimenting with young coaches

NBC/TSN Pierre McGuire joins the show to talk about the Penguins 3-0 loss to the Rangers last night, Phaneuf's debut as a Senator in a 3-1 loss to Detroit, how the Red Wings function as an organization, and the Leafs/Oilers game tonight.

Lamoriello: Not concerned with making trades with division rivals

Lou Lamoriello, General Manager of the Toronto Maple Leafs, joins Dave Naylor and Bruce Arthur on TSN Drive to breakdown how the Dion Phaneuf was made, if there is any extra concern when trading with a divisional rival, where the rebuild goes from here, and what to expect from Jared Cowen.

Maple Leafs defenceman Morgan Rielly joins Bryan Hayes to talk about the trade of his mentor Dion Phaneuf, if he's ever thought of wearing the "C" down the road and Kadri's reaction to Giordano's hit.