Stroman's fire burns bright from passion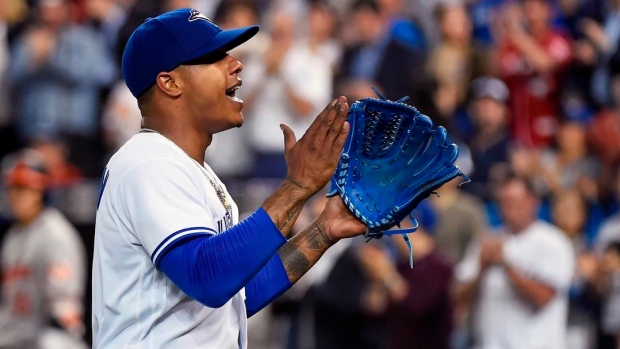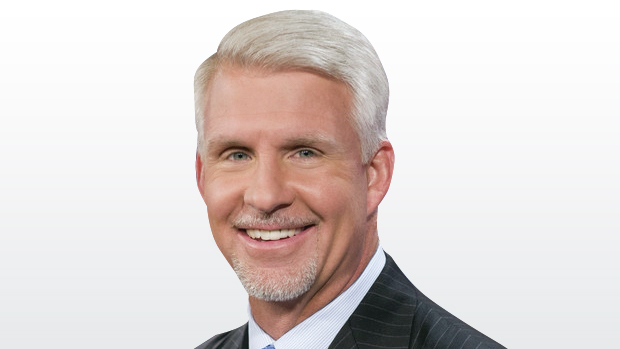 Marcus Stroman is having an amazing season. He has been one of the few shining stars for the Blue Jays, with a 10-5 record and 3.19 ERA. He pitches with passion, creativity, aggressiveness and tenacity. There's never any doubt as to how badly he wants to win each and every time he takes the mound.
Yet his energy can sometimes be misinterpreted by opponents and umpires. We've seen opposing players take offense to his fist pumps and hollering after big outs, as Tim Anderson of the White Sox did Tuesday night. Umpires have thought his motivational self-talk is about them, as Will Little, the home-plate umpire in Stroman's previous start against the A's, did last week. Little ejected Stroman and then catcher Russell Martin in that game, as they were clearly frustrated by the strike zone.
It is clear that the Jays' right hander needs his energy to be at his best. Many players need a chip on their shoulder to stay motivated. Stroman always wants to prove to people that they're wrong about what he can accomplish. Barry Bonds was that way. Jose Bautista is the same, generating energy for himself in a dramatic way. He plays angry and needs to be a villain. Stroman is not alone.
As much as Stroman's emotions can stir things up, I would never want to douse that flame. I would rather have a player too fired up than not pumped up enough. I really love how Stroman leaves the dugout every inning on the days that he isn't pitching when the Jays come off the field from defence and greets his teammates. He's a team guy who wants to win. We need more of that kind of caring in the game today.
One reason the Jays' diminutive starter has been angry this year is the reaction of umpires to his varying deliveries. In some cases, umpires don't react to his fluctuating speeds of throwing the ball. At other times, Stroman has been called for an illegal quick pitch (improperly) and hitters have been granted timeouts in the middle of his delivery. Depending upon the umpiring crew, Stroman's deliveries are evaluated differently.
There is nothing wrong with any of Stroman's different deliveries. Sometimes he rushes, sometimes he pauses. He hesitates one time and then quick pitches the next. As long as the hitter is in the batter's box and time hasn't been called, the pitcher can deliver the ball.
Of course hitters get frustrated. They expect to be allowed to get set before the ball is delivered because that's what usually happens. Baseball players are creatures of habit. Any modification away from the routine and norm causes them angst. What Toronto's ace is doing is effective because it messes up hitters' timing on his pitches.
Major League Baseball needs to make a ruling on his delivery and make sure every crew evaluates his deliveries the same way for consistency sake. They need to let clubs know how the change of speeds in his mechanics will be considered. There needs to be a universal understanding of what is allowed and what is not.
Darvish bolsters Dodgers rotation
The trade deadline has come and gone and the game's best team, the Los Angeles Dodgers, managed to get even better.
An hour before the deadline, they added left-handed relievers Tony Watson and Tony Cingrani. They certainly are going to help add to the depth and balance to what has been a pretty good bullpen. But then, just before the 4 p.m. deadline, news broke that they had acquired starting pitcher Yu Darvish from the Texas Rangers.
Darvish is a huge upgrade to their rotation. The power right-hander becomes the second ace behind Clayton Kershaw. He also adds balance, since the Dodgers top three starters were all lefties. Darvish now allows the Dodgers to space their lefties in the rotation.
Despite the fact that the veteran's ERA spiked to 4.01 after his last start in which he gave up 10 earned runs in 3.2 innings, he's fifth in strikeouts and third in quality starts in the AL. He's one of the most dominant starters in baseball and the transition to the National League should make him even tougher. His transition is made easier because of his friendship to new teammate Kenta Maeda, whom he pitched against in Japan.
This move by the Dodgers was a shift from past thinking. Stan Kasten, president and part-owner of the Dodgers, was a long-time executive with the Atlanta Braves. During his tenure with the Braves, the franchise won 14 straight division titles, five National League pennants and the World Series in 1995. Based upon that experience, he brings with him a belief that once teams get to the postseason, it's a crapshoot as to who will win the World Series. He believes that the goal is to just make the playoffs for 10 straight years and sooner or later you will win a World Series.
The addition of Darvish to the Dodgers is something that the Braves never did back in the day. It shows a sense of urgency to not just get to the playoffs, but to win once they are there. The Dodgers mean business.
Yankees another deadline winner
The New York Yankees were the other big winner at the deadline, adding David Robertson and Tommy Kahnle to their bullpen and Todd Frazier to play third base from the White Sox. They also added starting pitcher Jaime Garcia, from the Minnesota Twins.
Then on trade deadline day they added starter Sonny Gray from Oakland. Gray came in third in the Cy Young race in 2015. He's been hampered by injuries since then but even with those issues he has posted a 6-6 record with a 3.41 ERA. He's a solid, high-quality starter the Yankees can control for two more years beyond this season. He's a ground-ball machine (2.1:1 GO/AO), which should play well at Yankee Stadium.
Brain Cashman, the Yankees GM, has put his club in a great position to not only win the AL wild card but also to win the AL East. The Yankees have added depth, impact and controllable players who should help them win this year and beyond. The Astros remain the favorites to win the AL pennant, but they are no sure thing. The Yankees will be a very tough out. Cashman did it without giving up any of his top 50 prospects. Even more annoyingly, this is a very likeable team now. New York used to be the villain and now they are lovable.
The world of revocable waivers
There have been reports that Tigers starter Justin Verlander and Blue Jays outfielder Jose Bautista have been placed on revocable waivers. This doesn't necessarily mean either player will be traded. Although it's true that in order to be traded now Verlander and Bautista must be passed through waivers, it doesn't guarantee anything.
It is a normal course of business for most general managers to pass most, if not all, of their players through waivers. If a player clears waivers he's eligible to be traded to any club. If a player is claimed by one or more clubs, the club that is awarded the claim has 72 hours to make a deal with the player's original team. If no deal is made, the club can revoke the waivers and pull the player back or the player's original team can just dump the player on the claiming club. In that case the new team would be responsible for all of the remaining salary.
Verlander and Bautista won't be claimed on waivers by any club. Any team that has interest in either will undoubtedly want the Tigers and Jays to eat some major part of the salaries. No club would risk claiming the two and having them just dumped on their team, absorbing Verlander's $64.7 million (plus a $22 million vesting option) or Bautista's approximately $5.9 million.
I can't imagine the Tigers would be willing to eat enough of Verlander's salary to get teams to have interest. Considering he is 6-7 with a 4.29 ERA and is 34 years old, I would only be willing to acquire him if the Tigers ate $38.7 million of the $64.7 million owed to him for the rest of this season and the next two. Plus, I would not give them any prospects of real value in the deal. I would also want protection that the vesting option wouldn't fall upon me either.
As for Bautista, I would want complete relief from his remaining salary. His mutual options aren't a factor for consideration because of the hefty price tag and his underperformance. I'd only send a marginal prospect back in return. He would only be a catch-lightning-in-a-bottle guy.
Complicating matters on both Verlander and Bautista is the fact that they have 10/5 veto rights on any deal. So even if the Tigers or Jays are able to find a taker for their former stars, they would need to get the players' approval as well.
Indications from Bautista's camp are that he would like accept a deal elsewhere because it's clear he is in his final season in Toronto either way. What difference does it make whether it ends Oct. 1 or in mid-August? It may be different for Verlander, as he still has a couple years left and is just getting married. The future Ms. Verlander (Kate Upton) may have an opinion on it as well.
Spitting Seeds
- I can't say that I'm surprised that Astros players are disappointed in their front office's relative inactivity at the trade deadline. They're having a great season and if there was ever a time for a team to go for it, this was it. "I'm not going to lie. Disappointment is a little bit of an understatement," their ace Dallas Keuchel said. I don't love that Keuchel popped off publicly but I do understand it. To be fair, GM Jeff Luhnow did try on a number of fronts to add relievers, including Zach Britton, but deals fell through. They desperately need a starter. Keuchel hasn't been great since his return from the DL and No. 2 starter Lance McCullers is now on the DL. Stockpiling prospects at the minor-league level doesn't help the organization. They have a young core in Houston, so that means there's little opportunity for prospects to break in the big leagues. They should trade the prospects to get what they need to win a championship.
- Keep an eye on Marco Estrada's next start. He's lined up to pitch against the Astros on Saturday. A few clubs kicked the tires on Estrada at the deadline, but his June (0-4, 9.11 ERA) and July (0-1, 6.48 ERA) numbers scared clubs away. But his outing on Monday against the White Sox was vintage Estrada, tossing seven innings and allowing only four hits and one run while walking one and striking out five. Sure, the White Sox aren't very good and the veteran righty used their young hitters against themselves, but Estrada gained confidence. I believe the trade deadline wore on Estrada and he became unsure and tentative. With it behind him he seems more relaxed and himself again. It showed on Monday. Another good outing or two and a contender may be calling to make a deal. Saturday's start against the Astros may be a showcase event.
- A recent story in the Huffington Post said that baseball has a cocaine problem. The story estimates that 25 per cent of MLB players use cocaine and that 75 per cent use marijuana. I don't believe those numbers are accurate and think they're quite a bit higher than the reality. What is true though is that MLB and the Players Association need to come to an agreement on testing for drugs of abuse like cocaine, marijuana and opiates. Players currently don't get tested for anything other than PEDs, unless there is a past issue which warrants testing for drugs of abuse. When I was a minor-league player in the early 80s, the team parties included drugs of abuse. In 1984, drug testing for these substances became part of the norm and the team parties dramatically changed. Players stopped using them because they wanted to play and didn't want to risk their reputations and opportunities to advance by testing positive. Testing worked. The Players Association needs to do the right thing for its constituents and agree to test for drugs of abuse so this sort of speculation goes away and they can perform at their highest level.
- Astros second baseman Jose Altuve is running away with the AL MVP, especially with Aaron Judge's second-half decline. In the NL, it's a bit more complicated of a race. Bryce Harper is a candidate with his league leading OPS (1.040), but his teammates Anthony Rendon, Ryan Zimmerman and Daniel Murphy are all having elite seasons as well. Reds first baseman Joey Votto is putting up MVP-type numbers once again. Paul Goldschmidt in Arizona banged three homers on Thursday and is among the top three in OPS, runs and RBI. Nolan Arenado of the Colorado Rockies, who has led the NL in RBI each of the past two seasons, is running away with the category again this year. His teammate Charlie Blackmon is hitting.330 and has a .990 OPS. He's a leadoff man with 25 homers and has scored 11 more runs than the next closest player. The Dodgers have gone 66-21 since calling up rookie Cody Bellinger on April 25. He has a .956 OPS, 30 homers and 71 RBI despite being in the minors for the first 21 games of the season. If I had to pick today, I would select Jose Altuve in the AL and Paul Goldschmidt in the NL as my MVPs. But that may change tomorrow, especially in the NL.
--
Steve Phillips was general manager of the New York Mets from 1997 through 2003, helping lead the club to a National League championship in 2000 and its first World Series appearance since 1986. His analysis appears each week on TSN.ca, TSN Radio and SportsCentre.
Follow Steve Phillips on Twitter @StevePhillipsGM