Off-season changes help Henderson win 13th LPGA title
Despite a number of question marks, Brooke Henderson played near flawless golf to notch her 13th LPGA Tour win, logging a four-shot victory at the Hilton Grand Vacations Tournament of Champions.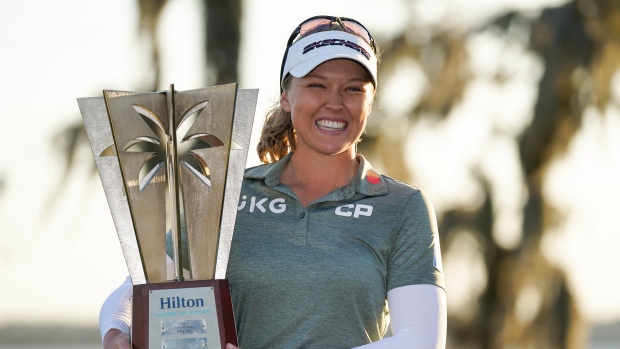 There wasn't anything that was going to stop Brooke Henderson this week.
Not a rehabbed back.
Not a new set of clubs.
Not even having her wisdom teeth removed in the off-season.
Despite a number of question marks, Henderson played near flawless golf to notch her 13th LPGA Tour win, logging a four-shot victory at the Hilton Grand Vacations Tournament of Champions. The Canadian golfer held the solo lead for all four rounds for the third time in her career, finishing the week at 16-under par.
Maja Stark and Charley Hull finished at -12 while Nelly Korda ended up at -11.
"It was definitely a unique off-season," said Henderson, who only finalized her equipment set-up few days before teeing off for the season-opener. "Lots of things happening but to go out and start the season this way is a dream start and to lead wire-to-wire and put in some solid rounds under par feels really awesome."
Henderson battled through the windy conditions at Lake Nona Golf and Country Club on Sunday, playing more methodical than the free-flowing golfer who glided through the first two rounds in 11-under par. Off the tee she was only able to find six fairways and although she landed on 13 greens in regulation, only a few were good birdie opportunities.
"Thursday and Friday was really smooth, I was making lots of birdies and I was thinking it was pretty easy," reflected Henderson, who had her wisdom teeth removed recently. "Today it was super windy and I played a little bit more conservative, partly because of the wind and partly because I had a little bit of a lead."
But as she did all week, the 25-year-old used her putter to roll in nervy three- and four-footers for pars, such as the one on 12, and some from further out for birdies.
She needed only 29 putts to get through the course.
"That putter feels really good," said Henderson. "I have a lot of confidence with it right now which is great."
A lot of off-season work on her putter also helped. While she was rehabbing her sore back and unable to take full swings, she focused on her putter and wedges and it certainly paid off this week.
Henderson started her day making a birdie on the second hole, the fourth time this week she's done that. She made a bogey on the sixth hole, just her third of the week, but countered that with a 15-foot birdie on the ninth hole to go to the back nine with a four-shot lead.
On the 12th hole, Henderson's tee shot rolled off the back of the green but she calmly played a chip and rolled in a three-foot par putt. She birdied the par-5 15, dropping a 15-foot birdie, and then played a deft chip on the 16th to allow her to record another par.
Two pars later, Henderson was being sprayed with champagne and she celebrated her 13th title. It was the culmination of a great run at the season-opening tournament. In five outings here, Henderson, who was runner-up her last year, is a combined 62 under par.
The only downside to winning this tournament is that the next event isn't for a month. She'll try to keep the hot streak on the back burner until then.
"Lots of diligent practice," said Henderson, of her short-term plans. "And I want to make some adjustments to some of the clubs so I can hit them even better."
The $225,000 winner's cheque pushed Henderson's career earnings to $10,825,467.